Now at Thy manger here I stand (Ich stehe hier an deiner Krippe)
Fraktur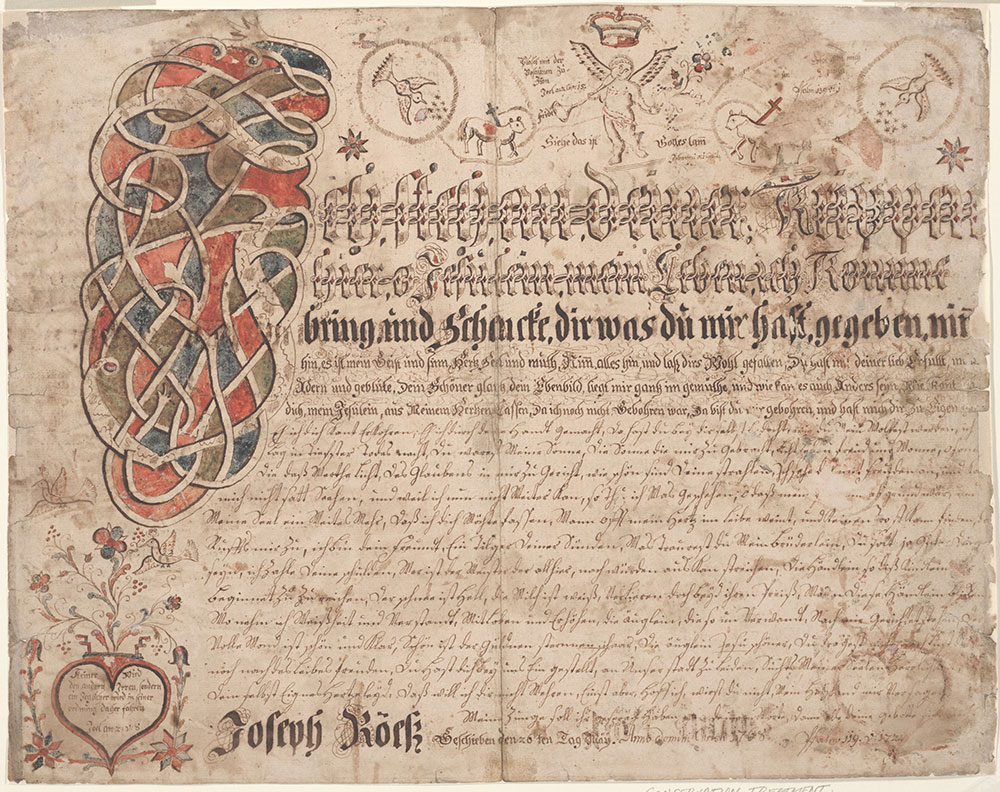 Item Info
Item No: frk01078
Title: Now at Thy manger here I stand (Ich stehe hier an deiner Krippe)
Creation Date:
5/26/1768
Scripts/Text:
Fraktur; German script
Language:
German
Weiser Number:
277
Physical Description:
Leaf
Material:
Wove paper; watercolor; ink
Transcription:
Ich steh an deiner Krippen \ hier,o Jesulein, mein Leben, ich komme, \ bring und schencke dir, was du mir hast gegeben. nimm \ hin, es ist mein Geist und Sinn, Herz, Seel und Muth, Nimm alles hin und laß dir's wohlgefallen.Du hast mit deiner Lieb erfüllt mein \ Adern und geblüte, Dein Schöner glantz, dein Ebenbild , liegt gantz im gemüthe, und wie kann es auch Anders sein, Nie könnt [ich]\ dich, mein Jesulein, aus meinem Hertzen lassen, Da ich noch nicht Gebohren war, Da bist du mir gebohren, und hast mich dir zu Eigen gar, \ Eh ich dich kannt Erkoren. Eh ich durch deine Hand gemacht, da hast du schon bey dir selbst bedacht, wie du mein wolltest werden. Ich lag \ in tiefster Todesnacht, du warest meine Sonne, die Sonne die mir zu gebracht Licht, Leben, Freud und Wonne, o Sonne, \ die das Werthe Licht, des Glaubens in mir zu Gericht, wie schön sind deine Strahlen. Ich sehe dich mit Freuden an, und kann \ mich nicht satt sehen, und weil ich nun nichts weiter kan, So thu ich Was geschehen; o daß mein Sinn ein Abgrund wär, und \ Meine Seel ein weites Mehr, daß ich dich möchte fassen. Wann offt mein Hertz im Leibe weint, und keinen Trost kann finden, \ Ruffts mir zu, ich bin dein Freund, ein Tilger deiner Sünden, Was trauerst du, mein Brüderlein, du solt ja guter Dinge \ seyn, ich zahle deine Schulden, Wer ist der Meister der allhier, nach würden aus kan streichen, die Händlein so diß Kindlein [ill.] \ Beginnt zu zu reichen, der schein ist hell, die Milch ist weiß, verlieren bald doch beyd ihren Preiß, Wann diese Händlein Blicken \ Wo nahm ich Weißheit und Verstand, Mit Loben und Erhöhen, die äuglein, die so unverwandt mir gerichtet stehen der \ Volle Mond ist schön und klar, Schön ist der güldnen sternen schaar, die äuglein schöner, du fragest nicht nach lust der welt \ noch nach des Leibes freuden, du hast dich bey uns Eingestellt, an Unser stadt zu leiden, Suchts Meiner Seelen Herrlichkeit, durch \ dein selbst Eignes Hertze leyd, daß will ich dir nicht Wehren, Einst aber, hoff ich, wirst du nicht, mein Heyland mir Vorsage \ Meine Zunge soll ihr gespräch haben von deinen Worte, dann alle deine gebotte sind Recht. \ Psalm 119. v 172 \ Joseph Roeß Geschrieben den 20ten Tag May Anno Domini Christi 1768
[in heart]
Keiner wird \ den andern Irren, sondern \ ein Jeglicher wird in seiner \ ordnung daher fahren \ Joel am 2: v: 8
Translation:
Now at Thy manger here I stand, o Jesus, my life. I come, bring and give you what you have given me. Take it, it is my spirit and mind, heart, soul and courage, take it all and take pleasure in it. You have with your love filled my veins and my blood. Your beautiful glow, your portrait, lies entirely in my mind, and how can it be different. I could never let you, my little Jesus, out of my heart. When I was not yet born you were born to me, and you made me yours before I could choose you. Before I was made through your hand you already thought by yourself that you would want to become mine. I was lying in the deepest night of death, you were my sun, the sun that brought to me light, life, joy and pleasure. O sun, that prepared the true light of faith in me, how beautiful are your rays. I look at you with joy, and cannot look at you enough, and because I can now do nothing more, I shall do what happened. O that my mind were an abyss and my soul a wide ocean that I can embrace you. Often when my heart in my body cries and cannot find comfort, it calls to me, I am your friend, am eraser of your sins. Why are you sad, my little brother, you shall be in good spirits, I pay your debts. Who is the master who can everywhere reach out for the little hands of little children (?), begin to reach, the glow is bright, the milk is white, both soon lose their value when these hand see, where did I take wisdom and reason, with praise and elation, the eyes that are looking at me so intently. The full moon is beautiful and clear, beautiful is the golden cluster of stars, the eyes are more beautiful. You did not ask for pleasure of the world nor for the joys of the flesh. You came to us to suffer in our stead. Search for the glory of my heart through the suffering of your own heart, this I will not prevent. But one day, I hope, you, my savior, will not say it for me. My tongue shall have its talk from your words, for all you commandments are right. Psalm 119:172. Joseph Roess, written on the 20th day of May Anno Domini 1768.
[in heart]
Nobody will confuse the other, each shall go along in order. Joel 2:8.
Category:
Hymn
Media Type:
Manuscripts
Source:
Rare Book Department
Notes:
Hand-drawn; hand-colored; hand-lettered. The text in Fraktur and German script extends across the document. The first three lines are written in particularly prominent and decorative Fraktur. The first letter is especially prominent and elaborately decorated. A verse in Fraktur is within a heart in the lower left corner. It is surrounded by flowering vines and birds. Along the upper edge of the document are several bible verses with illustrations, including God's lamb, doves, an angel with a trumpet, and a crown.
The text includes stanzas one through five as well as eight and nine of Paul Gerhardt's popular Christmas carol "Now at thy manger here I stand." The text also includes several lines that are not part of Gerhardt's original version. For another example by the Manor Township Artist, see FLP 96.
Associated Names:
Roess, Joseph
Bibliography:
"Manor Township Artist" in Russell D. and Corinne P. Earnest, Papers for Birth Dayes: Guide to the Fraktur Artists and Scriveners (East Berlin, Pa.: Russell D. Earnest Associates, 1997), 2nd ed., vol. 2, pp. 534-535.
Creation Place County:
Region/County:[Lancaster]
State/Province:[Pennsylvania]
Creation Place Note:Based on artist's location
Image Dimensions Width:
33 cm
ShelfMark:
FLP 1078
Creator Name:
[Manor Township Artist (active c. 1768-1804)] - Decorator
[Manor Township Artist (active c. 1768-1804)] - Scrivener