Birth, Baptismal and Confirmation Certificate (Geburts, Tauf, und Konfirmationsschein) for Susanna Wagner
Fraktur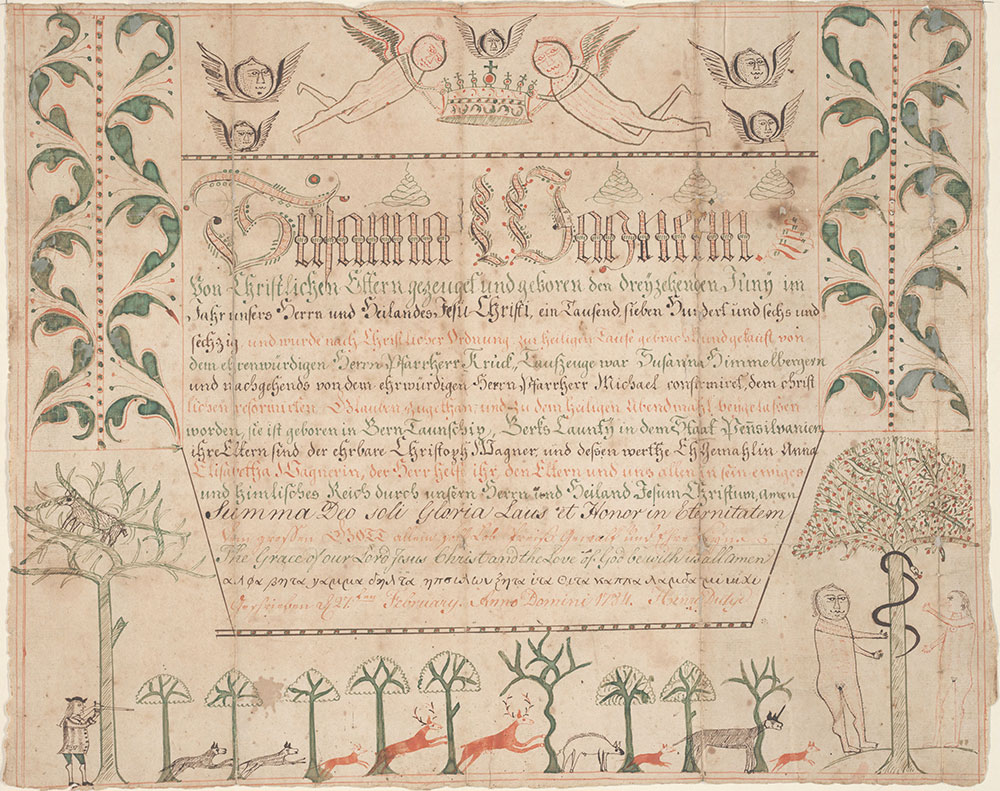 Item Info
Item No: frk01095
Title: Birth, Baptismal and Confirmation Certificate (Geburts, Tauf, und Konfirmationsschein) for Susanna Wagner
Creation Date:
2/27/1784
Scripts/Text:
Fraktur; German script; Roman script; Greek letters
Language:
German; English; Latin; Greek
Weiser Number:
88
Physical Description:
Leaf
Material:
Laid paper; watercolor; ink
Transcription:
Susanna Wagnerin \ Von Christlichen Eltern gezeuget und geboren den dreyzehenden Juny im \ Jahr unsers Herrn und Heilandes Jesu Christi, ein Tausend, sieben Hundert und sechs und \ sechzig und wurde nach Christlicher Ordnung zur heiligen Taufe gebracht und getauft von \ dem ehrwürdigen Herrn PfarrHerr Kruck, Taufzeuge war Susanna Himmelbergern \ und nachgehens von dem ehrwürdigen Herrn PfarrHerr Michael confirmiret, dem christ \ lichen reformirten Glauben zugethan, und zu dem heiligen Abendmahl beygelassen \ worden, sie ist geboren in Bern Taunschip, Berks Caunty in dem Staat Pennsilvanien \ ihre Eltern sind der ehrbare Christoph Wagner und dessen werthe EhGemahlin Anna \ Elisabetha Wagnerin, der Herr helfe ihr, den Eltern und uns allen in sein ewiges \ und himlisches Reich durch unsern Herrn und Heiland Jesum Christum, Amen.
Summa Deo soli Gloria Laus et Honor in Eternitatem
Dem grossen GOTT allein soll Lob Preiß Gewalt und Ehre seyn.
The Grace of our Lord Jesus Christ and the Love of God be with us all amen.
[Some of the Greek alphabet spelled out]
Geschrieben d. 27ten February. Anno Domini 1784. Henry Dutye.

Translation:
Susanna Wagnerin, born to Christian parents on the thirteenth of June in the year of our Lord and Savior Jesus Christ, one thousand seven hundred and sixty six, and was brought to the Holy Baptism according to the Christian command, and was baptized by the honorable Mister pastor Kruck. Sponsor was Susanna Himmelbergern. And afterwards the honorable Mister pastor Michael confirmed her, attached to the Christian Reformed faith, and admitted her to the Lord's Supper. She was born in Bern Township. Berks County, in the state of Pennsylvania. Her parents are the honorable Christoph Wagner and his esteemed wife Anna. Elisabetha Wagnerin, may the Lord help her, her parents and all of us into his eternal and heavenly kingdom through our Lord and Savior Jesus Christ, Amen.
To God alone be all glory, praise and honor in eternity.
To the great God alone be praise, power and honor.
The Grace of our Lord Jesus Christ and the Love of God be with us all amen.
[Some of the Greek alphabet spelled out]
Written on the 27th of February, anno domini 1784, Henry Dutye.

Category:
Birth, Baptismal and Confirmation Certificate (Geburts, Tauf, und Konfirmationsschein)
Media Type:
Manuscripts
Source:
Rare Book Department
Notes:
Hand-drawn; hand-colored; hand-lettered. The text in Fraktur and German script within a rectangular frame is in the center of the document. Along the upper sides are decorations of undulating leaves. In the upper center are two flying angels that are holding a crown between them. Several winged angel heads are next to them. Along the lower border is a hunting scene. A hunter with a raised gun is behind a tree in the left corner. To his right between a series of trees are two dogs that are chasing several deer and a wild boar. In the lower right corner is the apple tree with the snake flanked by Adam and Eve.
Associated Names:
Wagner, Susanna
Bibliography:
"Henre Dutye" in Russell D. and Corinne P. Earnest, Papers for Birth Dayes: Guide to the Fraktur Artists and Scriveners (East Berlin, Pa.: Russell D. Earnest Associates, 1997), 2nd ed., vol. 1, p. 208.
Creation Place Town/Township:
Creation Place Note:Based on location of birth
Region/County:Berks
City/Town/Township:Bern Township
State/Province:Pennsylvania
Image Dimensions Width:
32.5 cm
ShelfMark:
FLP 1095
Creator Name:
Henre Dutye (active c. 1780-1785) - Decorator
Henre Dutye (active c. 1780-1785) - Scrivener