Birth and Baptismal Certificate (Geburts und Taufschein) for Eliesabeth Bernhard
Fraktur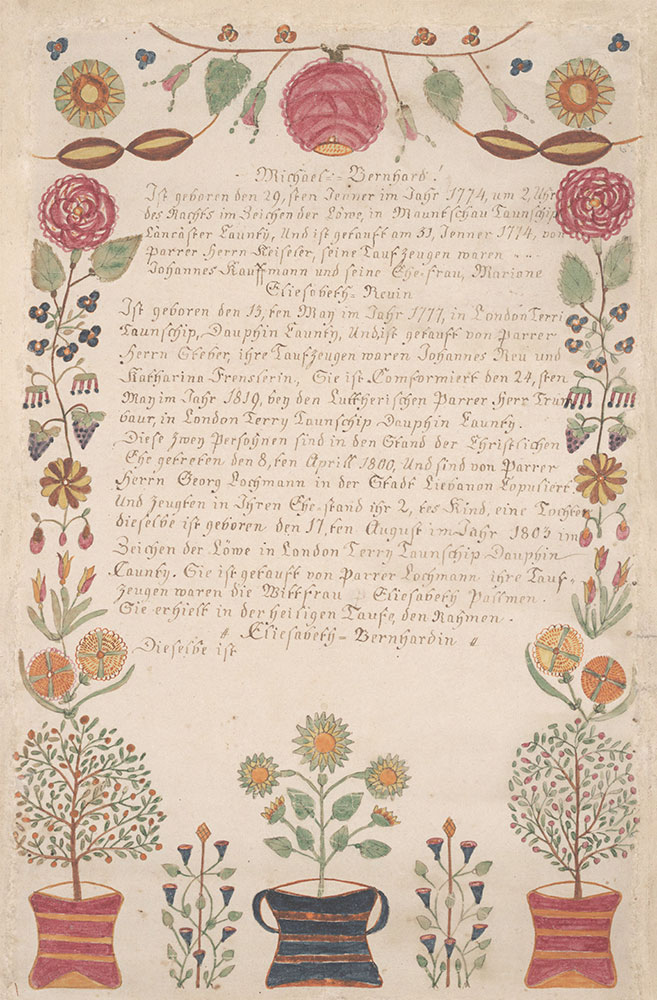 Item Info
Item No: frk01121
Title: Birth and Baptismal Certificate (Geburts und Taufschein) for Eliesabeth Bernhard
Scripts/Text:
Fraktur
Language:
German
Weiser Number:
428
Physical Description:
Leaf
Material:
Laid paper; watercolor; ink
Transcription:
Michael Bernhard \ Ist geboren den 29. sten Jenner im Jahr 1774 um 2 Uhr \ des Nachts im Zeichen der Löwe in Mauntschu Taunschip \ Läncäster Caunty, Und ist getauft am 31, Jenner 1774, von \ Parrer Herrn Keiseler, seine Taufzeugen waren Johannes Kauffmann, und seine Ehe=frau Mariane. \ Eliesabeth Reuin \ Ist gebohren den 13, ten May im Jahr 1777, in London Terri \ Taunschip, Dauphin Caunty, Und ist getauft von Parrer \ Herrn Steber, ihre Taufzeugen waren Johannes Reu und \ Katharina Frenslerin, Sie ist Comformiert den 24, sten \ May im Jahr 1819, bey den Luttherischen Parrer Herr Trum= \ baur, in London Terry Taunschip Dauphin Caunty. \ Diese zwey Persohnen sind in den Stand der Christlichen \ Ehe getreten den 8, ten Aprill 1800, Und sind von Parrer \ Herrn Georg Lochmann in der Stadt Liebanon Copuliert. \ Und zeugten in Ihren Ehe=stand ihr 2, tes Kind, Eine Tochter \ dieselbe ist geboren den 17, ten August im Jahr 1803 im \ Zeichen der Löwe in London Terry Taunschip Dauphin \ Caunty. Sie ist getauft von Parrer Lochmann ihre Tauf= \ zeugen waren die Wittfrau Eliesabeth Pallmen. \ Sie erhielt in der heiligen Taufe, die Nahmen \ Eliesabeth Bernardin \ Dieselbe ist [blank]
Translation:
Michael Bernhard was born on the 29th of January in the year 1774 at 2 o'clock at night, in the sign of Leo, in Mount Joy Township, Lancaster County, and was baptized on the 31st of January 1774 by Pastor Mister Keiseler. His sponsors were Johannes Kauffmann and his wife Mariane. Eliesabeth Reuin was born on the 13th of May in the year 1777 in Londonderry Township, Dauphin County, and was baptized by Pastor Mister Steber. Her sponsors were Johannes Reu and Katharina Frenslerin. She was confirmed on the 24th of May in the year 1819 by the Lutheran Pastor Mister Trumbaur, in Londonderry Township, Dauphin County. These two persons entered into the state of Christian matrimony on the 8th of April 1800, and they were united in marriage by the Lutheran Pastor Mister Georg Lochmann in the town Lebanon, and conceived in marriage their second child, a daughter. The same was born on the 17th of August in the year 1803, in the sign of Leo, in Londonderry Township, Dauphin County. She was baptized by Pastor Lochmann. Her sponsors were the widow Eliesabeth Pallmen She received in the holy baptism the name Eliesabeth Bernhardin. The same is [blank].
Category:
Birth and Baptismal Certificate (Geburts und Taufschein)
Media Type:
Manuscripts
Source:
Rare Book Department
Notes:
Hand-drawn; hand-colored; hand-lettered. The text in Fraktur is in the upper center of the document. In the lower corners are two plant containers with leafy trees bearing small fruit or flowers. Above them are a variety of flowers. Two stars within circles are in the upper corners. A large rosette and smaller flowers are in the upper center. In the lower center are a vase with sunflowers, and two flowery vines that are winding around stakes.
Fr. Leonhard was formerly known as the Chandelier Artist. For another example by this artist made for a sibling, see FLP 1120.
Associated Names:
Trumbaur
Provenance:
Edgar William and Bernice Chrysler Garbisch
Bibliography:
"Fr. Leonhard" in Russell D. and Corinne P. Earnest, Papers for Birth Dayes: Guide to the Fraktur Artists and Scriveners (East Berlin, Pa.: Russell D. Earnest Associates, 1997), 2nd ed., vol. 2, p. 511.
Sotheby's (May 8, 1974); lot 149.
Secondary Place Town/Township:
Geographic Coverage State/Province:Pennsylvania
Geographic Coverage City/Town/Township:Mount Joy Township
Geographic Coverage Note:Based on location of birth
Geographic Coverage Region/County:Lancaster
Creation Place Town/Township:
Creation Place Note:Based on location of birth
Region/County:Dauphin [now Lebanon]
City/Town/Township:Londonderry Township
State/Province:Pennsylvania
Creation Year (Single Year or Range Begin):
ca. 1820
Image Dimensions Width:
31.9 cm
ShelfMark:
FLP 1121
Creator Name:
[Fr. Leonhard (active c. 1803-1827)] - Decorator
[Fr. Leonhard (active c. 1803-1827)] - Scrivener