Discord of Married People (Zwietracht der Eheleute)
Fraktur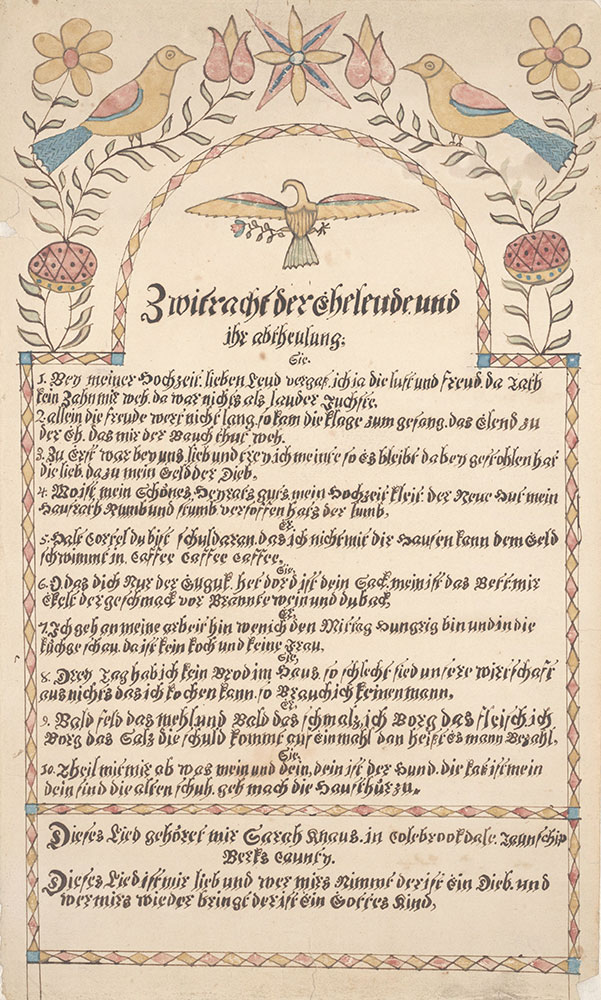 Item Info
Item No: frk01138
Title: Discord of Married People (Zwietracht der Eheleute)
Scripts/Text:
Fraktur
Language:
German
Weiser Number:
907
Physical Description:
Leaf
Material:
Wove paper; watercolor; ink
Transcription:
Zwitracht der Eheleute und \ ihr abtheulung;
Sie.
1. Bey meiner Hochzeit lieben Leud vergaß ich ja die lust und freud, da that \ kein Zahn mir weh da war nichts als lauder Tuchste,
2. allein die freude wert nicht lang so kam die Klage zum gesang, das Elend zu \ der Eh. das mir der Bauch thut weh.
3. Zu Erst war bey uns lieb und trey, ich meinte so es bleibt dabey gestohlen hat \ die lieb dazu mein Geld der Dieb.
4. Wo ist mein Schönes Heyratsguts, mein Hochzeitkleid, der Neue Hut mein \ Hausrath klumb und stumb versoffen hats der lumb.
Er.
5. Halt cortel du bist schuld daran das ich nicht mit dir hausen kann dem Geld \ schwimmt in Caffee Caffee Caffee.
Sie.
6. O das dich nur der Guguk het dord ist dein Sack, mein ist das Bett mir \ Ekelt der geschmack vor Branntwein und duback,
Er.
7. Ich geh an meine arbeit hin wn ich den Mittag hungrig bin und in die \ Küche schau, da ist kein koch und keine Frau,
Sie.
8. Drey Tag hab ich kein Brod im Haus so schlecht sied unsere wirtschaft \ aus nichts das ich kochen kann so Brauch ich keinen mann.
Er.
9. Bald feld das mehl und Bald das schmalz, ich Borg das fleisch ich \ Borg das Salz, die schuld kommt auf einmal dan heißt Es mann Bezahl,
Sie.
10. Theil mit mir ab was mein und dein, dein ist der hund, die katz ist mein \ dein sind die alten schuh, geh mach die Hausthür zu.
Dieses Lied gehöret Sarah Knaus, in Colebrookdale Taunschip \ Berks Caunty.
Dieses Lied ist mir lieb und wer mirs nimmt der ist ein Dieb und \ wer mirs wieder bringt der ist Ein Gottes Kind.

Translation:
Discord of married people and their separation.
She.
1. At my wedding, dear people, I forgot the pleasure and joy, no tooth hurt me, there was nothing but commotion.
2. But joy did not last very long, soon the complaint came to the song, the suffering to the marriage, so that the stomach hurt me.
3. At first everything was love and trust between us. I thought it would stay that way. The thief stole my love and with it my money.
4. Where is my pretty dowry, my wedding dress, the new hat, my household goods? Sticks and sticks, the thug has drunk it up.
He.
5. Wait, Cortel, it is your fault that I cannot live with you; the money swims in coffee, coffee, coffee.
She.
6. O, that only the cuckoo may hear you. There is your sack, the bed is mine, I am disgusted by the taste of brandy and tobacco.
7. When I come from work at noon when I am hungry and I look into the kitchen, there is no cook and no wife.
8. For three days I do not have any bread in the house, so bad does our household look. There is nothing I can cook, so I don't need a husband.
He.
9. Soon the flour is lacking, then the lard, I borrow the meat, I borrow the salt. The debt come all at once, then they say, man, pay up.
She.
10. Divide with me what is mine and yours, yours is the dog, the cat is mine, yours are the old shoes, go shut the front door.
This song belongs to Sarah Knaus, in Colebrookdale Township, Berks County. This song is dear to me and whoever tales it is a thief and whoever brings it back to me is a child of God.

Category:
Other
Media Type:
Manuscripts
Source:
Rare Book Department
Notes:
Hand-drawn; hand-colored; hand-lettered. The text in Fraktur is in the lower center of the document. It is framed by a border with an arched top. In the upper center is a spread-winged eagle with a shield, arrows and a branch. In the upper corners are two birds on stemmed flowers.
Associated Names:
Knaus, Sarah
Creation Place Town/Township:
Region/County:Berks
City/Town/Township:Colebrookdale Township
State/Province:Pennsylvania
Creation Place Note:Based on inscription on document
Creation Year (Single Year or Range Begin):
ca. 1830
Image Dimensions Width:
33.8 cm
ShelfMark:
FLP 1138
Creator Name:
Anonymous - Decorator
Anonymous - Scrivener