Birth and Baptismal Certificate (Geburts und Taufschein) for Lowisa Galladay
Fraktur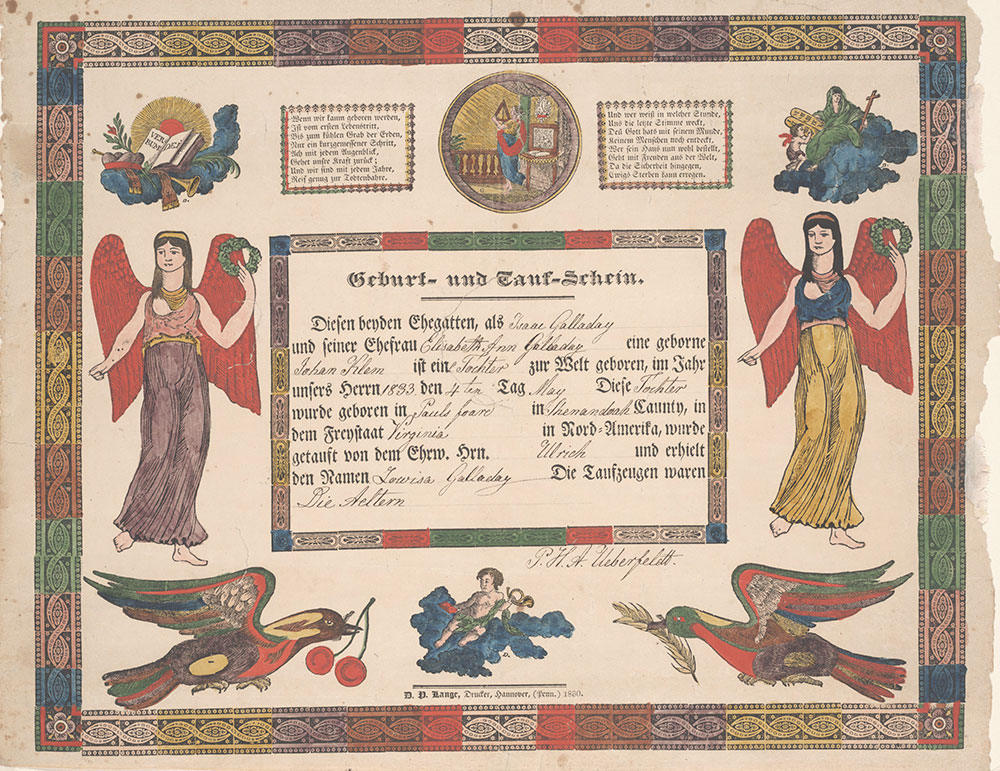 Item Info
Item No: frk01145
Title: Birth and Baptismal Certificate (Geburts und Taufschein) for Lowisa Galladay
Scripts/Text:
Fraktur; Roman script
Language:
German
Weiser Number:
456
Physical Description:
Leaf
Material:
Wove paper; watercolor; ink
Transcription:
Geburt- und Tauf-Schein.
Diesen beyden Ehegatten, als Isaac Galladay \ und seiner Ehefrau Elisabeth Ann Galladay eine geborne \ Johan Klem ist eine Tochter zur Welt geboren, im Jahr \ unsers Herrn 1833 den 4ten Tag May Diese Tochter \ wurde geboren in Pauls foard in Shenandoah County, in \ dem Freystaat Virginia in Nord=Amerika, wurde \ getauft von dem Ehrw. Hrn. Ulrich und erhielt \ den Namen Lowisa Galladay Die Taufzeugen waren \ Die Aeltern
P. H. A. Ueberfeldt
D. P. Lange, Drucker, Hannover, (Penn.) 1830
[upper left]
Wenn wir kaum gebohren werden, \ Ist vom ersten Lebenstritt ,\ Bis ins kühle Grab der Erden, \ Nur ein kurzgemessner Schritt, \ Ach mit jedem Augenblick, \ Gehet unsre Kraft zurück; \Und wir sind mit jedem Jahre, \ Reif genug zur Todtenbahre.
[upper right]
Und wer weiss in welcher Stunde, \ Uns die letzte Stimme weckt, \ Denn Gott hats mit seinem Munde, \ Keinem Menschen noch entdeckt, \ Wer sein Haus nun wohl bestellt, \ Geht mit Freuden aus der Welt, \ Da die Sicherheit hingegen, \ Ewigs Sterben kann erregen.
[in opened book]
VER \ BUM \ DEI

Translation:
Birth and Baptismal Certificate
To these two married people namely Isaac Galladay and his wife Elisabeth Ann Galladay, a born Johan Klem, a daughter was born into the world, in the year of our Lord 1833, on the 4th day of May. This daughter was born in Paul's Ford, in Shenandoah County, in the state of Virginia, in North America, was baptized by the honorable Mr. Ulrich and received the name Lowisa Galladay. The sponsors were the parents.
P. H. A. Ueberfeldt
D. P. Lange, printer, Hanover, Penn, 1830.
[upper left]
Scarcely born into the world, it is only a short measured pace from the first step to the cool grave in the earth. O with every moment! Our strength diminishes, and with every year we grow more ripe for the bier.
[upper right]
And who knows in what hour the final voice will awaken us, because God has not revealed this to anybody yet. Who tends to his house will depart from the world with joy. Because surety, in contrast, can provoke eternal death.
[in opened book]
Verbum Dei [The word of God]

Category:
Birth and Baptismal Certificate (Geburts und Taufschein)
Media Type:
Letterpress Prints
Source:
Rare Book Department
Notes:
Hand-colored; hand-lettered; printed form. The main text in Fraktur with blanks infilled in Roman script is in a rectangular frame in the center of the document. The verses in Fraktur are within rectangular frames above it. In the upper center is a round image of woman holding a compass. To her right is a desk with an opened book. A wall clock is above it. To her left is a balustrade, and the letter G. In the upper left corner of the document is a cloud with an opened bible, a trumpet, a branch, and a rising sun. In the upper right corner is a cloud with a woman holding a cross. A putto is handing her the two tablets with the commandments. On each side of the document is an angel holding a wreath. In the lower corners are birds. The one on the left is holding a pair of cherries, and the one on the right is holding a feather. In the lower center is a cloud with a putto with a postal horn, a letter and a garland. The entire document is framed by a decorative border.
Associated Names:
Ulrich
Bibliography:
Klaus Stopp, The Printed Birth and Baptismal Certificates of the German Americans (East Berlin, Pa.: Russell D. Earnest Associates, 1997) vol. 2, p. 259.
Secondary Place Town/Township:
Geographic Coverage State/Province:Virginia
Geographic Coverage City/Town/Township:Paul's Ford
Geographic Coverage Note:Based on location of birth
Geographic Coverage Region/County:Shenandoah
Creation Place Town/Township:
Creation Place Note:Based on location of printshop
Region/County:York
City/Town/Township:Hanover
State/Province:Pennsylvania
Creation Year (Single Year or Range Begin):
1830
Image Dimensions Width:
32.2 cm
ShelfMark:
FLP 1145
Creator Name:
Daniel Philip Lange (1783-1856) - Printer/Publisher
Philip H. A. Ueberfeldt (active c. 1815-1833) - Scrivener
Anonymous - Decorator