A big Wonderfish (Ein grosser Wunderfisch)
Fraktur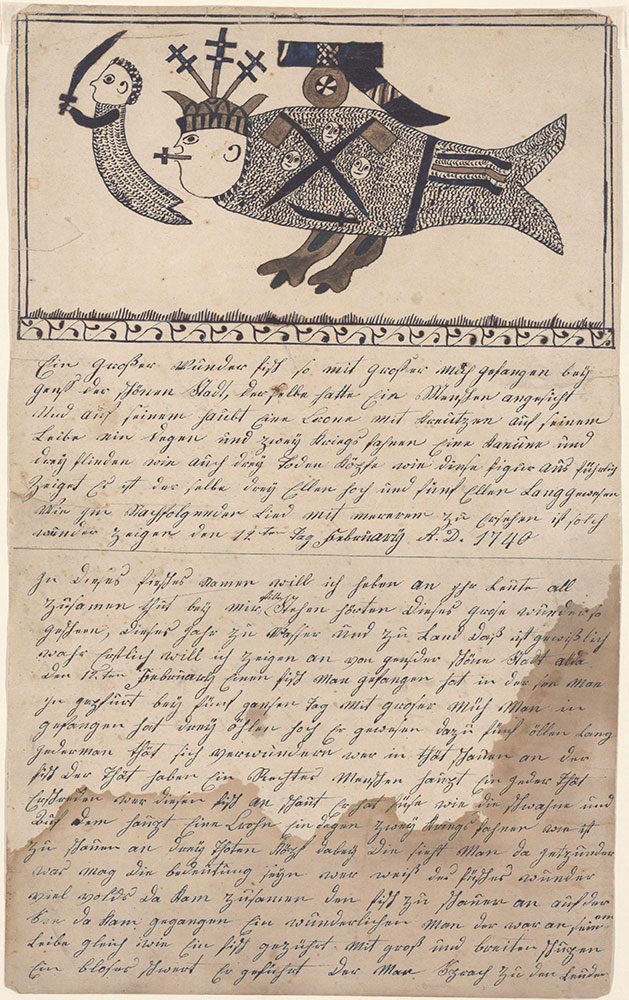 Item Info
Item No: frk00316
Title: A big Wonderfish (Ein grosser Wunderfisch)
Scripts/Text:
German script
Language:
German
Weiser Number:
934
Physical Description:
Leaf
Material:
Wove paper; watercolor; ink
Transcription:
Ein großer Wunder fisch so mit großer Müh gefangen bey \ Genf der schönen Stadt, derselbe hatte ein Menschen angesicht \ Und auf seinem haubt eine Crone mit Kreutzen auf seinem \ Leibe ein Degen uns zwey kriegs fahnen Eine kanune und \ drey flinden wie auch drey Toden köpfe wie diese figur aus führlich \ zeiget Er ist der selbe drey Ellen hoch und fünf Ellen Langgewesen \ Wie im Nachfolgenden Lied mit mererem zu ersehen ist, solch \ wunder zeigen den 12ten February A. D. 1740
In dieses fiesches Namen will ich geben an ihr Leute all \ zusammen thut bey mir stille stehen hörten Dieses grose wunder so \ gescheen, Dieses Jahr zu Wasser und zu Land daß ist gewißlich \ wahr Erstlich will ich zeigen an von genfder schöne Stadt alda \ Den 12.ten February Einen fisch man gefangen hat in der see Man \ in gephürt bey fünf gansen Tag Mit groser Müh Man in \ gefangen hat drey öhlen hoch Er gewesen dazu fünf öllen lang \ Jederman thät sich verwundern wer in thät schauen an der \ fish Der thät haben ein Rechtes Menschen haupt Ein jeder thät \ Erstaunen wer dieser fish an schaut Er hat füse wie die Schwahne und \ Auf dem haupt Eine Crohn ein degen zwey Kriegs fahnen wie ist \ zu schauen an drey Thoten Köpf dabey Die sieht Man da getzunden \ was mag Die bedeutung seyn wer weiß des füsches wunder \ viel volks Da kam zusammen den fisch zu schauen an auf der \ See da kam gegangen ein wunderlichen Man der war an seinen \ Leibe gleich wie Ein fisch gezührt. Mit groß und breiten Schupen \ Ein bloses Schwert Er geführt Der Man sprach zu den Leuden [continued on reverse]

Translation:
A big wonder fish which was caught with effort near Geneva, the beautiful city. The same had a man's countenance and on his head a crown with crosses; on his body a sword, two war flags, a cannon, and three rifles as well as three skulls. As this drawing shows in detail the same was three ells high and also five ells long, as can be seen in the following hymn with more. Such a miraculous sign on the 12th of February A.D. 1740.
In this fish's name I now begin; you people all together, who stand by me quietly, hear: this great miracle happened this year on water and on land. This is certainly true. First I will describe Geneva, the beautiful city, where on the 12th of February a fish was caught by man in the sea. It was felt it for five whole days; it was caught with great effort. Three ells high, it was, and also five ells long. Everyone wondered who looked at it. The fish had a true human head. Everyone was amazed who viewed the fish. He has feet like the swans, on the head a crown, a sword, two war flags, as can be seen. Three skulls with it, there are seen down there. What can be the meaning? Who knows the fish's miracle? Many people came together to view the fish. On the sea there came a wonderful man, who was adorned on his body exactly like a fish with big and wide scales. He carried a simple sword. The man said to the people [continued on reverse]

Category:
Wonderfish (Wunderfisch)
Media Type:
Manuscripts
Source:
Rare Book Department
Notes:
Hand-drawn; hand-colored; hand-lettered. The text in German script covers the lower two thirds of the document as well as a portion of the reverse. In the upper part on the front is an image of the Wonderfish bearing a cannon on its back and preceded by a fish-like "wonderful man" as they are described in the text. They are enclosed within a rectangular border. For the reverse, see FLP 316v.
The Wunderfisch was a popular broadside subject and was frequently copied by fraktur artists as well. For another example, see FLP 317.
Creation Place State/Province:
Creation Place Note:Based on design characteristics
State/Province:[Pennsylvania]
Creation Year (Single Year or Range Begin):
ca. 1840
Image Dimensions Width:
31.3 cm
ShelfMark:
FLP 316
Creator Name:
Anonymous - Decorator
Anonymous - Scrivener
View other associated items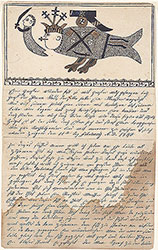 A big Wonderfish (Ein grosser Wunderfisch)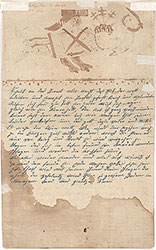 A big Wonderfish (Ein grosser Wunderfisch)
Previous
Previous