Birth and Baptismal Certificate (Geburts und Taufschein) for William Schwartz
Fraktur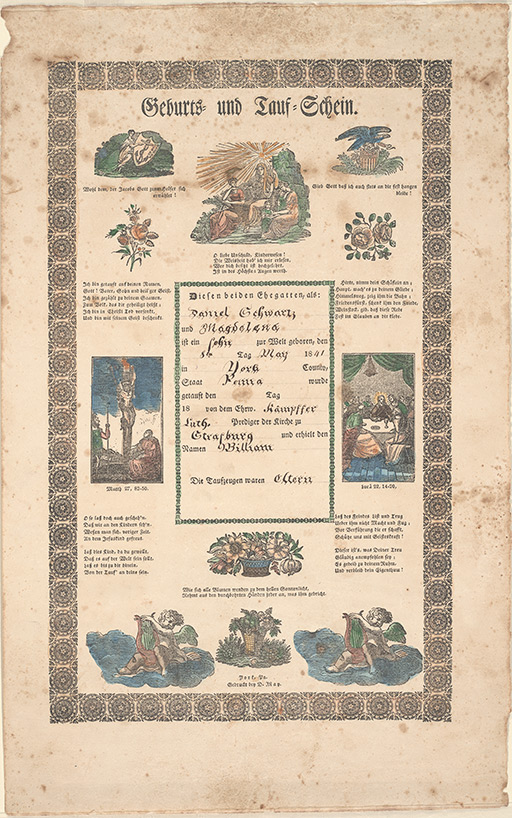 Item Info
Item No: frk01219
Title: Birth and Baptismal Certificate (Geburts und Taufschein) for William Schwartz
Scripts/Text:
Fraktur
Language:
German
Physical Description:
Leaf
Material:
Wove paper; watercolor; ink
Transcription:
Geburts= und Tauf=Schein.
[in frame]
Diesen beiden Ehegatten, als: \ Daniel Schwartz \ und Magdalena \ ist ein Sohn zur Welt geboren, den \ 8ten Tag May 1841 \ in York Caunty, \ Staat Penna wurde getauft den [blank] Tag [blank] \ 18 [blank] von dem Ehrw. Kämpffer \ Luth. Prediger der Kirche zu \ Strasburg und erhielt den \ Namen William
Die Taufzeugen waren Eltern
[in upper left]
Wohl dem, der Jacobs Gott zum Helfer sich \ erwählet!
[in upper right]
Gieb Gott daß ich auch stets an dir fest hangen \ bleibe!
[upper center]
O liebe Unschuld, Kinderwesen! \ Die Weisheit hab' ich mir erlesen, \ Wer dich besitzt ist hochgelehrt, \ Ist in des Höchsten Augen werth.
[below roses on left]
Ich bin getauft in deinem Namen, \ Gott! Vater, Sohn und heil'ger Geist, \ Ich bin gezählt zu Deinem Saamen, \ Zum Volk, das dir geheiligt heißt; \ Ich bin in Christi Tod versenkt, \ Und bin mit seinem Geist beschenkt.
[below roses on right]
Hirte, nimm dein Schäflein an: \ Haupt, mach' es zu deinem Gliede: \ Himmelsweg, zeig ihm die Bahn: \ Friedensfürst, schenk ihm den Friede, \ Weinstock, gib, daß diese Rebe \ Fest im Glauben an dir klebe.
[left caption]
Matth 27, 83 [sic] -50.
[right caption]
Luc 22, 14-20,
[in lower left]
O so laß doch auch gescheh'n. \ Daß wir an den Kindern seh'n, \ Weßen man sich, voriger Zeit, \ An dem Jesuskind gefreut.
Laß dies Kind, da du gewollt, \ Daß es auf der Welt sein sollt, \ Laß es bis zu dir hinein, \ Von der Tauf' an deine sein.
[in lower right]
Laß des Feindes List und Trug \ Ueber ihm nicht Macht und Fug; \ Vor Verführung die er schafft, \ Schütze uns mit Geisteskraft!
Dieser ist's, was Deiner Treu \ Gläubig anempfohlen sey; \ Es gedeih zu deinem Ruhm, \ Und verbleib dein Eigenthum!
[lower center]
Wie sich alle Blumen wenden zu dem hellen Sonnenlicht, \ Nehmt aus den durchborten Händen jeder an, was ihm gebricht.
York, Pa. \ Gedruckt bey D. May.

Translation:
Birth and Baptismal Certificate.
[in frame]
To these two married people namely Daniel Schwartz and Magdalena a son was born into the world on the 8th day of May 1841, in York County, state of Pennsylvania, was baptized on the [blank] day [blank] 18 [blank] by the honorable Kämpffer, Lutheran preacher of the church in Strasburg, and received the name William.
The sponsors were the parents.
[in upper left]
Blessed is who chooses Jacob's God as his helper!
[in upper right]
Grant, God, that I will always hold on to you firmly!
[upper center]
O, dear innocence, children! I have acquired wisdom through reading. Whoever owns you is highly learned, is worthy in the highest eyes.
[below roses on left]
I am baptized in your name, God, Father, Son and Holy Ghost. I am counted as one of your seeds, to a people that you blessed. I am steeped in Christ's death and was granted his spirit.
[below roses on right]
Shepherd, take care of your sheep; head, make it into your limb; heaven's path, show it the way; prince of peace, grant him peace; grapevine, grant that this grape clings firmly to you in its faith.
[left caption]
Matthew 27: 83 [sic]-50
[right caption]
Luke 22: 14-20
[in lower left]
O, so let also happen that we see in the children why one rejoiced in the baby Jesus in the past. Let this child that you wanted to be on earth, let it go to you, be yours from the time of baptism.
[in lower right]
Don't let the enemy's cunning and cheating have power and influence over him. Protect us with the power of the spirit from the seduction he creates. He is the one who was recommended to you faithfully. May he grow in your glory and remain your property!
[lower center]
Just as all flowers turn to the sunlight, so everybody take from the impaled hands what burdens him.
York, Pa. Printed by D. May.

Category:
Birth and Baptismal Certificate (Geburts und Taufschein)
Media Type:
Letterpress Prints
Source:
Rare Book Department
Notes:
Hand-colored; hand-lettered, printed form. The main text in Fraktur within a rectangular frame is in the center of the document. The frame is surrounded by ten different tailpieces, several of which represent biblical scenes. In the upper left corner is a woman with an inscribed shield. In the upper right corner are an eagle with a shield, banner, branches, fruit and grass. Below the two images are roses. In the upper center is a woman with an anchor, a woman with a book, and a woman with two children. On the lower sides are two biblical scenes, including Jesus on the cross on the left and the Last Supper on the right. In the lower corners are angels with lyres on clouds. Between them are two baskets with flowers. The caption below the crucifixion is incorrect. It should read Matthew 27, 33-50.
Associated Names:
Schwartz, William
Bibliography:
Klaus Stopp, The Printed Birth and Baptismal Certificates of the German Americans (East Berlin, Pa.: Russell D. Earnest Associates, 1999) vol. 5, p. 32.
Creation Place Town/Township:
Creation Place Note:Based on location of printshop
Region/County:York
City/Town/Township:York
State/Province:Pennsylvania
Creation Year (Single Year or Range Begin):
ca. 1840
Image Dimensions Width:
37.3 cm
ShelfMark:
FLP 1219
Creator Name:
Anonymous - Decorator
Anonymous - Scrivener
Daniel May (?-1843) - Printer/Publisher