Birth and Baptismal Certificate (Geburts und Taufschein) for Samuel Arner
Fraktur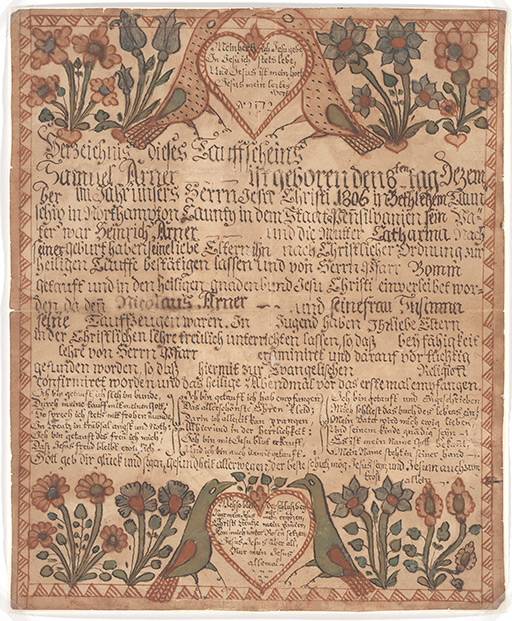 Item Info
Item No: frk01302
Title: Birth and Baptismal Certificate (Geburts und Taufschein) for Samuel Arner
Scripts/Text:
Fraktur
Language:
German
Physical Description:
Leaf
Material:
Laid paper; watercolor; ink
Transcription:
[in heart in upper center]
Mein Hertz ich Jesu gebe, \ In Jesu ich stets lebe, \ Und Jesus ist mein hort \ Jesus mein letztes \ wort
[central text]
Verzeichnis dieses Taufscheins
Samuel Arner ist geboren den 18ten tag Dezem= \ ber im Jahr unsers Herrn Jesu Christi 1806 in Bethlehem Taun= \ schip in Northampton Caunty in dem Staat Pennsilvanien sein Va= \ ter war Heinrich Arner und die Mutter Catharina nach \ seiner geburt haben seine liebe Eltern ihn nach Christlicher Ordnung zur \ heiligen Tauffe bestätigen lassen und von Herrn Pfarr Bomm \ getauft und in den heiligen gnadenbund Jesu Christi einverleibet wor= \ den, da denn Nicolaus Arner und seine frau Susanna \ seine Tauffzeugen waren. In Jugend haben Ihr liebe Eltern, \ in der Christlichen Lehre treulich unterrichten lassen, so daß bey fähigkeit \ lehre von Herrn Pfarr [blank] examiniret und darauf vor tüchtig \ gefunden worden, so daß hiermit zur Evangelischen [blank] Religion \ confirmiret worden und das heilige Abendmal vor das erstemal empfangen.
Ich bin getauft, ich steh im bunde, \ Durch meine tauff mit meinem Gott! \ So sprech ich stets mit frohem munde, \ in Creuz, in trübsal, angst und Noth. \ Ich bin getauft des freu ich mich, \ Daß Jesus freud bleibt ewiglich.
Ich bin getauft ich hab empfangen, \ Das allerschönste Ehren=kleid, \ Darinn ich allezeit kan prangen, \ Allhier und in der Herrlichkeit. \ Ich bin mit Jesu blut erkauft, \ Und ich bin auch damit getauft.
Ich bin getauft u. eingeschrieben, \ Mich schließt das Buch des lebens ein, \ Mein vater wird mich ewig lieben, \ Und seinem Kinde gnädig seyn, \ Es ist mein Name Gott bekannt, \ Mein Name steht in seiner Hand.
[in heart in lower center]
Ach so bleit der Schluß bey \ mir \ Nur mein Jesus mein ergötzen, \ Christi Creutze mein panier, \ Kann mich unter Rosen setzen \

Translation:
[in heart in upper center]
I give my heart to Jesus, I always live in Jesus, and Jesus is my refuge; Jesus is my final word.
[central text]
Record of this birth certificate.
Samuel Arner was born on the 18th day of December in the year of our Lord Jesus Christ 1806 in Bethlehem Township in Northampton County in the state of Pennsylvania. His father was Heinrich Arner and the mother Catharina. After his birth his dear parents have taken him to the Christian baptism according to Christian command, and he was baptized by Mister pastor Bomm and incorporated into Jesus Christ's holy covenant of mercy. Nicolaus and Susanna Arner were his sponsors. In his youth his dear parents had him faithfully instructed in the Christian teaching, so that when his ability was examined by Mister pastor [blank] and was found capable, he was confirmed into the Evangelical [blank] religion and received the holy supper for the first time.
I am baptized; I stand united with my God through my baptism. I therefore always speak joyfully in hardship, sadness, fear and need. I am baptized, that's a joy for me. Jesus' joy lasts eternally.
I am baptized; I have received the most beautiful garment of honor. In this I can forever appear in glory, here and in eternity. I was bought with Jesus's blood, and I was also baptized with it.
I am baptized and inscribed; the book of life encloses me. My father will always love me and have mercy on his child. My name is known to God, my name is written in his hand.
[in heart in lower center]
And so in the end remains with me only my Jesus, my joy; Christ's cross is my banner, I can sit down under roses.

Category:
Birth and Baptismal Certificate (Geburts und Taufschein)
Media Type:
Manuscripts
Source:
Rare Book Department
Notes:
Hand-drawn; hand-colored; hand-lettered. The main text in Fraktur is in the center of the document. Two verses in fraktur within hearts are in the lower and upper center. The hearts are flanked by two birds and several flowers. The entire document is framed by a decorative border.
Associated Names:
Spangenberg, Johannes Ernst
Bibliography:
"Johannes Ernst Spangenberg" in Russell D. and Corinne P. Earnest, Papers for Birth Dayes: Guide to the Fraktur Artists and Scriveners (East Berlin, Pa.: Russell D. Earnest Associates, 1997), 2nd ed., vol. 2, pp. 717-719.
Monroe H. Fabian, "The Easton Bible Artist Identified," in Pennsylvania Folklife 22, no. 2 (Winter 1972): 2-14.
Creation Place Town/Township:
Creation Place Note:Based on location of birth
Region/County:Northampton
City/Town/Township:Bethlehem Township
State/Province:Pennsylvania
Creation Year (Single Year or Range Begin):
ca. 1806
Image Dimensions Width:
39.6 cm
ShelfMark:
FLP 1302
Creator Name:
Johannes Ernst Spangenberg (c. 1755-1814) - Decorator
Johannes Ernst Spangenberg (c. 1755-1814) - Scrivener