Birth and Baptismal Certificate (Geburts und Taufschein) for Eva Magdalena Fischer
Fraktur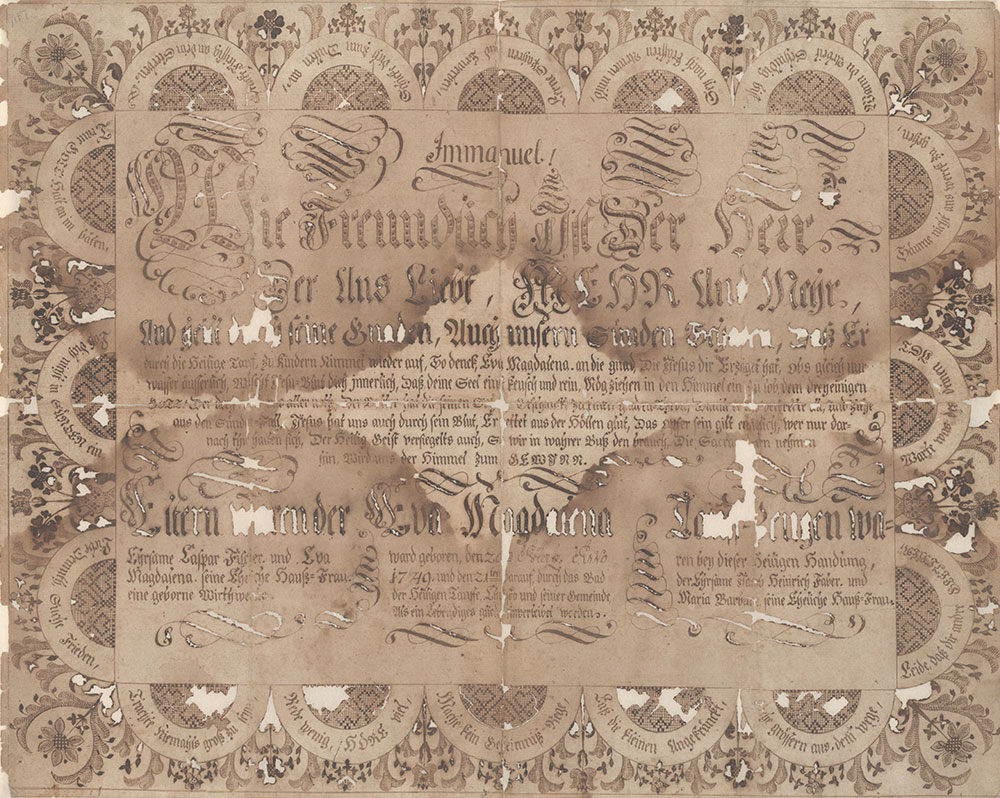 Item Info
Item No: frk00036
Title: Birth and Baptismal Certificate (Geburts und Taufschein) for Eva Magdalena Fischer
Scripts/Text:
Fraktur
Language:
German
Weiser Number:
411
Physical Description:
Leaf
Material:
Laid paper; watercolor; ink
Transcription:
[center text]
Immanuel. \ Wie freundlich ist der Herr \ der uns Liebt, MEHR und Mehr, \ und gebt durch seine Gnaden, Auch unsern Sünden Schanden Daß Er \ durch die Heilige Tauf, zu Kindern Nimmet wieder auf, So denck, Eva Magdalena, an die gnad, Die Jesus dir Erzeiget hat, obs gleich nur \ wasser äusserlich , wischt Jesu=Blut dich innerlich, Daß deine Seel einst keusch and rein. Mög ziehen in den Himmel ein, zu lob dem dreyeinigen \ GOTT Der dich [def.] aus aller noth. Der Vater hat dir seinen Sohn Geschenckt zu einem gnaden=Thron, damith er vertrette [?, def.] alle, und ziehe \ aus den Sünden=Fall, Jesus hat uns auch durch sein Blut, Errettet aus der Höllen glut, Das opfer sein gilt entelich, wer nur dar=\ nach thun halten sich. Der Heilig Geist versiegelts auch, So wir in wahrer Buß den brauch, Die Sacramenten nehmen \ hin, Wird uns der Himmel zum GEWINN.
[left text column]
Eltern waren der \ Ehrsame Caspar Fischer und Eva \ Magdalena. Seine Eheliche Hauß=Frau \ eine geborne Wirthwen
[center text column]
Eva Magdalena \ ward geboren, den 20. Mertz ANNO \ 1749 und den 21ten darauf, durch das Bad \ der Heiligen Taufe Christo und seiner Gemeinde \ Als ein Lebendiges glied einverleibet werden.
[right text column]
Taufzeugen wa= \ ren bey dieser Heiligen Handlung, \ der Ehrsame Jacob Heinrich Faber, und \ Maria Barbara, seine Eheliche Hauß=Frau.
[in semi-circles, starting top left, going counter-clockwise]
Traue GOTT! Halt an im bäten, \ Laß dich nicht in SÜNDEN ein \ LIebe Demuth, Suche Frieden, \ Trachte niemals groß zu sein, \ Rede wenig, HÖRE viel, \ Mache kein Geheimnis Rege, \ Laß die kleinen Ungekränkt, \ Gehe grössern aus dem wege, \ Leide, daß dir andre GLEICHEN \ Warte was des deinen IST, \ Säume nicht ans werk zu gehen, \ Wann du Arbeit schuldig bist \ Sey nach kräften Armen mild, \ Lerne spahren und Erwerben, \ Schicke dich zum Dulten an, \ Dencke fleissig an dein Sterben.

Translation:
Immanuel!
How friendly is the Lord, who loves us more and more, and grants through his grace that in spite of our sins' disgrace, he will accept us as his children again through the Holy baptism. So remember, Eva Magdalena, the grace that Jesus has shown you, even though it is merely water from the outside, it is Jesus's blood that washes you internally, so that your soul, which will be pure and chaste, may enter into Heaven, to praise the triune GOD, who helps you out of every need. The Father has presented you his son to take a throne of grace, so that he may save all and pull them out of the state of sin. Jesus saved us with his blood from the fires of hell; his sacrifice will last forever for those who will hold fast to it. The Holy Ghost seals it, as we are taking in sincere repentance the sacraments, Heaven will be our reward.
[left text column]
The parents were the honorable Caspar Fischer and Eva Magdalena, his lawful wife, a born Wirthwen.
[center text column]
Eva Magdalena was born on the 20th of March in the year 1749, and on the 21st, she was incorporated through the Holy bath into Christ and his congregation as a living member,
[right text column]
Sponsors at this holy deed were the honorable Jacob Heinrich Faber and Maria Barbara, his lawful wife.
[in semi-circles, starting top left, going counter-clockwise]
Trust God! Persevere in prayer, Don't succumb to sinning Love
humility, search for peace, Never year to be great, Talk little, listen
a lot, Don't turn secrets into trouble, Leave the small ones alone, Avoid the large ones, Suffer so that other may emulate you, Wait for what is yours. Don't fail to get to work If you owe any work. Be kind to the poor, Learn to save and to earn Learn to be patient, Think always of your death.
Category:
Birth and Baptismal Certificate (Geburts und Taufschein)
Media Type:
Manuscripts
Source:
Rare Book Department
Notes:
Hand-drawn; hand-colored; hand-lettered Text in Fraktur is within box, which is surrounded by scalloped border with additional verse, flowers, and leaves. Within the scallops are heart motifs made of tiny blocks resembling a needlework pattern.
Associated Names:
Wirthwen, Eva Magdalena
Provenance:
Henry S. Borneman
Bibliography:
"Johann Carl Scheibeler" in Russell D. and Corinne P. Earnest, Papers for Birth Dayes: Guide to the Fraktur Artists and Scriveners (East Berlin, Pa.: Russell D. Earnest Associates, 1997), 2nd ed., vol. 2, pp. 668-669.
Lynn A. Brocklebank, "Westmoreland County, Pennsylvania, Fraktur: An Initial Survey," The Magazine Antiques 129, no. 1 (January 1986): 258-267; published as fig. 1.
Creation Place State/Province:
State/Province:[Pennsylvania]
Creation Place Note:Based on design characteristics
Creation Year (Single Year or Range Begin):
ca. 1750
Image Dimensions Width:
32 cm
ShelfMark:
FLP 36
Creator Name:
[Johann Carl Scheibeler (active c. 1769-1800)] - Decorator
[Johann Carl Scheibeler (active c. 1769-1800)] - Scrivener