Birth and Baptismal Certificate (Geburts und Taufschein) for Daniel Siegfried
Fraktur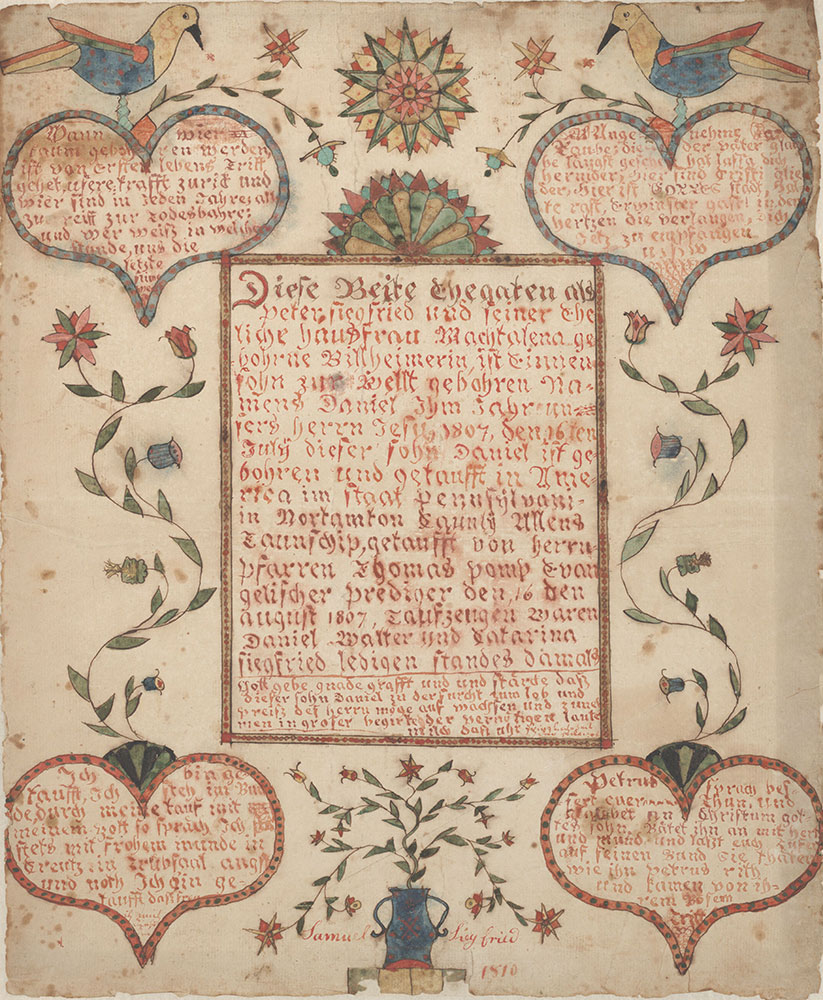 Item Info
Item No: frk00049
Title: Birth and Baptismal Certificate (Geburts und Taufschein) for Daniel Siegfried
Scripts/Text:
Fraktur; German script
Language:
German
Weiser Number:
30
Physical Description:
Leaf
Material:
Laid paper; watercolor; ink
Transcription:
Diese Beite Ehegaten als \ Peter Siegfried und seiner Ehe \ liche Hausfrau Machtalena ge = \ bohrne Billheimerin, ist Einnen \ Sohn zur Welt gebohren Na = \ mens Daniel Ihm Jahr un= \ sers Herrn Jesu 1807, den 16ten \ July dieser Sohn Daniel ist ge= \ bohren und getaufft in Ame \ rica im Staat Pennsylvani= \ in Nortamton Caunty Allens \ Taunschip, getaufft von Herrn Pfarren Thomas Pomp Evan \ gelischer Prediger den 16 den \ August 1807. Taufzeugen waren \ Daniel Walter und Catarina \ Siegfried ledigen Standes damals \ Gott gebe gnade grafft und und Stärke daß \ dieser Sohn Daniel zu der furcht zum lob und \ preiß des herrn möge auf wachsen und zuneh \ men in großer begirte der vernünftigen lauter \ milch das uhr sprüngliche Heil \ von seelennot
[in heart top left]
Wann wier \ kaum gebohren werden \ ist von ersten lebens Tritt \ gehet usere krafft zurick und \ wier sind in jeden Jahre; all \ zu reiff zur Todesbahre: \ und wer weiss in welcher \ Stunde, uns die \ letzte \ Stim \ me
[in heart top right]
Angenehme \ Taube; die der Väter Glau \ be längst gesehen hat lassa dich \ hernider; hier sind Christi glie \ der, hier ist GOTTES Stadt, hal \ te rast; Erwinster gast! In den \ hertzen die verlangen, Dich \ jetz zu empfangen \ u. s. w.
[in heart bottom left]
Ich bin ge= \ taufft, Ich steh im Bun \ de, durch meine tauf, mit \ meinem Gott so spräch ich \ stets mit frohem munde in \ Creutz, in Trübsal, angst \ und noth Ich bin ge= \ tauft daß freu \ ich mich \ die Fr \ eude
[in heart bottom right]
Petrus sprach be= \ sert euer Thun und \ glaubet an Christum got= \ tes Sohn. Bätet ihn an mit hert \ und mund und laßt euch rufen \ auf seinen Bund Sie thäten \ wie ihn Petrus rith \ und kamen von ih= \ rem Bösen \ tritt
[at bottom]
Samuel Siegfried \ 1810
Translation:
To these two married people, namely Peter Siegfried and his lawful wife Machtalena, born Billheimerin, was born a son into the world, named Daniel, in the year of our lord Jesus 1807, the 16th of July. This son Daniel was born and baptized in America, in the state of Pennsylvania, in Northampton County, Allen Township. Baptized by preacher Thomas Pomp, evangelical preacher, on the 16th of August 1807. Sponsors were Daniel Walter and Catarina Siegfried, single at the time.
God grant grace, strength and power so that this son Daniel may grow to the fear, to the praise and acclaim of God and take in with great eagerness the sensible, pure milk, the original cure for the privation of the soul.
[in heart top left]
Scarcely born into the world, from the first step, our strength diminishes, and with every year we grow riper for the bier. And who knows in what hour the final voice [incomplete]
[in heart top right]
Pleasant dove, that has long ago seen the belief of the fathers, descend; here are Christ's members. Here is God's city, rest, welcome guest! In the hearts of those who wish to receive you now, etc.
[in heart bottom left]
I am baptized, I stand united with my God through my baptism. I therefore always speak joyfully in hardship, sadness, fear and need. I am baptized, that's a joy for me. The joy [incomplete]
[in heart bottom right]
Peter spoke, improve your doing and believe in Christ, God's son. Pray to him with heart and mouth and let yourselves be called to his covenant. They did as Peter advised and came from their evil way.
[at bottom]
Samuel Siegfried \ 1810 \
Category:
Birth and Baptismal Certificate (Geburts und Taufschein)
Media Type:
Manuscripts
Source:
Rare Book Department
Notes:
Hand-drawn; hand-colored; hand-lettered. The main text in Fraktur is in center within decorated frame. The four verses are within hearts in the four corners. A vase with leafy flowers is on the bottom, and a large star and two small stars are on top. A bird and flowering vine are above each of the two upper hearts, and flowering vines protrude from the lower ones. The artist's signature in script is on the bottom.
Associated Names:
Walter, Daniel
Provenance:
Henry S. Borneman
Bibliography:
"Samuel Siegfried" in Russell D. and Corinne P. Earnest, Papers for Birth Dayes: Guide to the Fraktur Artists and Scriveners (East Berlin, Pa.: Russell D. Earnest Associates, 1997), 2nd ed., vol. 2, p. 704.
Creation Place Town/Township:
Creation Place Note:Based on location of birth
Region/County:Northampton
City/Town/Township:Allen Township
State/Province:Pennsylvania
Creation Year (Single Year or Range Begin):
1810
Image Dimensions Width:
40.5 cm
ShelfMark:
FLP 49
Creator Name:
Samuel Siegfried (1797-1869) - Decorator
Samuel Siegfried (1797-1869) - Scrivener