King of the kingdom of love (König vom Liebesreich)
Fraktur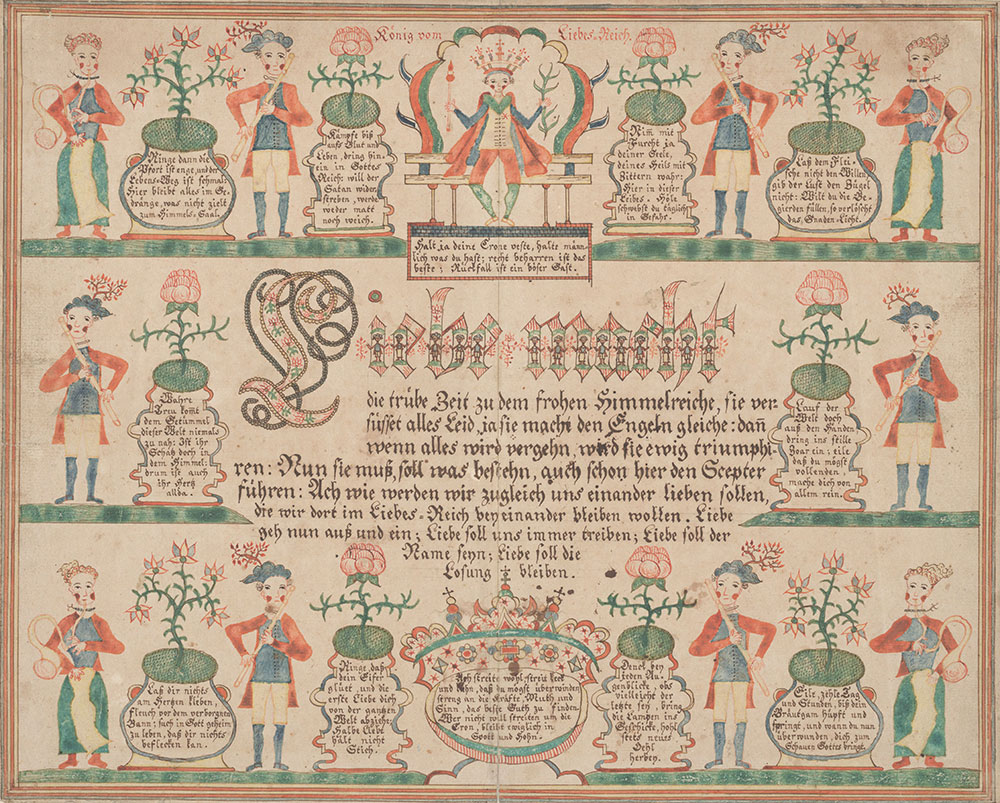 Item Info
Item No: frk00071
Title: King of the kingdom of love (König vom Liebesreich)
Scripts/Text:
Fraktur
Language:
German
Physical Description:
Leaf
Material:
Laid paper; watercolor; ink
Transcription:
König vom Liebes=Reich \
Liebe macht \ die trübe Zeit zu dem frohen Himmelreiche, sie ver= \ süsset alles Leid, ja sie macht den Engeln gleiche: dann \ wenn alles wird vergehn, wird sie ewig triumphi= \ ren: Nun sie muß, soll' was bestehn, auch schon hier den Scepter \ führen: Ach wie werden wir zugleich uns einander lieben sollen \ die wir dort im Liebes=Reich bey einander bleiben wollen. Liebe \ geh nun auß und ein; Liebe soll uns immer treiben; Liebe soll der \ Name seyn; Liebe soll die \ Losung bleiben.
[in frame in top center]
Halt ja deine Crone veste, halte männ= \ lich was du hast; recht beharren ist das \ beste; Rückfall ist ein böser Gast
[in pots, beginning with top center right, going clockwise]
Nim mit \ Furcht ja \ deiner Seele, \ deines Heils mit \ Zittern wahr: \ Hier in dieser Leibes= Höle \ schwebst du täglich \ in Gefahr.
Laß dem Flei= \sche nicht den Willen, \ gib der Lust den Zügel \ nicht: Wilt du die Be= \ gierden füllen, so verlöscht \ das Gnaden=Licht.
Lauf der \ Welt doch \ auß den Händen, \ dring ins Stille \ Zoar ein; eile \ daß du mögst \ vollenden \ mache dich von \ allem rein.
Eile, zehle Tag \ und \ Stunden, biß dein \ Bräutigam hüpft und \ springt, und wann du nun \ überwunden, dich zum \ Schauen Gottes bringt.
Denck bey \ jeden Au= \ genblicke, obs \ vielleicht der \ letzte sey, bring \ die Lampen ins Geschicke, hohl \ stets neues \ Oehl \ herbey.
Ach streite wohl, streit keck \ und kühn, daß du mögst überwinden, \ streng an die Kräfte, Muth und \ Sinn, das beste Guth zu finden. \ Wer nicht will streiten um die \ Cron, bleibt ewiglich in \ Spott und Hohn.
Ringe, daß \ dein Eifer \ glüet, und die \ erste Liebe dich \ von der ganzen \ Welt abziehe; \ Halbe Liebe \ halt nicht \ Stich.
Laß dir nichts \ am Hertzen kleben \ fleuch vor dem verborgnem \ Bann; such in Gott geheim \ zu leben, daß dir nichts \ beflecken kan.
Wahre \ Treu kom?t \ dem Getümmel \ dieser Welt niemals \ zu nah: Ist ihr \ Schatz doch in \ dem Himmel: \ drum ist auch \ ihr Hertz \ allda.
Ringe dann die \ Pfort ist enge, und der \ Lebens=Weg ist schmal: \ Hier bleibt alles im Ge= \ dränge was nicht zielt \ zum Himmels=Saal.
Kämpfe biß \ aufs Blut und \ Leben, dring hin= \ ein in Gottes \ Reich: will der \ Satan wider= \ streben, werde \ weder matt \ noch weich.
Translation:
King of the kingdom of love
Love turns the sad time into the joyous kingdom of heaven; it sweetens all suffering, yes, it makes [us?] similar to the angels. Because, when all else vanishes it will triumph eternally. Now, it must prevail, it must carry the scepter: O, how we will love each other; we, who will remain together in the kingdom of love. Love, go in and out; Love shall always support us; Love shall be the name; Love shall be the salvation.
[in frame in top center]
Hold on tight to your crown, hold on to what is yours like a man; persistence is the best; relapse is a bad guest.
[in pots, beginning with top center right, going clockwise]
Recognize your soul with fear, your salvation with trembling: You are in danger every day here in this bodily cave.
Don't let the flesh have its will, don't give the reins to lust: if you want to meet your desires, the light of grace will expire.
Escape the world from its hands, enter into the silent Zoar; hurry, so that you can complete your purification from everything.
Hurry, count the days and hours, until your groom skips and jumps, and until you have brought yourself to see God.
Think at every moment that it could be the last one, bring the lamps in order, always keep bringing in new oil.
O, fight well, fight boldly and bravely, so that you will prevail, exert your strength, courage and reason, so that you may find the best goods. He who doesn't want to fight for the crown will always be the subject of derision and mockery.
Struggle, so that your zeal may glow, and that the first love may take you from the world; do not hold half of love.
Don't let anything stick to your heart, flee from the hidden spell; try to live secretly in God, so that nothing can tarnish you.
True faith never comes too close to the turmoil of this world: If its treasure is in heaven, its heart is there as well.
Struggle, for the gate is slim, and the path of life is narrow: Here, everything that does not aim for God's hall of Heaven will be left in the crowd.
Fight to the blood and life, enter into God's kingdom: if Satan wants to go against you, do not become tired or mellow.
Category:
Religious Text
Media Type:
Manuscripts
Source:
Rare Book Department
Notes:
Hand-drawn; hand-colored; hand-lettered. The main text in Fraktur is in the center of the document, while the verses are in twelve frames and urns or pots that are arranged in three rows. Flowers and roses protrude from the pots. Flanking each pot is either a male or a female figure. The females play horn-type instruments, while the males play a flute-like instrument. At the top center is a male figure on a throne who wears a crown and holds a scepter and a branch. The large letters of the central text, "Liebe macht," have small human figures within them. A section of verse at the bottom center is within an oval frame that is richly decorated with small geometric ornaments and three crosses.
Creation Place State/Province:
Creation Place Note:Possibly European
State/Province:Unknown
Creation Year (Single Year or Range Begin):
ca. 1800
Image Dimensions Width:
33 cm
ShelfMark:
FLP 71
Creator Name:
Anonymous - Decorator
Anonymous - Scrivener