House Blessing (Haussegen) for Jonathan Gebert
Fraktur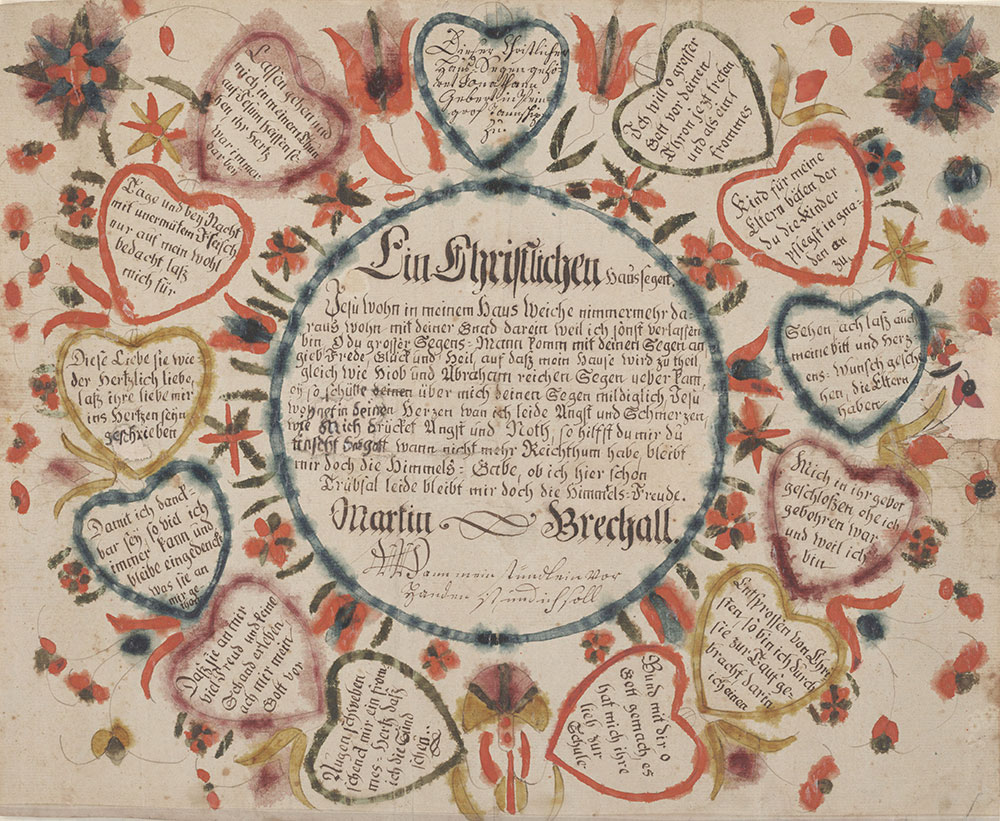 Item Info
Item No: frk00097
Title: House Blessing (Haussegen) for Jonathan Gebert
Scripts/Text:
Fraktur; German script
Language:
German
Weiser Number:
317
Physical Description:
Leaf
Material:
Laid paper; watercolor; ink
Watermark:
HFW and sheaf with two sickles in an oval
Transcription:
Ein Christlichen Haussegen.\ Jesu wohn in meinem Haus, Weiche Nimmermehr da= \ raus, wohn mit deiner Gnad darein weil ich sonst verlassen \ bin, O du grosser Segens=Mann komm mit deinen Segen an. Gieb Frede Glück und Heil, auf das mein Haus wird zu theil \ gleich wie Hiob und Abraham reichen Segen ueber kam \ ey so schütte deinen über mich deinen Segen mildiglich, Jesu \ wohnet in deinen Herzen wan ich leide Angst und Schmerzen \ wie mich drücket Angst und Noth, so hilfft du mir du \ treuer das gott wann nicht mehr Reichthum habe, bleibt \ mir doch die Himmels=Gabe, ob ich hier schon \ Trübsal leide bleibt mir doch die Himmels=Freude. \ Martin Brechall. \ Wann mein Stündlein vor \ handen ist und ich soll [text breaks off]
[in hearts, starting in top center, going clockwise]
Dieser Christilicher \ Haus=Segen gehö= \ ret Jonathan u \ Gebert in Pein= \ grof Taunschip \ zu.
Ich will o grosser \ Gott vor deinen \ Thron jetzt treten \ und als ein \ frommes
Kind für meine \ Eltern bäten der \ du die Kinder \ pflegst in Gna= \ den an \ zu
Sehen, ach laß auch \ meine bitt und Herz= \ ens=Wunsch gesche \ hen, die Eltern \ haben
Mich in ihr Gebet \ geschloßen ehe ich \ gebohren war \ und weil ich \ bin
Entsprossen von Chri= \ sten so bin ich durch \ sie zur Tauf ge= \ bracht darin \ ich einen
Bund mit dir, o \ Gott gemach, es \ hat mich ihre \ lieb zur \ Schule
[continued in heart to the left of top center, going counter clockwise]
Lassen gehen und \ mich in meinem Thun \ auf Jesum heissen se= \ hen ihr hertz \ war immer \ dar bey
Tage und bey Nacht \ mit unvermütem Fleisch \ nur auf mein Wohl \ bedacht laß \ mich für
Diese Liebe sie wie \ der hertzlich liebe, \ laß ihre liebe mir \ ins Hertzen seyn \ geschrieben
Damit ich danck= \ bar sey, so viel ich \ immer kann und \ bleibe eingedenckt \ was sie an \ mir ge \ than
Daß sie an mir \ viel Freud und keine \ Schand erleben \ ach mir mein \ Gott vor
Augen schweben \ schend mir ein from= \ mes Hertz daß die Sünd \ scheu

Translation:
Jesus, dwell in my house, never leave it, live in it with your grace because otherwise I will be abandoned. Oh you great man of blessings, come with your blessing. Give peace, happiness and grace that will become part of my house. Like Job and Abraham, shower me with your abundant blessings. Jesus, live in your heart. When I suffer from fear and pain, when fear and need weighs me down, help me, oh faithful God. When I no longer have wealth I will still be left with the gifts of heaven. Even though I may suffer sadness here I am left with the joys of heaven. Martin Brechall. When my final hour comes and I shall [text breaks off]
[in hearts]
This spiritual house blessing belongs to Jonathan Gebert in Pine Grove Township. I will, o great God, step before your throne now, and as a pious child pray for my parents. You, who care for the children and regard them in grace, oh grant me my request and heartfelt wish. The parents included me in their prayer before I was born and because I was begotten by Christians, I was brought to the baptism, in which I made a covenant with you, o God. Their love let me go to school and caused me to see Jesus in my deeds. Their heart was always there by day and night to look out for my well being with untiring diligence. Let me love them heartily for this love, let their love be inscribed in my heart to that I am grateful as much as I always can, and remain reminded of what they have done for me. So that they may experience much joy and no shame in me. Oh my God, stay before my eyes, give me a pious heart that shuns all sin.
Category:
House Blessing (Haussegen)
Media Type:
Manuscripts
Source:
Rare Book Department
Notes:
Hand-drawn; hand-colored; hand-lettered. The central text in Fraktur, with the last two lines in German script, is within a large circle. It is surrounded by small hearts containing the verses. Tulips, other flowers, and rosettes decorate the space between the hearts and along the sides.
Associated Names:
Gebert, Jonathan
Provenance:
Henry S. Borneman
Bibliography:
"Martin Brechall" in Russell D. and Corinne P. Earnest, Papers for Birth Dayes: Guide to the Fraktur Artists and Scriveners (East Berlin, Pa.: Russell D. Earnest Associates, 1997), 2nd ed., vol. 1, pp. 117-123.
Creation Place Town/Township:
Creation Place Note:Based on inscription on document
Region/County:Berks [now Schuylkill]
City/Town/Township:Pine Grove Township
State/Province:Pennsylvania
Creation Year (Single Year or Range Begin):
ca. 1810
Image Dimensions Width:
33 cm
ShelfMark:
FLP 97
Creator Name:
Martin Brechall (c. 1757-1831) - Decorator
Martin Brechall (c. 1757-1831) - Scrivener