Birth and Baptismal Certificate (Geburts und Taufschein) for Maria Magdalena Meyer
Fraktur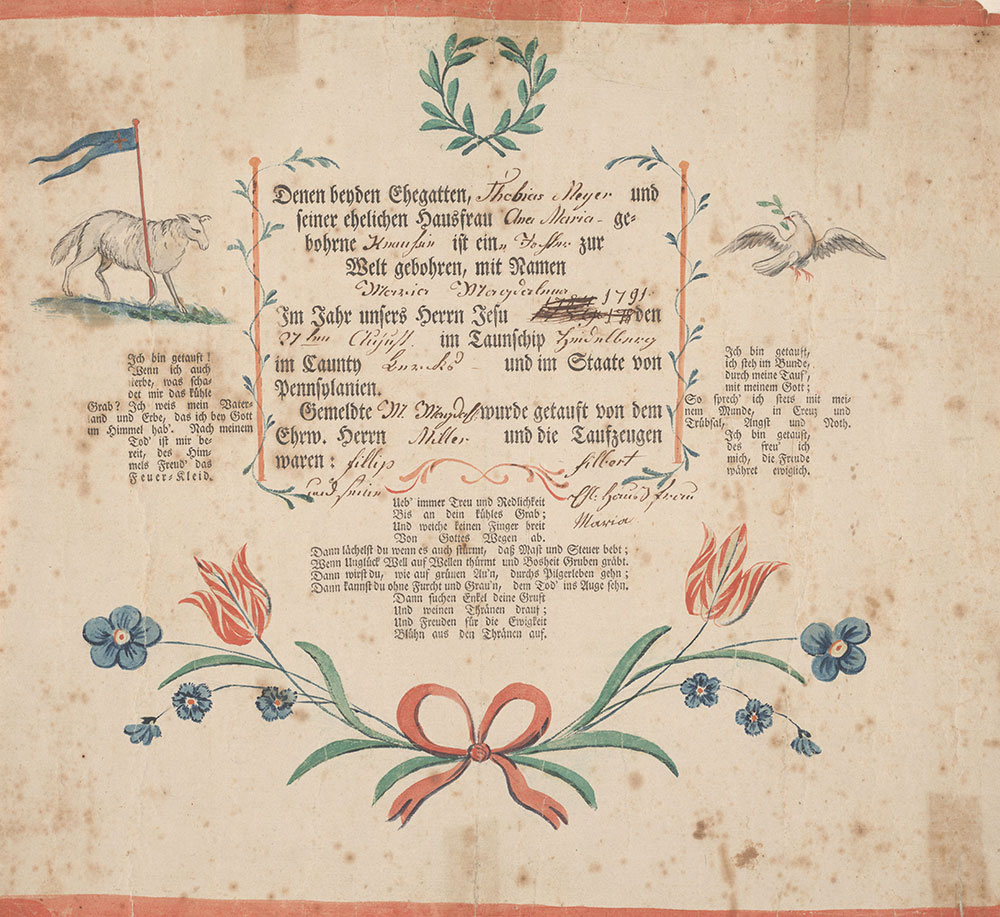 Item Info
Item No: frk00100
Title: Birth and Baptismal Certificate (Geburts und Taufschein) for Maria Magdalena Meyer
Scripts/Text:
Fraktur; German script
Language:
German
Weiser Number:
108
Physical Description:
Leaf
Material:
Laid paper; watercolor; ink
Transcription:
Denen beyden Ehegatten, Thobias Meyer und \ seiner ehelichen Hausfrau Ana Maria ge= \ bohrne Knaussin ist eine Tochter zur \ Welt gebohren, mit Namen \ Maria Magdalena \ Im Jahr unsers Herrn Jesu 1789 1791 den \ 27ten August im Taunschip Heidelberg \ im Caunty Bercks und im Staate von \ Pennsylvanien. \ Gemeldte M Magdal. wurde getauft von dem \ Ehrw. Herrn Miller und die Taufzeugen \ waren: Fillip Filbert \ und seine Ehl. Haus frau \ Maria.
[on the left side]
Ich bin getauft! \ Wenn ich auch \ sterbe, was scha= \ det mir das kühle \ Grab? Ich weis mein Vater= \ land und Erbe, das ich bey Gott\ im Himmel hab'. Nach meinem \ Tod' ist mir be= \ reit des Him= \ mels Freud' das \ Feuer=Kleid.
[on the right side]
Ich bin getauft, \ ich steh' im Bunde, \ durch meine Tauf', \ mit meinem Gott; \ So sprech' ich stets mit mei= \ nem Munde, in Creutz und \ Trübsal, Angst und Noth. \ Ich bin getauft, \ des freu' ich \ mich, Die Freude \ währet ewiglich.
[in lower center]
Ueb immer Treu und redlichkeit \ Bis an dein Kühles Grab; \ Und weiche keinen Finger breit \ Von Gottes Wegen ab. \ Dann lächelst du wenn es auch stmt, daß Mast und Steuer bebt; \ Wenn Unglück Well auf Wellen thürmt und Bosheit Gruben gräbt. \ Dann wirst du, wie auf grünen Au'n, durch Pilgerleben gehn; \ Dann kannst du ohne Furcht und Grau'n, dem Tod' ins Auge sehn. \ Dann suchen Enkel deine Gruft \ Und weinen Thränen drauf; Und Freuden für die Ewigkeit \ Blühn aus den Thränen auf.

Translation:
To these two married people, namely Thobias Meyer and his lawful wife Ana Maria, born Knaussin, a daughter was born into the world by the name Maria Magdalena. In the year of our Lord Jesus 1791 the 27th of August in the Township Heidelberg, in the County Berks and in the State of Pennsylvania. Mentioned M Magdal. was baptized by the honorable Mister Miller and the sponsors were: Fillip Filbert and his lawful wife Maria.
[on the left side]
I am baptized, and when I die, how can the cool grave hurt me? I know my fatherland and legacy that I will have with God in Heaven. After death, Heaven's garment of joy and celebration is prepared for me.
[on the right side]
I am baptized, I stand united with my God through my baptism. I therefore always speak joyfully in hardship, sadness, fear and need. I am baptized, that's a joy for me. The joy lasts eternally.
[in lower center]
Exercise truth and sincerity always until you cool grave; and do not depart a finger's width from God ways. Then you will smile, even if it storms so that the mast and rudder tremble. When misfortune piles up wave upon wave and evil digs pits, then you will go through this pilgrim life as upon green meadows; then you can look death in the eye without fear and horror. Then grandchildren will look for your grave and shed their tears upon it; and joy for eternity will blossom up out of the tears.

Category:
Birth and Baptismal Certificate (Geburts und Taufschein)
Media Type:
Letterpress Prints
Source:
Rare Book Department
Notes:
Hand-colored; hand-lettered, on printed form. The central text letter-press printed in Fraktur, with blanks infilled in German script, is in the center of the document. It is topped by a wreath, and flanked by undulating vines. The verses are on the sides and below. To the right of the text is a bird with a branch in its beak; to the left is a sheep with a banner [the lamb of God]. Across the bottom are several flowers, held together by a bow. Frederick Christopher Bischoff was formerly known as the F. B. Artist or F.T. Ebbecke. See also FLP 1077 and 1123 for examples by the same artist.
Associated Names:
Miller
Provenance:
Henry S. Borneman
Bibliography:
"F.T. Ebbecke" in Russell D. and Corinne P. Earnest, Papers for Birth Dayes: Guide to the Fraktur Artists and Scriveners (East Berlin, Pa.: Russell D. Earnest Associates, 1997), 2nd ed., vol. 1, pp. 215-216.
Klaus Stopp, The Printed Birth and Baptismal Certificates of the German Americans (East Berlin, Pa.: Russell D. Earnest Associates, 1997) vol. 1, published on p. 90.
Lisa Minardi, "Philadelphia, Furniture, and the Pennsylvania Germans: A Reevaluation," in American Furniture, ed. Luke Beckerdite (Hanover, NH: University Press of New England for the Chipstone Foundation, 2013), published on p. 274 as fig. 114.
Russell and Corinne Earnest, "FRAKTUR-FEST II: A Tribute to Richard S. Machmer," in Der Reggboge 41, no. 2 (2007): 11-12.
Secondary Place Town/Township:
Geographic Coverage State/Province:Pennsylvania
Geographic Coverage City/Town/Township:Heidelberg Township
Geographic Coverage Note:Based on location of birth
Geographic Coverage Region/County:Berks
Creation Place Town/Township:
Creation Place Note:Based on location of printshop
Region/County:[Lancaster]
City/Town/Township:[Ephrata]
State/Province:[Pennsylvania]
Creation Year (Single Year or Range Begin):
ca. 1795
Image Dimensions Width:
33 cm
ShelfMark:
FLP 100
Creator Name:
[Frederick Christopher Bischoff (1771-1834)] - Decorator
[Frederick Christopher Bischoff (1771-1834)] - Scrivener
[Ephrata Cloister] - Printer/Publisher