Virtue is the adornment of the youth (Die Tugend ist ein Schmuck der Jugend)
Fraktur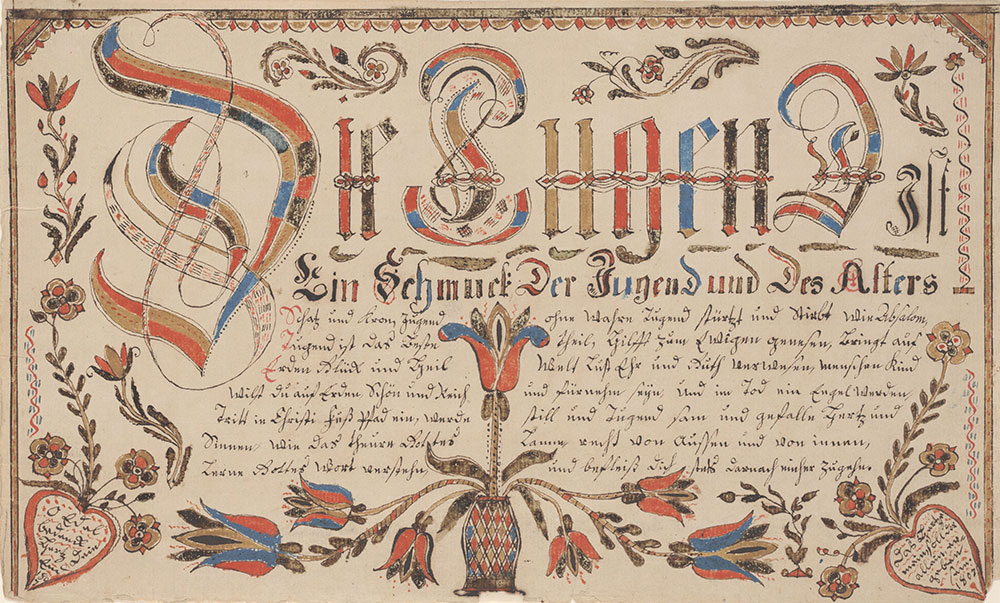 Item Info
Item No: frk00184
Title: Virtue is the adornment of the youth (Die Tugend ist ein Schmuck der Jugend)
Creation Date:
9/10/1807
Scripts/Text:
Fraktur; German script
Language:
German
Weiser Number:
275
Physical Description:
Leaf
Material:
Laid paper; watercolor; ink
Transcription:
Die TugenD ist \ Ein Schmuck der Jugend und des Alters\ Schatz und Kron Jugend ohne Wahre Tugend stürtzt und stirbt wie Absalom, \ Jugend ist das Beste Theil, Hilfft zum Ewigen genesen, bringt auf \ Erden Glück und Heil Welt Lust Ehr und Guth verwesen menschenkind \ wilst du auf Erden Schön und Reich und fürnehm seyn, Und im Tod ein Engel werden, \ Tritt in Christi Fuß pfad ein, werde still und Tugend sam und gefalle hertz und \ Sinnen Wie das theure Gottes Lamm recht von aussen und von innen, \ Lerne Gottes Wort verstehen und befleiß dich darauf umher zugehen.
[in heart in lower left]
O Edel \ bedenck \ Hertz Dein \ End \ 180 \ 7
[in heart in lower right]
Das Hertze \ mein soll dir \ allein er= \ geben \ sein. \ 1807
[on reverse]
Geschrieben Ein Tausend Acht Hundert und Sieben, den 10 September von mir Susanna Hübner . . . .
Translation:
Virtue of the adornment of the youth and the treasure and crown of old age. Youth without true virtue falls and dies like Absalom; youth is the best part, helps to eternal recovery, brings on earth happiness and fortune; world, desire, honor and goods decay. Child of man, if you on earth want to be beautiful and rich and respected, and in death become an angel, follow Christ's foot path, become quiet and virtuous, and please heart and mind. As the dear Lamb of God rightly from the outside and the inside, learn to understand God's Word, and apply yourself to move around according to it.
[in heart in lower left]
O noble heart, ponder your end. 1807.
[in heart in lower right]
The heart of mine shall be devoted to you alone. 1807.
[on reverse]
Written in One Thousand Eight Hundred and Seven, the 10 September, by me, Susanna Hübner.
Category:
Religious Text
Media Type:
Manuscripts
Source:
Rare Book Department
Notes:
Hand-drawn; hand-colored; hand-lettered. The first two lines of the main text are in fraktur in the upper center of the document. The first letters of the first three words are particularly ornate and prominent. The remainder of the text is in German script, below the opening lines. Two hearts frame portions of the text in the lower corners. In the lower center is a pot with stemmed tulips that extend into the text. Stems of flowers protrude from the hearts, and additional flowers decorate the area next to and above the main text. The entire document is framed by a decorative border. The artist's signature and date are in German script on the reverse of the document.
Associated Names:
Hübner, Susanna
Provenance:
Henry S. Borneman
Bibliography:
"Susanna Hübner" in Russell D. and Corinne P. Earnest, Papers for Birth Dayes: Guide to the Fraktur Artists and Scriveners (East Berlin, Pa.: Russell D. Earnest Associates, 1997), 2nd ed., vol. 1, pp. 418-420.
C. Kurt Dewhurst, Betty MacDowell, and Marsha MacDowell, Artists in Aprons: Folk Art by American Women (Toronto: Clarke, Irwin & Co., 1979), published as plate 9.
Dennis K. Moyer, Fraktur Writings and Folk Art Drawings of the Schwenkfelder Library Collection (Kutztown, Pa.: Pennsylvania German Society, 1997), pp. 74-95.
Henry S. Borneman, Pennsylvania German Illuminated Manuscripts (Norristown, Pa.: Pennsylvania German Society, 1937), published as plate 25.
Irene N. Walsh, "The Frakturs of Susanna Heebner," The Magazine Antiques 149, no. 2 (February 1996): 274-283; published as plate 9.
Creation Place Town/Township:
Creation Place Note:Based on artist's location
Region/County:[Montgomery]
City/Town/Township:[Worcester Township]
State/Province:[Pennsylvania]
Image Dimensions Width:
20.5 cm
ShelfMark:
FLP 184
Creator Name:
Susanna Hübner (1750-1818) - Decorator
Susanna Hübner (1750-1818) - Scrivener