Birth and Baptismal Certificate (Geburts und Taufschein) for Allen John Keller
Fraktur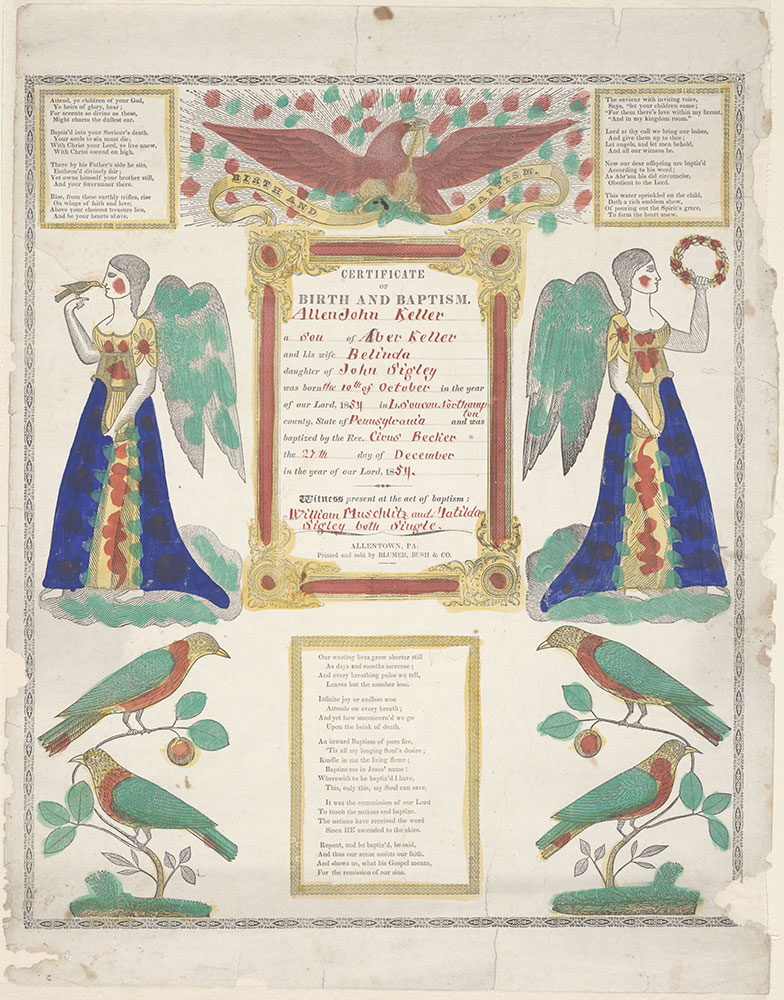 Item Info
Item No: frk00244
Title: Birth and Baptismal Certificate (Geburts und Taufschein) for Allen John Keller
Scripts/Text:
Roman print
Language:
English
Weiser Number:
506
Physical Description:
Leaf
Material:
Wove paper; watercolor; ink
Transcription:
CERTIFICATE \ OF \ BIRTH AND BAPTISM.
Allen John Keller \ a Son of Aber Keller \ and his wife Belinda \ daughter of John Sigley \ was born the 1oth of October in the year \ of our Lord, 1854 in L. Soucon Northampton \ county, State of Pennsylvania and was \ baptized by the Rev. Cirus Becker \ the 27th day of December \ in the year of our Lord, 1854.
Witness present at the act of baptism: \ William Muschlitz and Matilda \ Sigley both Single.
Allentown, PA. \ Printed and sold bey BLUMER, BUSH & CO.
[on eagle's banner]
BIRTH AND BAPTISM.
[in upper left]
Attend, ye children of our God, \ Ye heirs of glory, hear; \ For accents so divine as these, \ Might charm the dullest ear.
Baptiz'd into your Saviour's death. \ Your souls to sin must die; \ With Christ your Lord, ye live anew, \ With Christ ascend on high.
There by his Father's side he sits, \ Enthron'd divinely fair; \ yet owns himself your brother still, \ And your forerunner there.
Rise, from these earthly trifles, rise \ On wings of faith and love; \ Above your choicest treasure lies, \ And be your hearts above.
[in upper right]
The savior with inviting voice, \ Says, "let your children come; \ "For them there's love within my breast, \ "And in my kingdom room."
Lord at thy call we bring our babes, \ And give them up to thee; \ Let angels, and let men behold, \ And all our witness be.
Now our dear offspring are baptiz'd \ According to his word; \ As Abr'am his did circumcise, \ Obedient to the Lord.
This water sprinkled on the child, \ Doth a rich emblem shew, \ Of pouring out the Spirit's grace, \ To form the heart anew.

[in lower center]
Our wasting lives grow shorter still \ As days and months increase; \ And every breathing pulse we tell, \ Leaves but the number less.
Infinite joy or endless woe \ Attends on every breath; \ And yet how unconcern'd we go \ Upon the brink of death.
An inward Baptism of pure fire, \ 'Tis all my longing Soul's desire; \ Kindle in me the living flame; \ Baptize me in Jesus' name! \ Wherewith to be baptiz'd I have, \ This, only this, my soul can save.
It was the commission of our Lord \ To teach the nations and baptize. \ The nations have received the word \ Since HE ascended to the skies.
Repent, and be baptiz'd, he said, \ And thus our sense assists our faith. \ And shows us, what his Gospel means, \ For the remission of our sins.

Category:
Birth and Baptismal Certificate (Geburts und Taufschein)
Media Type:
Letterpress Prints
Source:
Rare Book Department
Notes:
Hand-colored; hand-lettered; printed form. The central text in Roman print with blanks infilled by hand is in a decorated rectangular frame in the center of the document. Two verses are in frames in the upper corners, and a third is within a frame in the lower center of the page. The main text is flanked by two large angels with lyres, one holding a wreath and the other a bird. A spread-winged eagle holding a banner in its beak is in the upper center. In each lower corner are two birds perched on a tree with leaves and fruits. The entire page is enclosed by a decorative border.
Associated Names:
Sigley, Matilda
Provenance:
Henry S. Borneman
Bibliography:
Klaus Stopp, The Printed Birth and Baptismal Certificates of the German Americans (East Berlin, Pa.: Russell D. Earnest Associates, 1997) vol. 1, p. 206.
Secondary Place Town/Township:
Geographic Coverage State/Province:Pennsylvania
Geographic Coverage City/Town/Township:Lower Saucon Township
Geographic Coverage Note:Based on location of birth.
Geographic Coverage Region/County:Northampton
Creation Place Town/Township:
Creation Place Note:Based on location of printshop.
Region/County:Lehigh
City/Town/Township:Allentown
State/Province:Pennsylvania
Creation Year (Single Year or Range Begin):
ca. 1852
Image Dimensions Width:
46 cm
ShelfMark:
FLP 244
Creator Name:
Anonymous - Decorator
Anonymous - Scrivener
Victor Blumer (1809-1860) - Printer/Publisher
Charles Busch (1801-1884) - Printer/Publisher