Birth and Baptismal Certificate (Geburts und Taufschein) for Jerome Gruver
Fraktur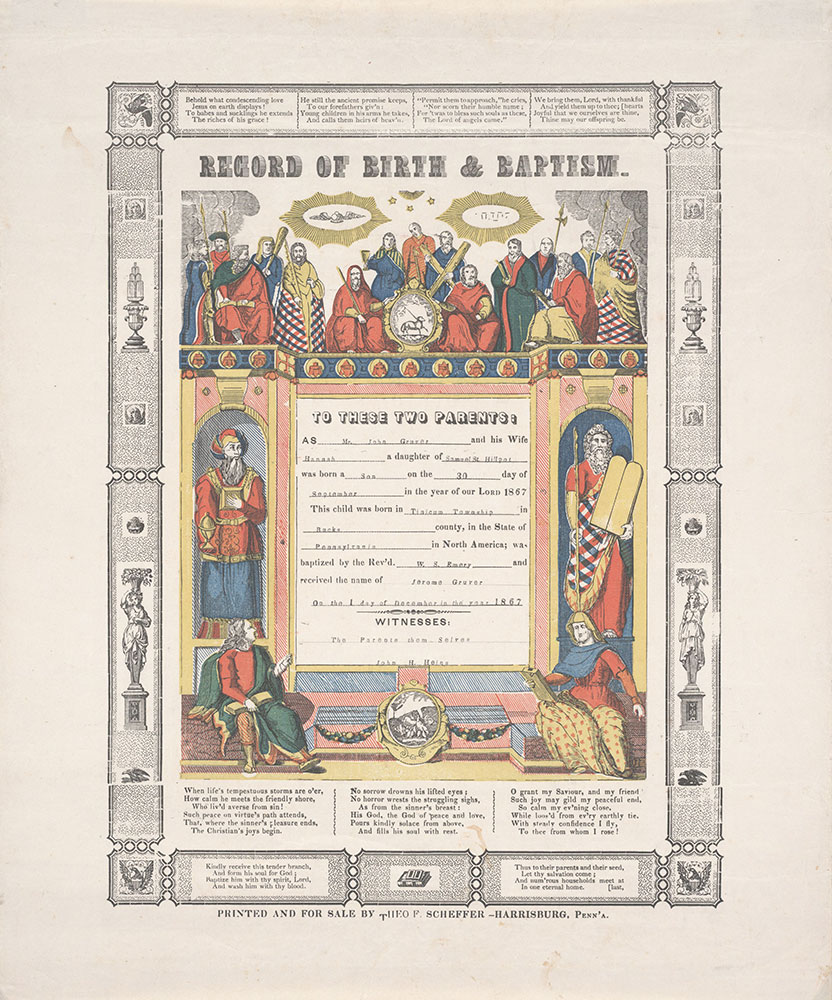 Item Info
Item No: frk00257
Title: Birth and Baptismal Certificate (Geburts und Taufschein) for Jerome Gruver
Scripts/Text:
Roman print
Language:
English
Weiser Number:
514
Physical Description:
Leaf
Material:
Wove paper; ink
Transcription:
RECORD OF BIRTH & BAPTISM.
TO THESE TWO PARENTS: \ AS Mr. John Gruver and his Wife \ Hannah a daughter of Samuel St. Hillpot \ was born a Son on the 30 day of \ September in the year of our LORD 1867 \ This child was born in Tinicum Township in \ Bucks county, in the State of \ Pennsylvania in North America; was \ baptized by the Rev'd W. S. Emery and \ received the name of Jerome Gruver \ On the 1 day of December in the year 1867 \ WITNESSES: The Parents them Selves \ John H. Heins
[below central text]
When life's tempestuous storms are o'er, \ How calm he meets the friendly shore, \ Who liv'd averse from sin! \ Such peace on virtue's path attends, \ That, where the sinner's pleasure ends, \ The Christian's joys begin.
No sorrow drowns his lifted eyes; \ No horror wrests the struggling sighs, \ As from the sinner's breast: \ His God, the God of peace and love, \ Pours kindly solace from above, \ And fills his soul with rest.
O grant my Saviour, and my friend \ Such joy may gild my peaceful end, \ So calm my ev'ning close. \ While loos'd from ev'ry earthly tie. \ With steady confidence I fly, \ To thee from whom I rose!

[in upper border]
Behold what condescending love \ Jesus o earth displays! \ To babes and sucklings he extends \ The riches of his grace!
He still the ancient promise keeps, \ To our forefathers giv'n: \ Young children in his arms he takes, \ And calls them heirs of heav'n.
"Permit them to approach, "he cries, \ "No scorn their humble name; \ For 'twas to bless such souls as these, \ The Lord of angels came."
We bring them, Lord, with thankful hearts \ And yield them up to thee; \ Joyful that we ourselves are thine, \ Thine may our offspring be.
[In lower border]
Kindly receive this tender branch, \ And form his soul in God; \ Baptize him with thy spirit, Lord, \ And wash him with thy blood.
Thus to their parents and their seed, \ Let thy salvation come; \ And num'rous households meet at last, \ In one eternal home.
[along bottom edge]
PRINTED AND FOR SALE BY THEO F. SCHEFFER –HARRISBURG, PENN'A.
Category:
Birth and Baptismal Certificate (Geburts und Taufschein)
Media Type:
Letterpress Prints
Source:
Rare Book Department
Notes:
Printed form; color printing. The main text in Roman print, with blanks infilled after the initial printing with printed type, is within an inner frame, bordered by religious figures. At the right is a statue of Moses holding a staff and the Ten Commandments. Below there are two seated figures. Above the text is a round image of the Lamb of God, surrounded by fifteen men. The document is framed by a decorative border that contains verses on the top and bottom, and images of eagles, statues, books, fountains, beehives and portraits along the sides.
The inner frame is copied from the engraved title page of the King James Bible printed in London in 1611.
For related examples, see FLP 252, 679, 737, 1004, and 1017. For another example infilled by Heins, see FLP 1130.
Associated Names:
St. Hillpot, Samuel
Provenance:
Henry S. Borneman
Bibliography:
"John Henry Heins" in Russell D. and Corinne P. Earnest, Papers for Birth Dayes: Guide to the Fraktur Artists and Scriveners (East Berlin, Pa.: Russell D. Earnest Associates, 1997), 2nd ed., vol. 1, pp. 374-376.
Klaus Stopp, The Printed Birth and Baptismal Certificates of the German Americans (East Berlin, Pa.: Russell D. Earnest Associates, 1997) vol. 1, p. 76-77.
Klaus Stopp, The Printed Birth and Baptismal Certificates of the German Americans (East Berlin, Pa.: Russell D. Earnest Associates, 1998) vol. 3, p. 104-105.
Secondary Place Town/Township:
Geographic Coverage State/Province:Pennsylvania
Geographic Coverage City/Town/Township:Tinicum Township
Geographic Coverage Note:Based on location of birth.
Geographic Coverage Region/County:Bucks
Creation Place Town/Township:
Creation Place Note:Based on location of printshop.
Region/County:Dauphin
City/Town/Township:Harrisburg
State/Province:Pennsylvania
Creation Year (Single Year or Range Begin):
ca. 1863
Image Dimensions Width:
43 cm
ShelfMark:
FLP 257
Creator Name:
John Henry Heins (active c. 1850-1878) - Scrivener
Theodore Frederick Scheffer (1813-1886) - Printer/Publisher