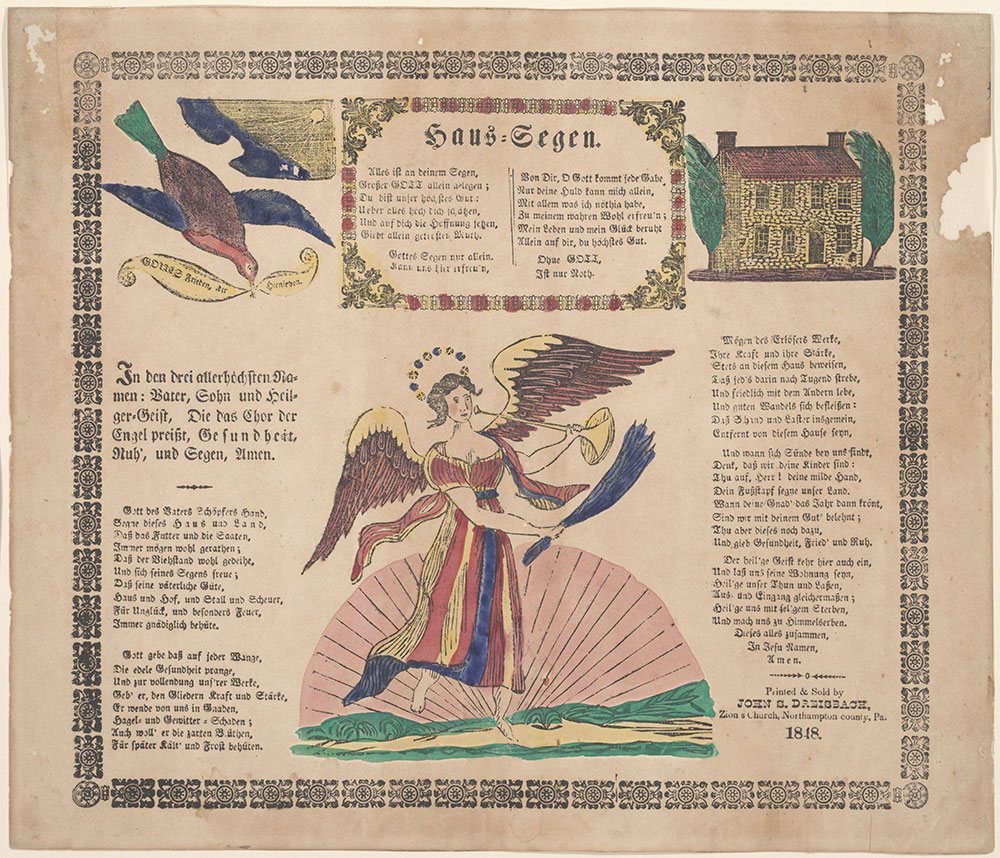 Item Info
Item No: frk00259
Title: House Blessing (Haussegen)
Scripts/Text:
Fraktur; Roman print
Language:
German; English
Physical Description:
Leaf
Material:
Wove paper; watercolor; ink
Transcription:
Haus=Segen.
Alles ist an deinem Segen, \ Großer GOTT allein gelegen; \ Du bist unser höchstes Gut: \ Ueber alles hoch dich schätzen, \ Und auf dich die Hoffnung setzen, \ Giebt allein getrosten Muth. \ Gottes Segen nur allein \ kann uns hier erfreu'n,
Von Dir, O Gott kommt jede Gabe, \ Nur deine Huld kann mich allein, \ Mit allem was ich nöthig habe, \ Zu meinem wahren Wohl erfreu'n; \ Mein Leben und mein Glück beruht \ Allein auf dir, du höchstes Gut. \ Ohne GOTT, \ Ist nur Noth.
[in bird's banner]
GOTTES Frieden, die hienieden.
[on the left]
In den drei allerhöchsten Na= \ men: Vater, Sohn und Heil= \ ger=Geist, Die das Chor der \ Engel preißt, Gesundheit, \ Ruh', und Segen, Amen.
Gott des Vaters Schöpfers Hand, \ Segne dieses Haus und Land, \ Daß das Futter und die Saaten, \ Immer mögen wohl gerathen; \ Daß der Viehstand wohl gedeihe, \ Und sich seines Segens freue; \ Daß seine väterliche Güte, \ Haus und Hof, und Stall und Scheuer, \ Für Unglück, und besonders Feuer, \ Immer gnädiglich behüte.
Gott gebe daß auf jeder Wange, \ Die edle Gesundheit prange, \ Und zur vollendung uns'rer Werke, \ Geb' er, den Gliedern Kraft und Stärke, \ Er wende von uns in Gnaden, \ Hagel= und Gewitter=Schaden; \ Auch woll' er die zarten Blüthen, \ Für später Kält' und Frost behüten.
[on the right]
Mögen des Erlösers Werke, \ Ihre Kraft und ihre Stärke, \ Stets an diesem Haus beweisen, \ Daß jed's darin nach Tugend strebe, \ Und friedlich mit dem Andern lebe. \ Und guten Wandels sich befleißen: \ Daß Schand und Laster insgeheim, \ Entfernt von diesem hause seyn.
Und wann sich Sünde bey uns findet, \ Denk, daß wir deine Kinder sind: \ Thu auf, Herr! deine milde Hand, \ Dein Fußtapf segne unser Land. \ Wann deine Gnad das Jahr dann krönt, \ Sind wir mit deinem Gut' belehnt; \ Thu aber dieses noch dazu, \ Und gieb Gesundheit, Fried' und Ruh.
Der heil'ge Geist kehr hier auch ein \ Und laß es seine Wohnung seyn, \ Heil'ge unser Thun und Lassen, \ Aus= und Ein=Gang gleichermaßen; Heil'ge uns zum sel'gen Sterben \ Und mach' uns zu Himmels-Erben.—Amen.
Printed & Sold by \ JOHN S. DREISBACH, \ Zion's Church, Northampton, Pa. \ 1848.
Translation:
House Blessing
Everything depends on your blessing, Great GOD. You are our highest good; above all we treasure you and place our hope in you, this alone gives confidently courage. Only God's blessing can please us here.
From you, O God, comes every gift. Only your favor can please me to my true wellbeing with everything I need. My life and my happiness rest in you alone, you highest good. Without God is only need.
[in bird's banner]
GOD'S peace to you below.
[on the left]
In the three highest names: Father, Son and Holy Ghost, who are praised by the choir of the angels, health, peace and blessing. Amen.
May God, the Father's Maker's hand, bless this house and land, so that the feed and the seeds will always turn out well; so that the cattle will thrive and take pleasure in your blessing. That your fatherly goodness may always graciously protect house and farm and stable and barn from misfortune and especially fire.
God may he also give, that every cheek glows with precious healthfulness, and for the completion of our works, he may give our limbs strength and power. With mercy he may avert from us any damage by hail and thunderstorms. And he will also protect the tender blossoms from late cold and frost.
[on the right]
May the Savior's works always demonstrate their strength and power in this house; everybody inside may strive for virtue and live peacefully with the others. And practice good habits, so that secret shame and vices will stay away from this house.
And when sin is found with us, think that we are your children. Open, Lord, your mild hand, may your footprint bless our land. When your mercy then crowns the year, we are rewarded with your goods. But also add this to it, and give health, peace and quiet.
May the Holy Ghost enter here and let it be his home. Bless our doings and actions, comings and goings alike; hallow us with a blessed death and make us into heirs of Heaven. All this together, in Jesus' name, Amen.
Printed & Sold by John S. Dreisbach, Zion's Church, Northampton, Pa., 1848.

Category:
House Blessing (Haussegen)
Media Type:
Letterpress Prints
Source:
Rare Book Department
Notes:
Hand-colored; printed form. The main text in fraktur within a rectangular frame is in the upper center of the document. Additional verses in fraktur are on the lower left and right sides. The imprint, in English and Roman print, is in the lower right corner. In the upper left corner is a flying bird with a banner in its beak. To its upper right is a sky with sun. In the right upper corner is a two-story house with two trees. In the lower center is an angel with a bundle of grain and a trumpet. The entire document is enclosed within a decorative border.
Associated Names:
Dreisbach, John S.
Bibliography:
Klaus Stopp, The Printed Birth and Baptismal Certificates of the German Americans (East Berlin, Pa.: Russell D. Earnest Associates, 1997) vol. 1, p. 249.
Russell D. Earnest, Corinne P. Earnest, and Patricia Earnest Suter, God Bless This House: The Printed House Blessings (Haus-Segen) of the Pennsylvania Germans 1780-1921 (Clayton, Del.: Russell D. Earnest Associates, 2015), p. 47.
Creation Place Town/Township:
Creation Place Note:Based on location of printshop
Region/County:Northampton
City/Town/Township:Zion's Church [Kreidersville]
State/Province:Pennsylvania
Creation Year (Single Year or Range Begin):
1848
Image Dimensions Width:
30.5 cm
ShelfMark:
FLP 259
Creator Name:
Anonymous - Decorator
John S. Dreisbach (1825-1867) - Printer/Publisher