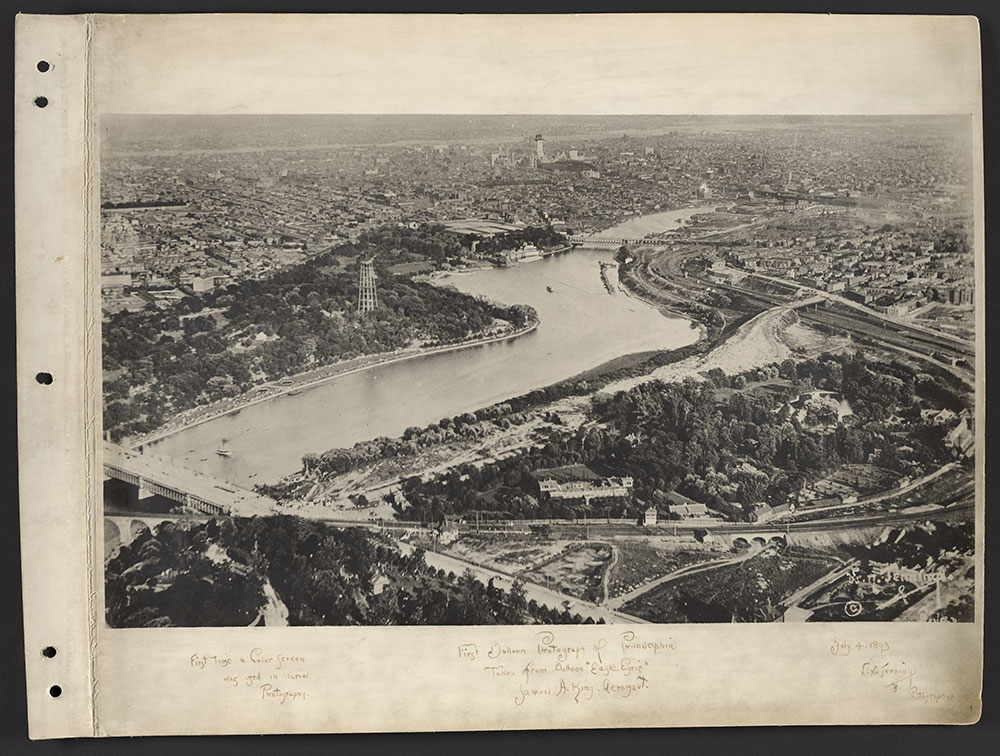 Item Info
Item No: pdcp01121
Title: First Balloon Photograph of Philadelphia
Creation Date:
7/4/1893
Media Type:
Photographic Prints
Source:
Print and Picture Collection
Notes:
Information from a typewritten memorandum found in the Print and Picture Collection (location: Philadelphiana - Aerial Views - Aero Service Material):
First photographs taken from a free balloon in America.
Date: July 4, 1893
Balloon: The "Eagle Eyrie No. 2"
Aeronaut: Samuel A. King
Photographer: William Jennings.
These men were accompanied by Dr. T. Chalmers Fulton and William McMullin, who was Chairman of Councils Committee on the balloon ascension.
---
The balloon ascension was made in the presence of twenty thousand people, from the north side of Memorial Hall. The balloon left the ground at five o'clock and landed at seven-thirty the same evening (July 4, 1893) on the farm of Elwood Evans at Locust Grove (half-way between Mount Holly and Camden).
When the balloon left the ground, and for a considerable time thereafter, William McMullin dropped cards which were printed as follows:
GLORIOUS FOURTH OF JULY
1893
WILLIAM MCMULLIN
-----
During this trip Mr. Jennings took four negatives. The pictures were taken with a yellow color filter. This was the first use of a yellow filter in the hisstory of photography, and the photographs he made were the first taken from a free balloon in America. The photographs were made on Carbutt Dry Plate (made by John Carbutt of Philadephia).
Notes:
Original negative taken July 4, 1893. Photographic print created later, but before 1946, as the print is signed by the photographer William Nicholson Jennings (1860-1946).
Notes:
Text handwritten in ink on bottom borrder:
[Left] First time a color screen was used in aerial photograph.
[Center] First Balloon Photograph of Philadelphia
Taken from Balloon "Eagle Eyrie"
Samueal A. King, Aeronaut.
[Right] July 4, 1893
W.N. Jennings
Photographer
Notes:
The first balloon photograph of Philadelphia shows the Philadephia Zoo in the foreground, the reservoir atop Fairmount on the east side of the Schuylkill River (now the site of the Philadelphia Museum of Art), and in the distance, the uncompleted tower of City Hall, which was finished and topped with a statue of William Penn in 1894.
Creator Name:
Jennings, William Nicholson, 1860-1946 - Photographer