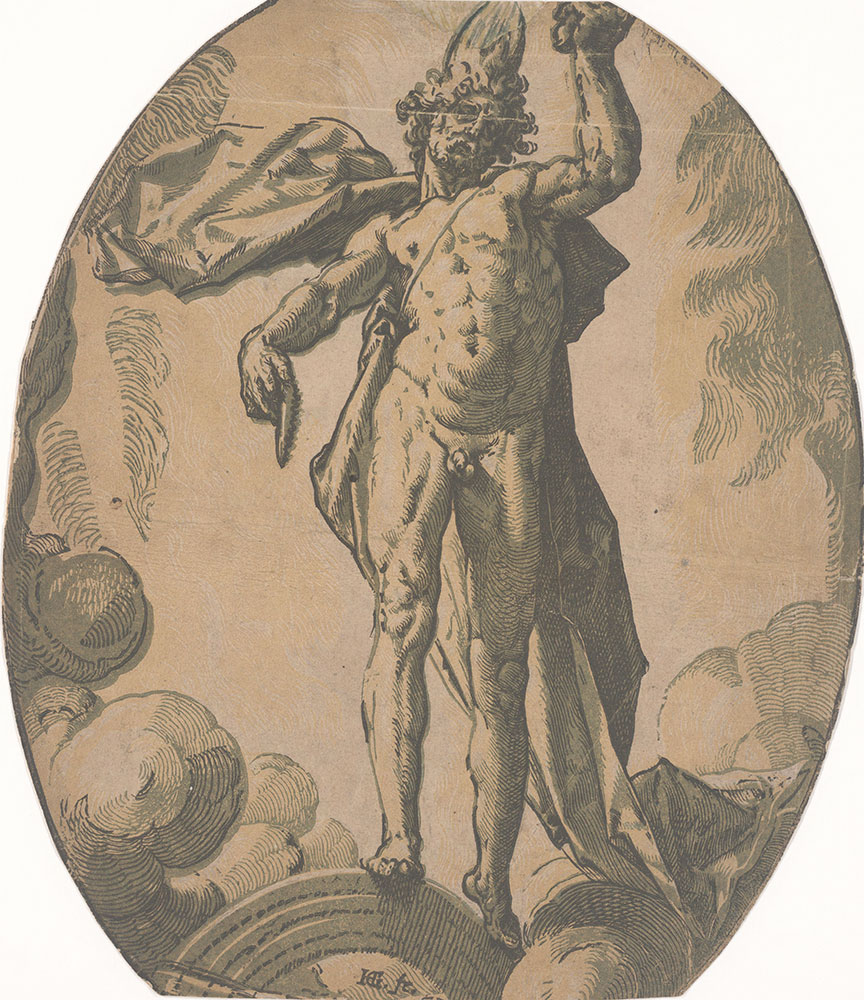 Item Info
Item No: facp00011
Title: Helios
Media Type:
Woodcuts
Source:
Print and Picture Collection - Old Master Prints
Notes:
Dutch painter and printmaker.
Location: large box 1
This woodcut is part of a larger cycle of six woodcuts that follow the introductory "Cave of Eternity" woodcut based on the legend by the same name. All six woodcuts in the series following the first make reference to the legend of Persephone as it is retold in Ovid. All six woodcuts depict Greek deities-- Nox, Helios, Neptune, Venus Marina, Pluto, and Persephone-- and respectively may be symbolic of night, day, age, youth, death, and fertility.
In the myth of Persephone, Persephone was gathering flowers with her playmates, when Hades or Pluto abducts her and carries her off to be queen of the underworld as his wife. Demeter, Persephone's mother and the Goddess of the Earth, then embarks upon a search for her daughter during which life comes to a standstill on earth. Helios the Sun God, who sees everything, informs Demeter about the abduction. Zeus, the leader of all the Olympian gods and goddesses, persuades Hades to let Persephone go but because she had eaten the seeds of the pomegrante while she was in the underworld, Persephone must spend several months every year in Hades with her husband. This is the origin story explaining the seasons of the year.
Here Helios is shown standing on rainbow. He is crowned with the sun's rays and holds a jawbone in his right hand.
Bibliography:
Hendrik Goltzius, 1558-1617 : the Complete Engravings and Woodcuts. Edited by Walter L. Strauss. New York : Abaris Books, 1977. 2 vols. 769.92 G584HE
Creation Year:
ca. 1594
Image Dimensions Width:
30.7 in
Creator Name:
Goltzius, Hendrick, 1558-1617 - Artist
Subjects