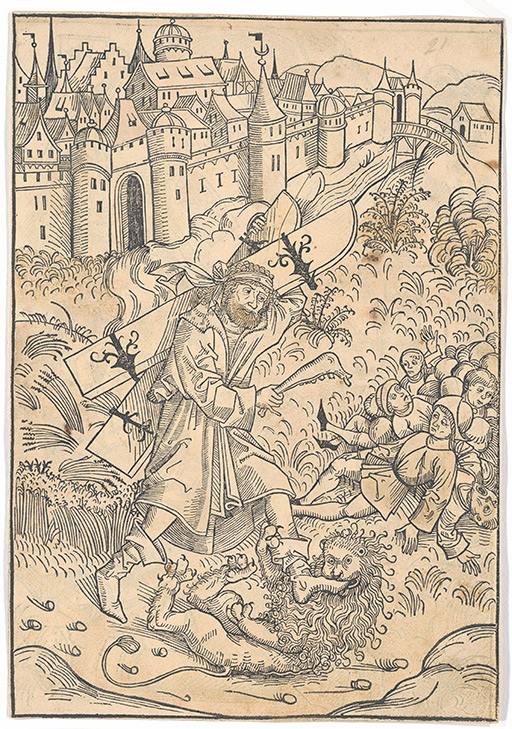 Item Info
Item No: facp00044
Title: 21st Figure from Der Schatzbehalter: Simsons Heldentaten [Samson's Heroic Deeds]
Media Type:
Woodcuts
Source:
Print and Picture Collection - Old Master Prints
Notes:
"5 Samson went down to Timnah together with his father and mother. As they approached the vineyards of Timnah, suddenly a young lion came roaring toward him. 6 The Spirit of the LORD came upon him in power so that he tore the lion apart with his bare hands as he might have torn a young goat. But he told neither his father nor his mother what he had done. " (Judges 14 (New International Version): 5-7).
Samson's Vengeance on the Philistines:
"1 Later on, at the time of wheat harvest, Samson took a young goat and went to visit his wife. He said, "I'm going to my wife's room." But her father would not let him go in.
2 "I was so sure you thoroughly hated her," he said, "that I gave her to your friend. Isn't her younger sister more attractive? Take her instead."
3 Samson said to them, "This time I have a right to get even with the Philistines; I will really harm them." 4 So he went out and caught three hundred foxes and tied them tail to tail in pairs. He then fastened a torch to every pair of tails, 5 lit the torches and let the foxes loose in the standing grain of the Philistines. He burned up the shocks and standing grain, together with the vineyards and olive groves.
6 When the Philistines asked, "Who did this?" they were told, "Samson, the Timnite's son-in-law, because his wife was given to his friend."
So the Philistines went up and burned her and her father to death. 7 Samson said to them, "Since you've acted like this, I won't stop until I get my revenge on you." 8 He attacked them viciously and slaughtered many of them. Then he went down and stayed in a cave in the rock of Etam.
9 The Philistines went up and camped in Judah, spreading out near Lehi. 10 The men of Judah asked, "Why have you come to fight us?"
"We have come to take Samson prisoner," they answered, "to do to him as he did to us."
11 Then three thousand men from Judah went down to the cave in the rock of Etam and said to Samson, "Don't you realize that the Philistines are rulers over us? What have you done to us?"
He answered, "I merely did to them what they did to me."
12 They said to him, "We've come to tie you up and hand you over to the Philistines."
Samson said, "Swear to me that you won't kill me yourselves."
13 "Agreed," they answered. "We will only tie you up and hand you over to them. We will not kill you." So they bound him with two new ropes and led him up from the rock. 14 As he approached Lehi, the Philistines came toward him shouting. The Spirit of the LORD came upon him in power. The ropes on his arms became like charred flax, and the bindings dropped from his hands. 15 Finding a fresh jawbone of a donkey, he grabbed it and struck down a thousand men.
16 Then Samson said,
"With a donkey's jawbone
I have made donkeys of them.
With a donkey's jawbone
I have killed a thousand men."
17 When he finished speaking, he threw away the jawbone; and the place was called Ramath Lehi. " (Judges 15 (New International Version): 1-17)
Bibliography:
Fridolin, Stephan. Der Schatzbehalter. Wiesbaden: G. Pressler, 1962. 2 vols.. 096 F912S G
Image Dimensions Width:
25.7 cm
Creator Name:
Wohlgemut, Michel, b. between 1434-1437- d. 1519 - Artist