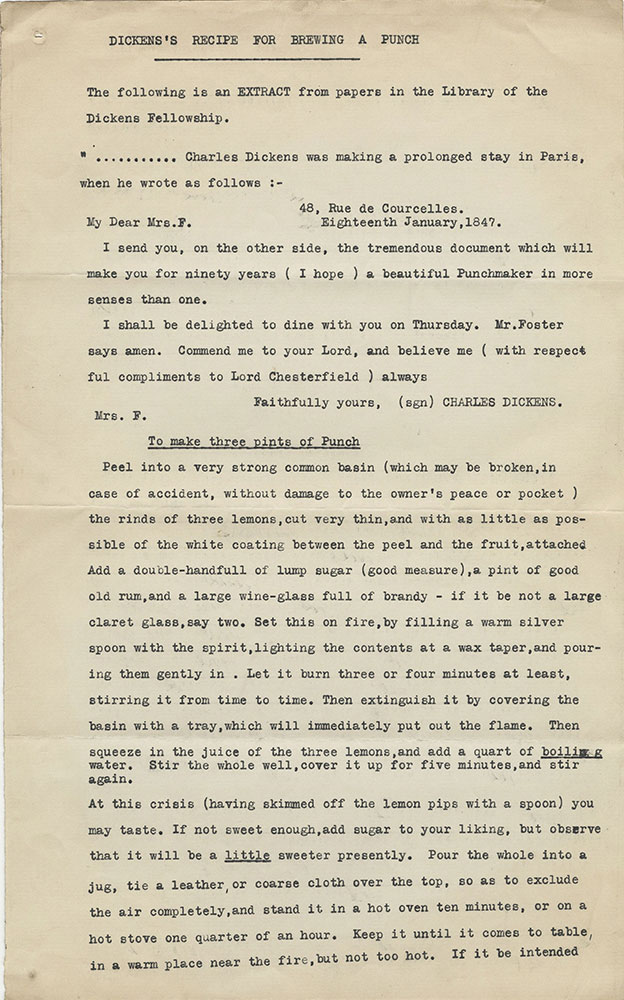 Item Info
Item No: cdc423201
Title: Dickens's Recipe for Brewing a Punch
Accession Number:
64-139
Physical Description:
2 pages
Transcription:
Dickens's Recipe for Brewing a Punch
The following is an EXTRACT from papers in the Library of the Dickens Fellowship.
"............ Charles Dickens was making a prolonged stay in Paris, when he wrote as follows:-
48, Rue de Courcelles.
Eighteenth January 1847
My Dear Mrs. F.
I send you, on the other side, the tremendous document which will make you for ninety years (I hope) a beautiful Punchmaker in more senses as one.
I shall be delighted to dine with you on Thursday. Mr Foster says amen. Commend me to your Lord, and believe me (with respectful compliments to Lord Chesterfield) always
Mrs. F. Faithfully yours, (sgn) Charles Dickens.
To make three pints of Punch
Peel into a very strong common basin (which may be broken, in case of accident, without damage to the owner's peace or pocket) the rinds of three lemons, cut very thin, and with as little as possible of the white coating between the peel and the fruit, attached. Add a double-handfull of lump sugar (good measure), a pint of good old rum, and a large wine-glass full of brandy - if it not be a large claret glass, say two. Set this on fire, by filling a warm silver spoon with the spirit, lighting the contents at a wax taper, and pouring them gently in. Let it burn three or four minutes at least, stirring it from time to time. Then extinguish it by covering the flame. Then squeeze in the juice of the three lemons, and add a quart of boiling water. Stir the whole well, cover it up for five minutes, and stir again.
At this crisis (having skimmed off the lemon pips with a spoon) you may taste. If not sweet enough, add sugar to your liking, but observe that it will be a little sweeter presently. Pour the whole into a jug, tie a leather or coarse cloth over the top, so as to exclude the air completely, and stand it in a hot oven ten minutes, or on a hot stove one quarter of an hour. Keep it until it comes to table in a warm place near the fire, but not too hot. If it be intended to stand three or four hours, take half the lemon-peel out, or it will acquire a bitter taste.
The same punch allowed to cool by degrees, and then iced, is delicious. It requires less sugar when made for this purpose. If you wish to produce it bright, strain it into bottles through silk.
These proportions and directions will, of course, apply to any quantity.
______________________________________
Certified a genuine copy
C.H. Green
Ex Hon. Sec. Dickens Fellowship
Media Type:
Manuscripts
Source:
Rare Book Department
Notes:
This typewritten transcription of a letter to Mrs. Amelia Filloneau, sister of Dickens's brother-in-law Henry Austin, included Dickens's recipe for making a punch. Although the whereabouts of the original are unknown, the letter was published in the first volume of The Dickensian, a publication of the Dickens Fellowship in London. Mrs. Filloneau was a close family friend during Dickens's childhood, and according to the article in The Dickensian, spoke a prologue to a play written by Dickens in his youth and performed by the Dickens siblings in the family parlor. Henry Austin was married to Dickens's younger sister, Letitia.
Recipient:
Fillonneau, Amelia Austin
Bibliography:
K.F. Yapp. Dickens's Recipe for Brewing a Punch. The Dickensian. Volume One, pp. 205-206. London: Chapman and Hall, 1905.
The Letters of Charles Dickens, Pilgrim Edition, Volume Five, 1847-1849, p. 9.
Country:
Country:England
City/Town/Township:London
Creation Year:
1905
Call Number:
DD 64-139
Creator Name:
Dickens, Charles, 1812-1870 - Author
View other associated items