Edible Alphabet Recipe of the Week: Dumplings
By
Lindsay S.
Fri, April 9, 2021
by Breshay Woods, Culinary Literacy Center Intern
---
Edible Alphabet is a free English Language Learning (ELL) program offered by the Free Library's Culinary Literacy Center. Our mission is to teach English language and literacy skills through hands-on cooking projects. For the time being, all Edible Alphabet classes are being run virtually in the interest of public health and safety. During weeks when virtual classes are on break, we will be sharing weekly recipes from our class curriculum and participants
---
Homemade Vegetable Dumplings are a delicious, light meal that the entire family can enjoy.
With origins in northern China, dumpling recipes have emerged all over the world with different cultural modifications. Many people shy away from the task of making dumplings because they perceive it as a difficult dish to make properly. This is simply not the case! Dumplings are easier to make than you might think. It is also a dish that every member of the family can contribute to, encouraging some family bonding time!
Here are three dumpling cookbooks to inspire your culinary creativity:
Susanna Foo Chinese Cuisine: The Fabulous Flavors & Innovative Recipes of North America's Finest Chinese Cook
by Susanne Foo
Hailed as one of America's best chefs, Foo shares recipes inspired by her Chinese heritage that helped establish her stature in the culinary world.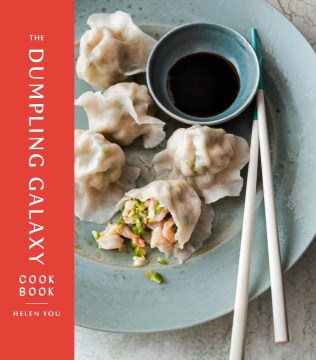 The Dumpling Galaxy Cookbook
by Helen You
Inspired by one of her many restaurants, Helen You shares 60 Chinese-inspired dumpling recipes that incorporate a variety of flavors.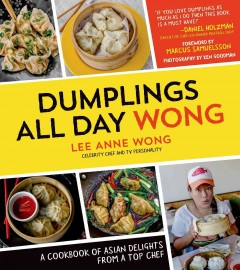 Dumplings All Day Wong: A Cookbook of Asian Delights from a Top Chef
by Lee Anne Wong
Create dumplings in innumerable ways, using folds such as Potstickers, Gyozas, Shumai, Har Gow, Wontons and more, along with countless fillings and different cooking methods such as steaming, pan-frying, baking, or deep-frying.
Try out the recipe we use in Edible Alphabet English, adapted from Leanne Brown's cookbook Good and Cheap.
Vegetable Dumplings
Makes 50-60 dumplings
Ingredients
½ head of broccoli
3 carrots
4 oz. mushrooms
4 oz. firm tofu
1 Tbsp. soy sauce (plus more for dipping)
1 tsp. toasted sesame oil
1 scallion
1 egg
2 cloves garlic
2 tsp. grated ginger
1 package dumpling wrappers

Instructions
Chop broccoli into small pieces.
Slice mushrooms.
Crumble tofu with your hands into small pieces.
Peel and grate carrot and ginger.
Slice scallion and garlic into thin pieces.
Heat sesame oil in a pan and cook onions for 3-5 minutes, until translucent.
Add mushrooms and cook for 3-4 more minutes.
Add broccoli, carrot, scallion, garlic, ginger, soy sauce and cook for 3-5 more minutes.
Remove from heat and stir in tofu and egg.
Take one dumpling wrapper and place a tablespoon of filling in the center of the dough.
Lift all the edges of the wrapper to meet in the middle, then pinch it closed. If the dough won't stick to itself, wet your fingertips with water and dab the edges.
Repeat until you run out of either filling or dough.
Wipe the pan clean and spread a small amount of oil around a large pan.
Fill the pan with dumplings—as many as you can fit without them sticking to each other.
Turn the heat to medium and let them sizzle for about a minute.
Once the dough has absorbed most of the oil, add about ½ cup of water to the pan, then quickly cover with a lid.
Leave the lid on for about a minute to steam the dumplings, then turn the heat down to low and remove the lid.
Let it keep cooking until the water evaporates, then turn off the heat. Your dumplings should be steamed on top with crispy, brown bottoms.
Dip dumplings in soy sauce and enjoy!
---
Edible Alphabet is made possible through the generous support of the Dry Family Foundation and Dietz & Watson.
For more information about Edible Alphabet and the Culinary Literacy Center, visit freelibrary.org/cook or email kitchen@freelibrary.org.
Enjoy this recipe? Leave a comment and stay tuned for more Edible Alphabet recipes in the coming weeks.
---
Have a question for Free Library staff? Please submit it to our Ask a Librarian page and receive a response within 72 hours.