Bento Boxes: A Sustainable Method for Food On the Go
By
Naquawna L.
Mon, February 8, 2021
Quaint boxes equipped with separate compartments, used to store your favorite meals, bento boxes are gaining major popularity in the United States.
While they are great for storing on-the-go meals, they were originally used by hunters, farmers, and soldiers during Japan's Kofun period or 5th century (300-538 AD), to carry rice balls or dried rice that was later rehydrated. Bento derives from the Chinese word biàndāng (bee-ann- dung), which means "convenient or easy". It's also said the word bento was used for meals given out by a 16th-century Japanese military commander, Oda Nobunaga, who fed many people outside his castle.
Constructed into a small box made of wood, and resembling a jewelry box or Japanese seedbox, bento boxes became essential to Japanese outdoor events, such as picnics and trips to the theater. Later during the Meiji period (1868-1912) when Japanese railway stations were established, ekiben or "station bento" were sold to passengers and consisted of Kamameshi, which is rice cooked with fish and vegetables in a small pot. Due to stations' customization of ekiben to differentiate themselves from others, the ingredients varied. The one variant that remained the same was the arrangement of each ingredient mimicked items cooking in a pot.
Known as an important food staple in Japanese culture, it is believed bento boxes serve as a vehicle of communication between the preparer and the eater. Due to this belief, feelings are transmitted through food, whatever the preparer feels will transmute the food's flavor. Due to their convenience and popularity, bento boxes are mass-produced and sold throughout supermarkets, department stores, and convenience stores in Japan, China, Korea, and the Philippines. Modern bento boxes are crafted in various materials, come in a magnitude of stackable sizes, and consist of numerous ingredients depending on the brand and location they are sold.
With the onslaught of working mothers, bento boxes are a preferred choice for school-age children who aren't served lunch in school. Thinking back to when I was a child, I had the option to take my lunch or eat school lunch. Depending on the menu I would prefer to take my lunch. In general, lunch bags' main purpose was to carry separately wrapped items. With the bento box, elaborately prepared meals can be stored separately in the same container, proving to be a more sustainable and efficient lunch-making process.
How much time do you put into making healthy homemade meals to go? While most settle for a simple sandwich, the bento box allows for fresh salads, veggies, fruits, and over-all suitable conditions for healthier options. In general, bento boxes consist of a variety of proteins, rice, and veggies, but in the Culinary Literacy Center we would suggest food safety guidelines are followed to avoid time-temperature abuse of any item added to a bento box.
If you would like to give bento boxes a try, I have recommended some Free Library titles from our catalog below.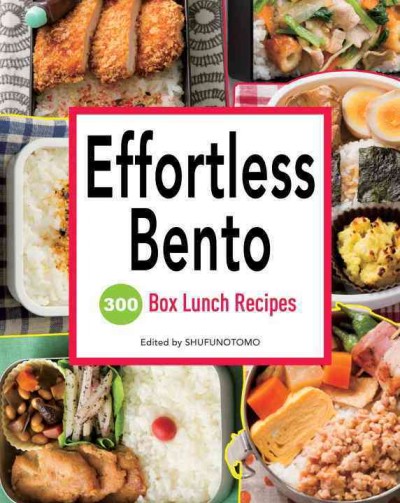 Effortless Bento edited by Shufu-no-Tomo
Bento books have been some of the more accessible and popular genres coming out of Japan over the last few years, and this title is essentially the bento encyclopedia. Filled with hundreds of full-color photos and numerous recipes, this is the essential box lunch book!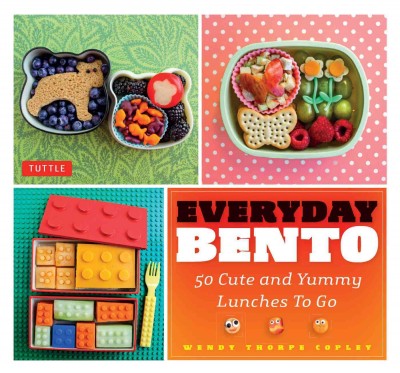 Everyday Bento: 50 Cute and Yummy Lunches To Go by Wendy Thorpe Copley
Kids will look forward to lunch every single day with the delightful collection of recipes in this book! The bento food movement teaches us that foods can be attractive, nutritious, fun, and delicious—all at the same time. Kids love to try foods that bring a smile to their faces, and will often eat things they wouldn't otherwise try. For example, they'll love an adorable bear cub made from brown bread, and peanut butter and jelly, nestled on a bed of blueberries. Cut watermelon into hearts, and tuck them next to a ham sandwich shaped like ballet slippers for your budding ballerina. Create building bricks from healthy cheese, carrots, and cucumbers—or a hot dog octopus, swimming across a sea of cucumber. Picky eaters or not, they'll try it! Follow the easy, step-by-step instructions to recreate each bento box, or mix and match different elements from the book to make your own unique creations.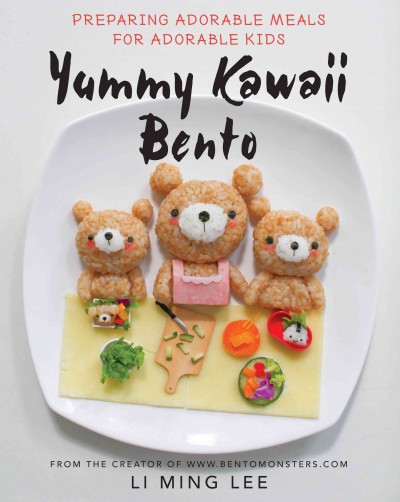 Yummy Kawaii Bento: Preparing Adorable Meals for Adorable Kids by Li Lee Ming
The lunchbox reinvented: transform the boring routine of your children's packed lunches into cute, edible cartoon characters! What if you could entice your children to eat balanced lunches every day? Even better: how do you transform the routine of unoriginal packed lunches into a joy for yourself? With more than 160 step-by-step tutorials on how to assemble balanced bento boxes, create food art, and cook individual recipes that bridge the East and the West, this book turns food preparation into an art and makes eating fun again for both parent and child.

Don't forget to take a picture of your bento box creations and share them with us in the comments section!
---
Have a question for Free Library staff? Please submit it to our Ask a Librarian page and receive a response within 72 hours.