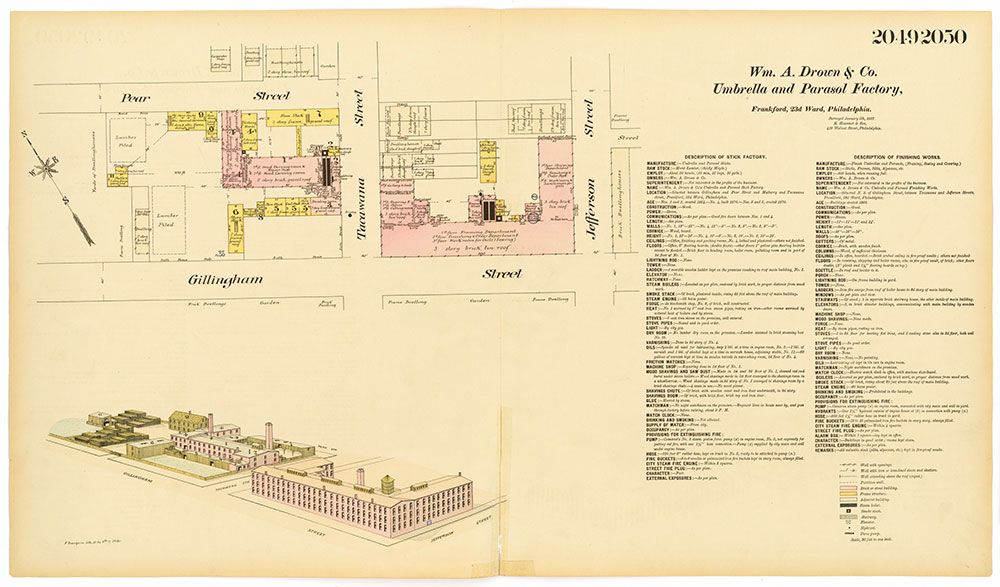 Item Info
Item No: MHGSAV00081
Title: Hexamer General Surveys, Volume 21, Plates 2049-2050
Additional Title: Hexamer General Surveys, Volume 21
Publication Year:
1/5/1887
Page:
2049
Street Address:
Between Gillingham, Peak, Mulberry and Tackawanna Sts. (Stick factory); gillingham St. (north side) between Tackawanna and Jefferson Sts. (Finishing works)
Street Address:
Gillingham St, Pear St, Tackawanna St and Mulberry St
Work Type:
Industrial Site Surveys
Source:
Map Collection
Notes:
Covers Plates: 2049 - 2050
Notes:
Facility Name: Wm. A. Drown & Co., Umbrella and Parasol Stick Factory
Owner: Drown, Wm. A, & Co.
Products:
Notes:
Other Plates: 114, 791, 2049-50
Notes:
View From: SE
Notes:
Ward: 23
Northside Orientation of Image:
North
Alternate Page Number:
Plates 2049-2050
City/Town/Township:
Geographic Coverage Ward:23rd ward
Geographic Coverage State/Province:Pennsylvania
Geographic Coverage City/Town/Township:Philadelphia
Geographic Coverage Neighborhood:Frankford
Geographic Coverage Region/County:Philadelphia
Creator Name:
Ernest Hexamer