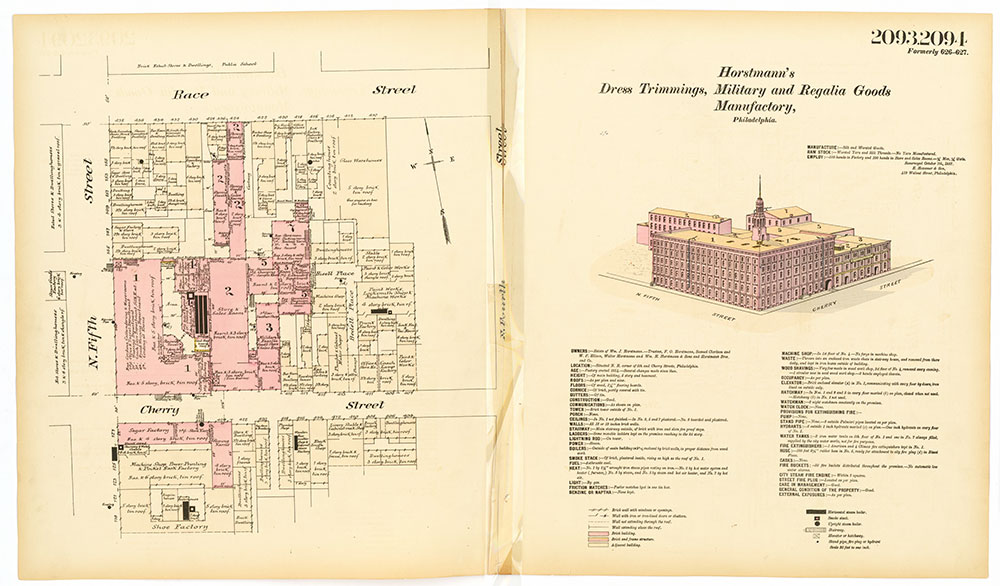 Item Info
Item No: MHGSAW00032
Title: Hexamer General Surveys, Volume 22, Plates 2093-2094
Additional Title: Hexamer General Surveys, Volume 22
Publication Year:
10/7/1887
Page:
2093
Street Address:
Fifth St.and Cherry St., NEC, through to 424 Race St.
Street Address:
N. 5th St, Cherry St and Race St
Work Type:
Industrial Site Surveys
Source:
Map Collection
Notes:
Corner: NE
Notes:
Covers Plates: 2093 - 2094
Notes:
Facility Name: Horstmann's Dress Trimmings, Military and Regalia Goods Manufactory
Owner: Horstmann, Estate of Wm. J.; Trustees, F.O. Horstmann, Samuel Clarkson and W.P. Ellison, Walter Horstmann, and Wm. H. Horstmann & Sons, and Horstmann Bro. & Co.
Products:
Textiles-Silk Goods
Textiles-Worsted Goods
Military Equipment
Notes:
Other Plates: 9, 81, 626-627, 2093-94
Notes:
View From: SW
Notes:
Ward: 6
Northside Orientation of Image:
North
Alternate Page Number:
Plates 2093-2094
City/Town/Township:
Geographic Coverage Ward:6th ward
Geographic Coverage State/Province:Pennsylvania
Geographic Coverage City/Town/Township:Philadelphia
Geographic Coverage Neighborhood:Center City
Geographic Coverage Region/County:Philadelphia
Creator Name:
Ernest Hexamer