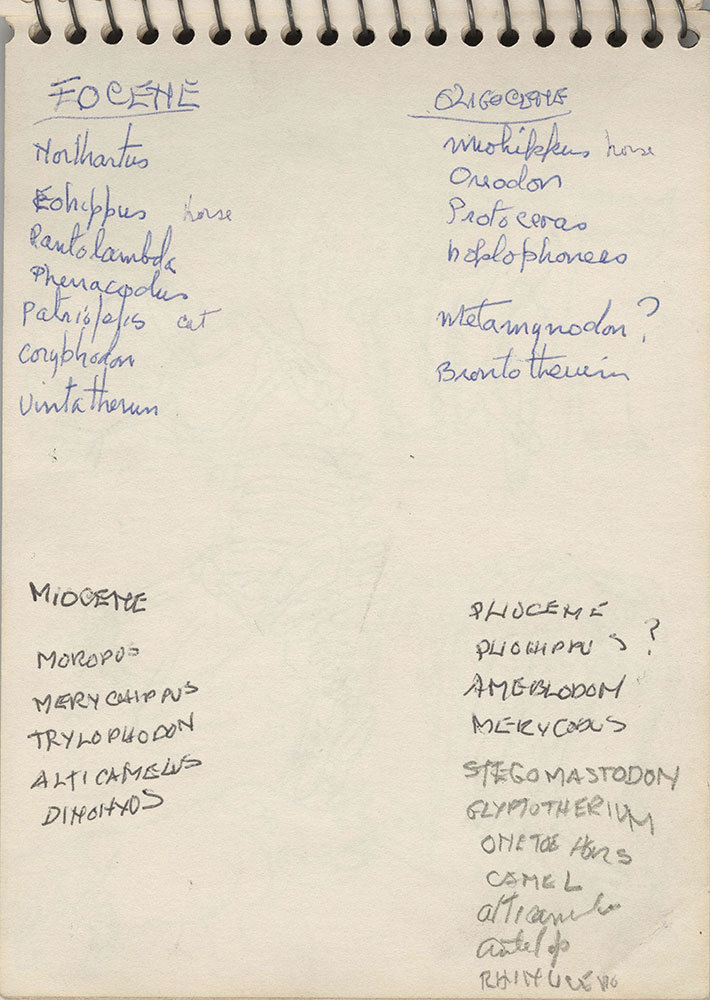 Item Info
Item No: burt00054
Title: Co-Mo sketchbook for Life Story, page 24
Additional Title: Life Story
Language:
English
Material:
Graphite and pen and ink on paper
Transcription:
"Eocene - Notharctus, Eohippus horse, Pantolambda, Phenacodus, Patriofelis cat, Coryphodon, uintatherium
Oligocene - Miohippus horse, Oreodon, Protoceras, Hoplophoneus, Metamynodon?, brontotherium
Miocene - Moropus, Merychippus, Trylophodon, Alticamelus, Dinohyus
Pliocene - Pliohippus?, Amebelodon, Merycodus, Stegomastodon, Glyptotherium, One Toe Horse, Camel, Arctic mammal, antelope, rhinoceros."
Media Type:
Illustrations
Source:
Children's Literature Research Collection
Provenance:
Gift of Virginia Lee Burton, 1968.
Bibliography:
Virginia Lee Burton, Life Story (New York: Houghton Mifflin, 1962).
Creation Year (Single Year or Earliest Date):
1962
Image Dimensions Width:
18 cm
Call Number:
BURT CO-MO 1
Creator Name:
Burton, Virginia Lee, 1909-1968 - Artist
Subjects