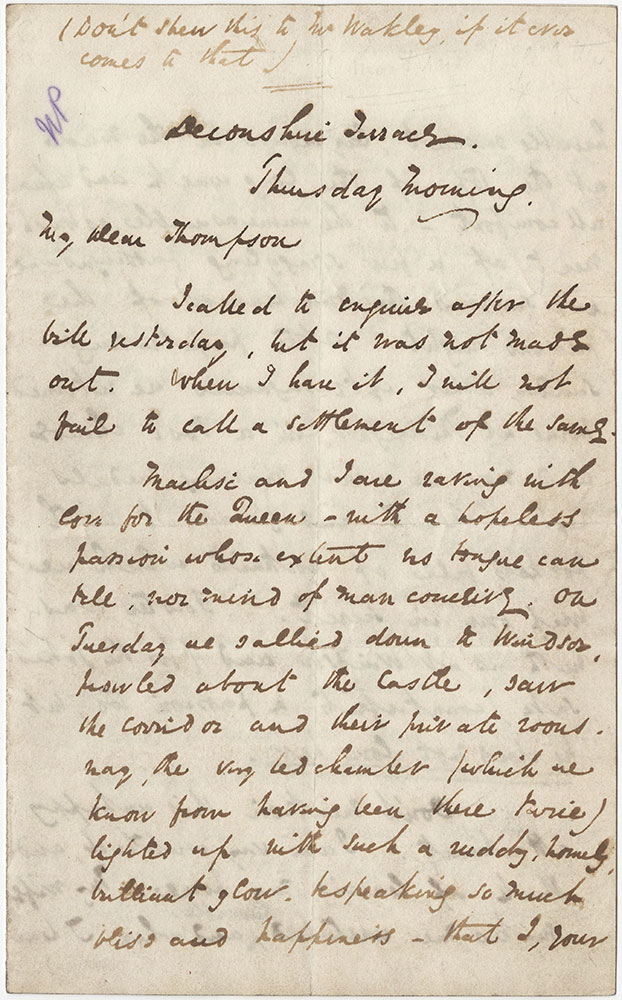 Item Info
Item No: cdc343501
Title: ALs to T.J. Thompson
Accession Number:
87-860
Physical Description:
[4] pages
Material:
paper
Transcription:
(Don't shew this to Mr. Wakley, if it ever comes to that)
Devonshire Terrace.
Thursday Morning.
My Dear Thompson
I called to enquire after the bill yesterday, but it was not made out. When I have it, I will not fail to call a settlement of the same.
Maclise and I are raving with love for the Queen – with a hopeless passion whose extent no tongue can tell, nor mind of man conceive. On Tuesday we sallied down to Windsor, prowled about the Castle, saw the corridor and their private rooms – nay, the very bed chamber (which we know from having been there twice) lighted up with such a ruddy, homely, brilliant glow – bespeaking so much bliss and happiness – that I, your humble servant, lay down in the mud at the top of the long walk and refused all comfort – to the immeasurable astonishment of a few straggling passengers who had survived the drunkenness of the previous night. After perpetrating sundry other extravagances we returned home at Midnight in a Post Chaise, and now we wear marriage medals next out hearts and go about with pockets full of portraits which we weep over in secret. Forster was with us at Windsor and (for the joke's sake) counterfeits a passion too, but he does not love her.
Don't mention this unhappy attachment. I am very wretched, and think of leaving my home. My wife makes me wretched miserable, and when I hear the voices of my Infant children, I burst into tears. I fear it is too late to ask you to take this house, now that you have such arrangements of comfort in Pall Mall; but if you will, you shall have it very cheap – furniture at a low valuation – money not being so much an object, as escaping from the family. For God's sake turn this matter over in your mind, and please to ask Captain Kincaide what he asks – his lowest terms, in short, for ready money – for that Post of Gentleman at Arms. I must be near her, and I see no better way than that, for the present.
I have on hand three Numbers of Master Humphrey's Clock, and the two first chapters of Barnaby. Would you like to buy them? Writing any more in my present state of mind, is out of the question. They are written in a pretty fair hand and when I am in the Serpentine may be considered curious. Name your own terms.
I know you don't like trouble, but I have ventured, notwithstanding, to make you an Executor of my will. There won't be a great deal to do, as there is no money. There is a little bequest having reference to her which you might like to execute. I have heard on the Lord Chamberlain's authority, that she reads my books and is very fond of them - - I think she will be sorry when I am gone. I should wish to be embalmed, and to be kept (if practicable) on the top of the Triumphal Arch at Buckingham Palace when she is in town, and on the north-east turrets of the Round Tower when she is at Windsor xxxx x
xxxxxx
x x
x x x x x x x x x x x x x x x x x x
From your distracted and blighted friend
C.D.
MssDate:
Thursday Morning [13 February 1840]
Media Type:
Letters
Source:
Rare Book Department
Recipient:
Thompson, Thomas James, 1812-1881
Provenance:
Gift of Mrs. D. Jacques Benoliel, 12/56.
Bibliography:
Volume 2, pp. 25-27, The Letters of Charles Dickens, edited by Madeline House & Graham Storey ; associate editors, W.J. Carlton … [et al.].
Country:
Creation Place Note:Devonshire Terrace
Country:England
City/Town/Township:London
Call Number:
DL T378 1840-02-13
Creator Name:
Dickens, Charles, 1812-1870 - Author
View other associated items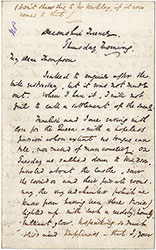 ALs to T.J. Thompson
Previous
Previous