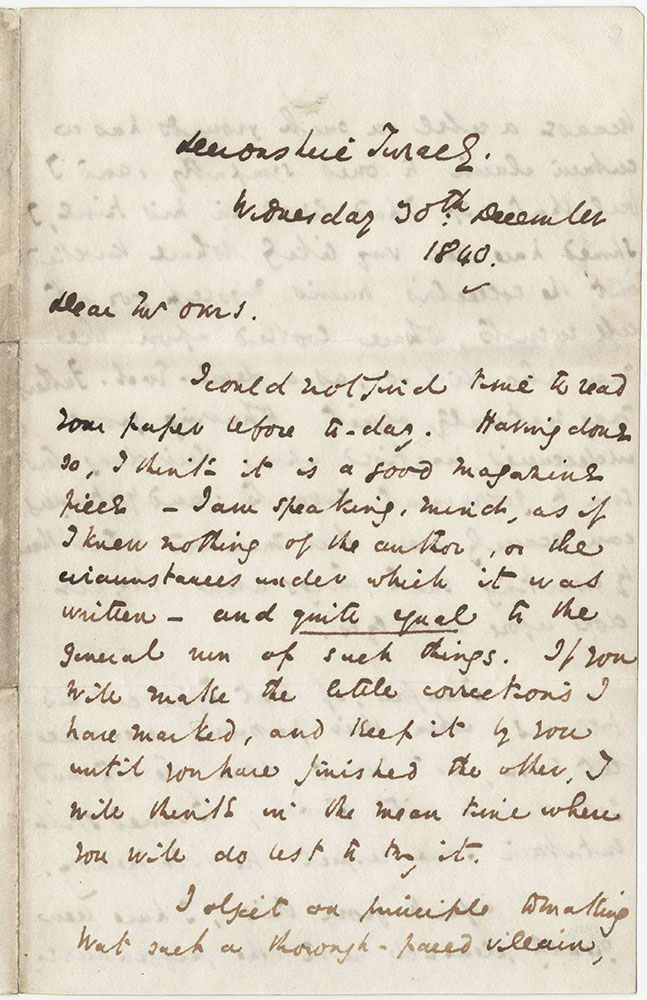 Item Info
Item No: cdc401401
Title: ALs to John A. Overs
Accession Number:
87-1646
Physical Description:
[3] pages
Material:
paper
Transcription:
Devonshire Terrace.
Wednesday 30th. December
1840.
Dear Mr. Overs.
I could not find time to read your paper before to-day. Having done so, I think it is a good magazine piece – I am speaking, mind, as if I knew nothing of the author, or the circumstances under which it was written – and quite equal to the general run of such things. If you will make the little corrections I have marked, and keep it by you until you have finished the other, I will think in the mean time where you will do best to try it.
I object on principle to making Wat such a thorough-paced villain, because a rebel on such grounds has a certain claim to one's sympathy, and I feel that if I had lived in his time, I Should have been very likely to have knocked out the Collector's brains myself, - or at all events to have looked upon the man who did so, as a demi-God. Fathers may naturally object to having gross indecencies practiced upon their daughters even by government servants; and bystanders can scarcely shew their manhood better than by resenting such things when they are done before their eyes.
Therefore, if Wat Tyler and his followers when their passions were once let loose, had burnt down the City and got drunk with blood, I should still entertain some respect for their memory.
Apart from this, I have been greatly pleased with the performance, and I speak most seriously when I say that in the way of improvement, you have done wonders.
Beware of writing things for the eyes of everybody, which you would feel the smallest delicacy in saying anywhere. Mrs. Scutfidge may have stripped in public – I have no doubt she did – but I should be sorry to have to tell young ladies so in the nineteenth century, for all that.
Faithfully Yours
Charles Dickens
MssDate:
Wednesday 30th December 1840
Media Type:
Letters
Source:
Rare Book Department
Recipient:
Overs, John A., 1808-1844
Provenance:
Bequest of William M. Elkins, 8/5/47.
Bibliography:
Volume 2, pp. 176-177, The Letters of Charles Dickens, edited by Madeline House & Graham Storey ; associate editors, W.J. Carlton … [et al.].
Country:
Creation Place Note:Devonshire Terrace
Country:England
City/Town/Township:London
Call Number:
DL Ov2 1840-12-30
Creator Name:
Dickens, Charles, 1812-1870 - Author
View other associated items