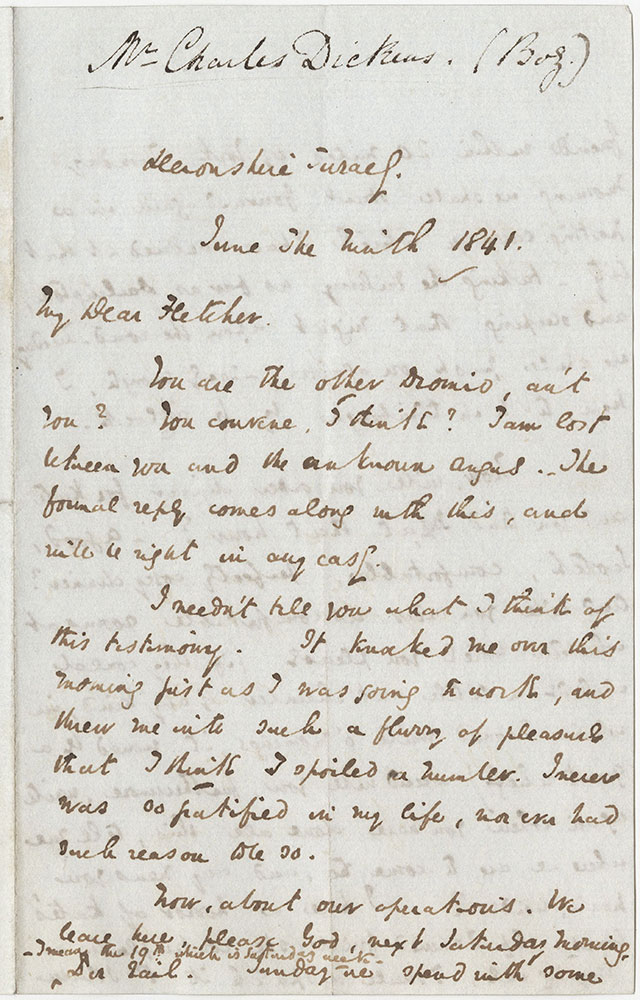 Item Info
Item No: cdc292801
Title: ALs to Angus Fletcher
Accession Number:
87-298
Physical Description:
[4] pages
Material:
paper
Transcription:
Devonshire Terrace.
June The Ninth 1841.
My Dear Fletcher.
You are the other Dromio, aren't you? You convene, I think? I am lost between you and the unknown Angus. – The formal reply comes along with this, and will be right in any case.
I needn't tell you what I think of this testimony. It knocked me over this morning just as I was going to work, and threw me into such a flurry of pleasure that I think I spoiled a Number. I never was so gratified in my life, nor ever had such reason to be so.
Now, about our operations. We leave here, please God, next Saturday Morning, — I mean the 19th. which is Saturday week – Per Rail. Sunday we spend with some friends within 20 miles of York. Monday Morning we shall start forward again in a posting carriage which I have ordered at that City – taking the Railway as far as Darlington, and sleeping that night upon the road – Tuesday we shall push on again – early enough, I hope, to be in Edinburgh by 6 o'Clock.
Now, will you order dinner for Kate and you and me, at that hour? – A good, Scotch, comfortable, perfectly cosey dinner? And will you order us comfortable rooms at whatever hotel you please (if they could include a little antechamber of any kind, in which I could write o'mornings, it would be a great relief) – and will you, furthermore, write again when you have done all this, tell me where we are to come to, and any news you have, besides? I have a horror of Kate's boxes. If I should find she contemplates a very big one, I shall dispatch it Pr. Steam beforehand.
I have been thinking that the best plan will be, to make an indomitable, savage, unalterable resolve to leave Edinburgh on the Saturday week, in the morning, — and to stick to it. Our route in the Highlands we will plan together. I suppose a week would be a liberal allowance? – I should like to have a three days halt at some intensely romantic tavern, to refresh from the excitements and hospitalities of Auld Reekie. – All this, and much more, we will talk about, over that unparalleled repast I have just spoken of.
As Kate will be mad to see the house she was born in, and all the rest of it, let us be alone that evening, we three – and with the sun next morning, let you and I cut up to the top of Arthur's Seat, and stand upon its highest crag. I am on the highest crag of expectation now, and shan't come down again 'till I have been there.
-------------------------------------------
It has just been told to me that Wilkie is dead. I can hardly believe it. 'Tis in the papers, they say. You will know the truth or falsehood of the tale, as soon as I.
Always Dear Fletcher
Faithfully Yours
Charles Dickens
MssDate:
June the Ninth 1841
Media Type:
Letters
Source:
Rare Book Department
Recipient:
Fletcher, Angus, 1799-1862
Provenance:
Purchased from Sawyer via Sessler, 4/55. Matlack Fund.
Bibliography:
Volume 2, pp. 298-299, The Letters of Charles Dickens, edited by Madeline House & Graham Storey ; associate editors, W.J. Carlton … [et al.].
Country:
Country:England
City/Town/Township:London
Creation Place Note:Devonshire Terrace
Call Number:
DL F632 1841-06-09
Creator Name:
Dickens, Charles, 1812-1870 - Author
View other associated items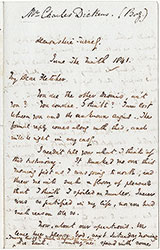 ALs to Angus Fletcher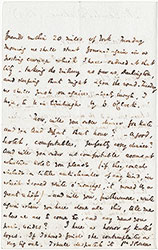 ALs to Angus Fletcher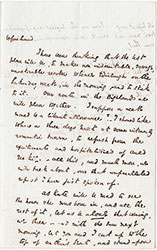 ALs to Angus Fletcher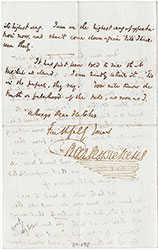 Als to Angus Fletcher
Previous
Previous