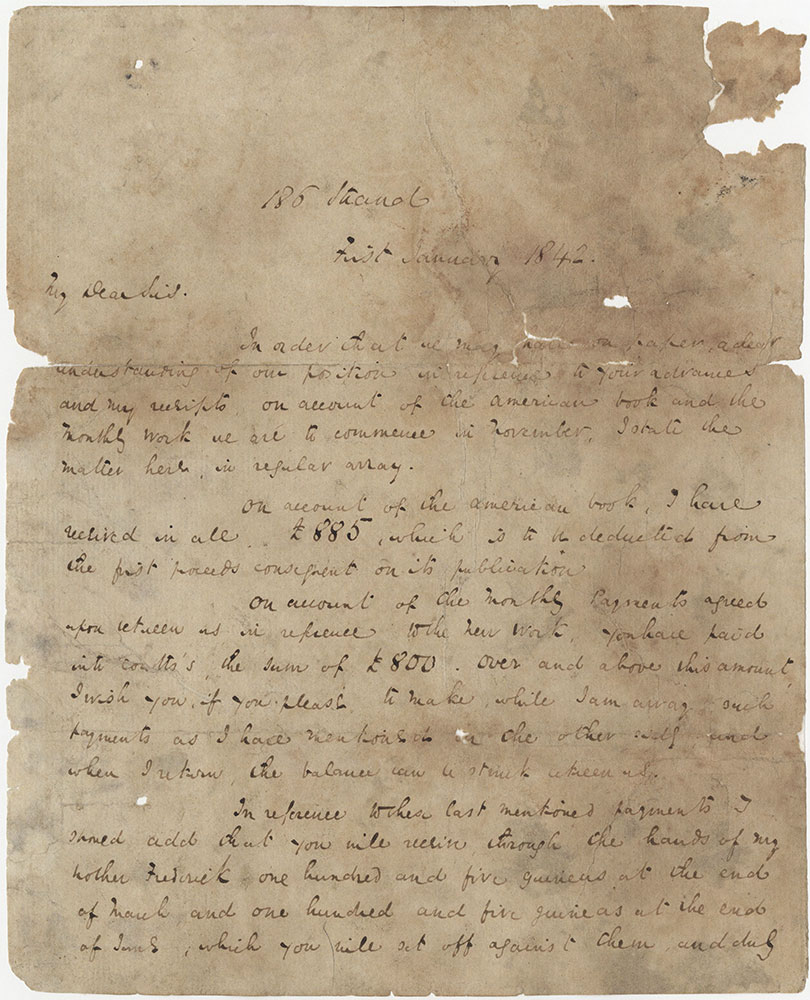 Item Info
Item No: cdc280301
Title: Als to Chapman and Hall
Accession Number:
87-193
Physical Description:
[3] pages
Transcription:
186 Strand I First January 1842.
My Dear Sirs.
In order that we may have on paper, a clear understanding of our position in reference to your advances and my receipts, on account of the American book and the Monthly Work we are to commence in November, I state the matter here, in regular array.
On account of the American book, I have received in all £885, which is to be deducted from the first proceeds consequent to its publication.
On account of the Monthly Payments agreed upon between us, in reference to the New Work, you have paid into Coutt's, the sum of £800. Over and above this amount, I wish you, if you please, to make, while I am away, such payments as I have mentioned on the other side; and when I return, the balance can be struck between us.
In reference to these last mentioned payments I should add that you will receive through the hands of my brother Frederick, one hundred and five guineas at the end of March, and one hundred and five guineas at the end of June; which you will set off against them, and duly give me credit for.
As a security for these advances, you hold three policies effected by me on my life, with the Britannia Life Assurance Company.
Having disposed of the business part of this letter, I should not feel at ease on leaving England, if I did not tell you once more with my whole heart, that your conduct to me, on this and on all other occasions, has ever been honorable, manly, and generous; and that I have felt it a solemn duty, in the event of any accident happening to me while I am away, to place this testimony upon record. It forms a part of a Will I have made for the security of my children; - for I wish them to know it, when they are capable of understanding your worth and my appreciation of it.
Always believe me I Faithfully and truly Yours
Charles Dickens
(Over)
The payments referred to, to be made while I am away, are the weekly bills of my children and servants, certified as correct by my brother Frederick; ten pounds a month for the rent of their lodgings; the servants' wages; and the rent and taxes of my own house. Other payments may be rendered necessary by some omission of mine or by unlooked-for circumstances, but for whatever you pay, and for everything you pay, I request that you will take my brother Frederick's acknowledgement as mine, and that my executors and legal representatives will in every case consider it a sufficient receipt and discharge, and a proof of the correctness of your claims in these respects.
Charles Dickens
MssDate:
First January 1842.
Media Type:
Letters
Source:
Rare Book Department
Recipient:
Chapman, Edward, 1804-1880 and Hall, William, ?1801-1847
Provenance:
Benoliel, Mrs. D. Jacques
Bibliography:
The Letters of Charles Dickens, Pilgrim Edition, Volume Three, 1842-1843, p. 1.
Country:
Creation Place Note:186 Strand
Country:England
City/Town/Township:London
Call Number:
DL C366 1842-01-01
Creator Name:
Dickens, Charles, 1812-1870 - Author
View other associated items