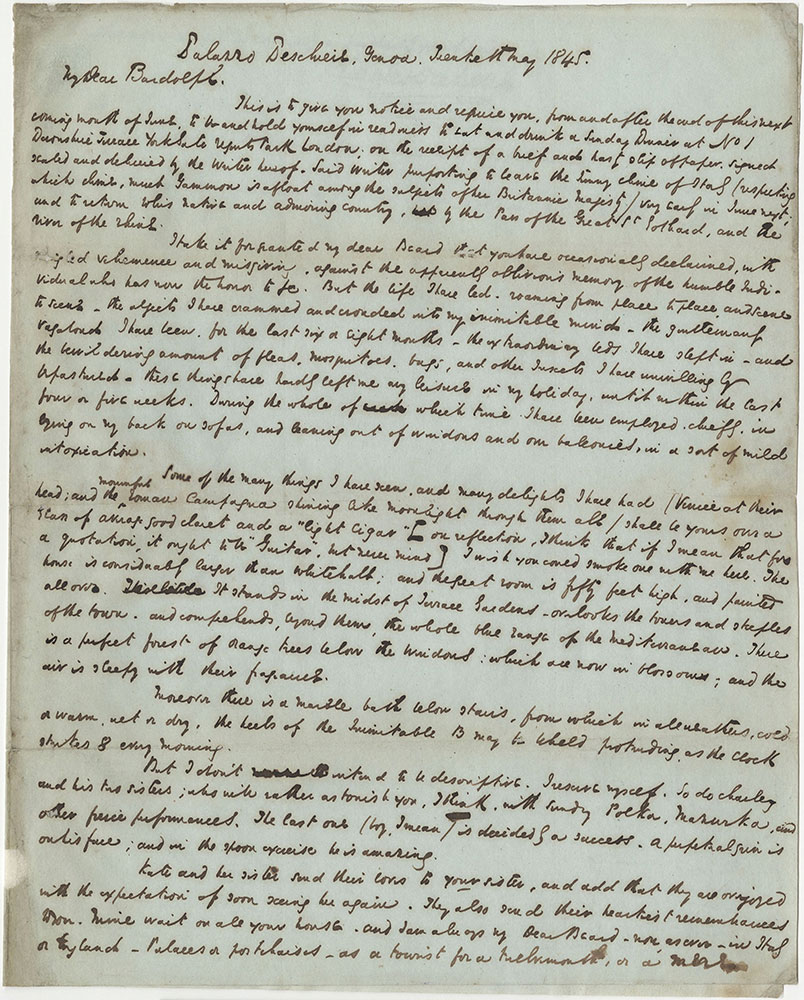 Item Info
Item No: cdc197801
Title: ALs to Thomas Beard
Accession Number:
86-2768
Physical Description:
[2] pages
Material:
Paper
Transcription:
Palazzo Peschiere, Genoa. Twentieth May 1845.
My Dear Bardolph.
This is to give you notice and require you, from and after the end of this next coming month of June, to be and hold yourself in readiness to eat and drink a Sunday Dinner at No. 1 Devonshire Terrace York Gate Regents Park London; on the receipt of a brief and hasty slip of paper, signed sealed and delivered by the Writer hereof. Said Writer purporting to leave the Sunny clime of Italy (respecting which clime, much Gammon is afloat among the subjects of her Britannic Majesty) very early in June next; and to return to is native and admiring country, by the Pass of the Great St. Gothard, and the river of the Rhine.
I take it for granted my dear Beard that you have occasionally declaimed, with mingled vehemence and misgiving, against the apparently oblivious memory of the humble Individual who has now the honor to &c. But the life I have led – roaming from place to place, and scene to scene – the objects I have crammed and crowded into my inimitable mind – the gentlemanly vagabond I have been, for the last six or eight months – the extraordinary beds I have slept in – and the bewildering amount of fleas, mosquitoes, bugs, and other Insects I have unwillingly bepastured – these things have hardly left me any leisure in my holiday, until within the last four or five weeks. During the whole of which time I have been employed, chiefly, in lying on my back on sofas, and leaning out of windows and over balconies, in a sort of mild intoxication.
Some of the many things I have seen, and many delights I have had (Venice at their head: and the mournful Roman Campagna shining like moonlight through them all) shall be yours over a glass of average good claret and a "light Cigar" [on reflection, I think that if I mean that for a quotation, it ought to be "Guitar", but never mind]. I wish you could smoke one with me here. The house is considerably larger than Whitehall; and the great room is fifty feet high, and painted all over. It stands in the midst of Terrace Gardens – overlooks the towers and steeples of the town – and comprehends beyond them, the whole blue range of the Mediterranean. There is a perfect forest of orange trees below the windows: which are now in blossom; and the air is sleepy with their fragrance.
Moreover there is a marble bath below stairs, from which in all weathers, cold or warm, wet or dry, the heels of the Inimitable B may be beheld protruding, as the clock strikes 8 every morning.
But I don't intend to be descriptive. I reserve myself. So do Charley and his two sisters; who will rather astonish you, I think, with sundry Polka, Mazurka, and other fierce performances. The last one (boy, I mean) is decidedly a success – a perpetual grin is on his face; and in the spoon exercise he is amazing.
Kate and her sister send their loves to your sister, and add that they are overjoyed with the expectation of soon seeing her again. They also send their heartiest remembrances to you. Mine wait on all your house – and I am always my Dear Beard – now, as ever – in Italy or England – Palaces or postchaises – as a tourist for a twelvemonth, or a mere Pashanger Marjit – cordially and faithfully your friend
Charles Dickens
P.S.
You will be glad to hear that The Chimes has been a most sweeping success.
P.P.S.
I thought I saw Conway Lingham in the Ruins of the Coliseum – but I couldn't swear it.
MssDate:
Twentieth May 1845
Media Type:
Letters
Source:
Rare Book Department
Recipient:
Beard, Thomas, 1807-1891
Provenance:
Sotheby 25 Mar 74 Lot 191 through Maggs, Gratz Fund.
Bibliography:
Volume 4, pp. 311-312, The Letters of Charles Dickens, edited by Madeline House & Graham Storey ; associate editors, W.J. Carlton … [et al.].
Country:
Creation Place Note:Palazzo Peschiere
Country:Italy
City/Town/Township:Genoa
Call Number:
DL B379 1845-05-20
Creator Name:
Dickens, Charles, 1812-1870 - Author
View other associated items