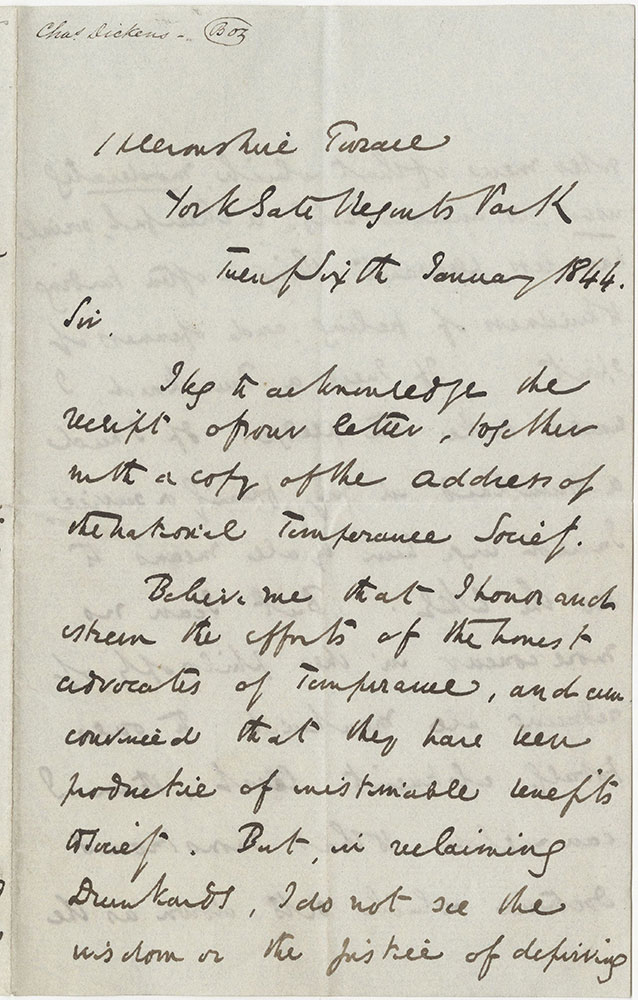 Item Info
Item No: cdc222201
Title: ALs to Theodore Compton
Accession Number:
87-1000
Physical Description:
[4] pages
Material:
paper
Transcription:
1 Devonshire Terrace
York Gate, Regents Park
Twenty Sixth January 1844.
Sir,
I beg to acknowledge the receipt of your letter, together with a copy of the address of the National Temperance Society.
Believe me that I honor and esteem the efforts of the honest advocates of Temperance, and am convinced that they have been productive of inestimable benefits to Society. But, in reclaiming Drunkards, I do not see the wisdom or the Justice of depriving sober men of that which, moderately used, is undoubtedly a cheerful, social, harmless, pleasant thing – often tending to kindness of feeling, and openness of spirit. If I were a Drunkard, I would take the pledge. If I had a drunkard in my family or service, I would urge him by all means to do the like. But I can no more concur in the philosophy of reducing all Mankind to one totally abstinent level, than I can yield to that monstrous Doctrine which sets down as the consequences of Drunkenness, fifty thousand miseries which are, as all reflective persons know, and daily see, the wretched causes of it.
Those who insist upon total abstinence, shut me out from the possibility of helping them. I would gladly add my small subscription to your Funds, if I could do so consistently with the principle I maintain that all sober men should be left in possession of their sober enjoyments – of which there are not so many in this world of six working days to one day's rest, that we can afford to diminish them lightly. But you won't have that. You require me to bind myself to an unreasonable adaptation to all sorts and conditions of men, of one sweeping measure. And I am quite serious in saying that I cannot get it into my mind, that this is Just or Wise.
The position that Beer, Spirits, and Wine, are not natural to man, is poor and unfair. Shew me any Total abstainer at his dinner; and I will shew you fifty things making their way into his digestive organs, which are as foreign to his natural condition as the clothes he wears. The certificate of the Medical Gentlemen bearing testimony to the injurious effects of even the most temperate use of liquor, might be applied with equal truth to scores of Eatables in which I see my totally abstaining friends continually revelling. I am, Sir, Yours faithfully and obliged
Charles Dickens
Theodore Compton Esquire


MssDate:
Twenty Sixth January 1844
Media Type:
Letters
Source:
Rare Book Department
Recipient:
Compton, Theodore, 1816-1909
Provenance:
Christies NY, 12/19/86, lot 59, through Holmes, Benoliel Fund.
Bibliography:
Volume 4, pp. 30-31, The Letters of Charles Dickens, edited by Madeline House & Graham Storey ; associate editors, W.J. Carlton … [et al.].
Country:
Creation Place Note:1 Devonshire Terrace York Gate Regents Park
Country:England
City/Town/Township:London
Call Number:
DL C739t 1844-01-26
Creator Name:
Dickens, Charles, 1812-1870 - Author
View other associated items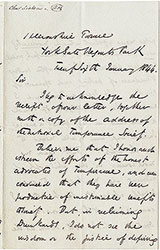 ALs to Theodore Compton
Previous
Previous