Item Info
Item No: cdc288801
Title: ALs to Frederick Dickens
Accession Number:
87-259
Physical Description:
[4] pages
Material:
paper
Transcription:
48 Rue de Courcelles.
Friday Night Fifth February
1847

My Dear Fred.
The kindest thing I can say, in reply to what you say about income and so forth, in your letter received today, is that is all folly. No one knows better than you (except myself, in my own conscience) that there is not a successful man in the world who attaches less importance to the possession of money, or less disparagement to the want of it, than I do.
I stated to father, Mr. Weller's points and power in this matter. One of them is, that you are not now in a position to incur the hazard of having to support a young family. Not all the fuming in the world can deprive him of that reasonable ground of objection. It is one that might be urged against you, if you were a younger son of the Duke of Bedford & therefore is not very personal.
I stated, among other facts, to shew that you cannot defy Mr. Weller, and that you must, if this engagement is to proceed, conciliate him. Moreover, that your Intended must conciliate him too, and not ride high horses.
How do you think I can write to Mr. Weller, when I have no more idea than the Emperor of China has, where he lives or is to be addressed? How can you wildly and unreasonably suppose that there is the faintest, dimmest, ghostliest, film on of an idea expressed in you answer to my long letter, implying that you had the least expectation or desire that I should write him at all?
Further—how can I take this matter up, like a man, and with any hope of coming to any rational conclusion, unless I know what you want—what part of your own wishes you are prepared to yield to his—what promises you are content to make him—what assurances you have to give him—what the thing is to be brought to—definitely what you want of him, and what is to be wrested from him if possible. I swear as it stands I have no understanding of the facts, at all. The only fact of which I am clear, is that I can't understand your letters.
I would have written, certainly, if I had known where to write, and had known you wished me to write. But I do not regard the delay as at all to be regretted, for I have no doubt it will do him good. I know him to be a perfectly unreasonable and wrong-headed man, even in his management of any shade of reasonable and right-headed idea; and if you would take my advice, you would leave him alone altogether, until I come home next month. He won't mind me at this distance half so much as if I were in Devonshire Terrace.
Your letter to Mr. Shaw was as rambling and wide of the mark, as your letters to me. There was a plain inconsistency in him, on which you might have challenged him, in a calm and gentlemanly manner, and at a great advantage, to tell you what he meant. He said, first of all, that you were not to come to his house, because you had told his sister in law, not to correspond with her parents. On the same side of paper, he said he did not believe you had told her. On which you should have asked him, whether he decided against you without hearing a word you had to say, because he did believe it, or because he didn't? And in either case whether he thought his proceeding one that would bear to be referred, with his other question, to me—and whether he was content to refer it to me as it stood.
I am not at all clear that it was well to send his other letter back, unopened. Apart from that being the last affront almost, that can be put upon anybody, you don't know what was inside, and the chances are that, coming from such a man, it might (discreetly used) have done you good, and could have done you no harm. But it is gone back; and now I want to know, supposing I write to Mr. Weller opening the business, and he writes back, what is to be brought about? Not your going to Mr. Shaw's again, is it?
Affectionately always
CD.
MssDate:
Friday Night Fifth February 1847
Media Type:
Letters
Source:
Rare Book Department
Notes:
Francis Russell, 7th Duke of Bedford (1788-1861); his father, the 6th Duke, was more renowned than he for wealth and extravagence.
Mr. Weller had caused much distress in his opposition to marriage of Thompson and Christina and Dickens seems to have kept him and the family at a distance.
Recipient:
Dickens, Frederick William, 1820-1868
Provenance:
Gift of Mrs. D. Jacques Benoliel, 12/6/55.
Bibliography:
Volume 5, pp. 22-23, The Letters of Charles Dickens, edited by Madeline House & Graham Storey; associate editors, W.J. Carlton…[et al.]
Country:
Creation Place Note:48 Rue de Courcelles
Country:France
City/Town/Township:Paris
Call Number:
DL D556f 1847-02-05
Creator Name:
Dickens, Charles, 1812-1870 - Author
View other associated items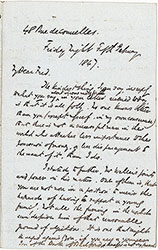 ALs to Frederick Dickens
Previous
Previous