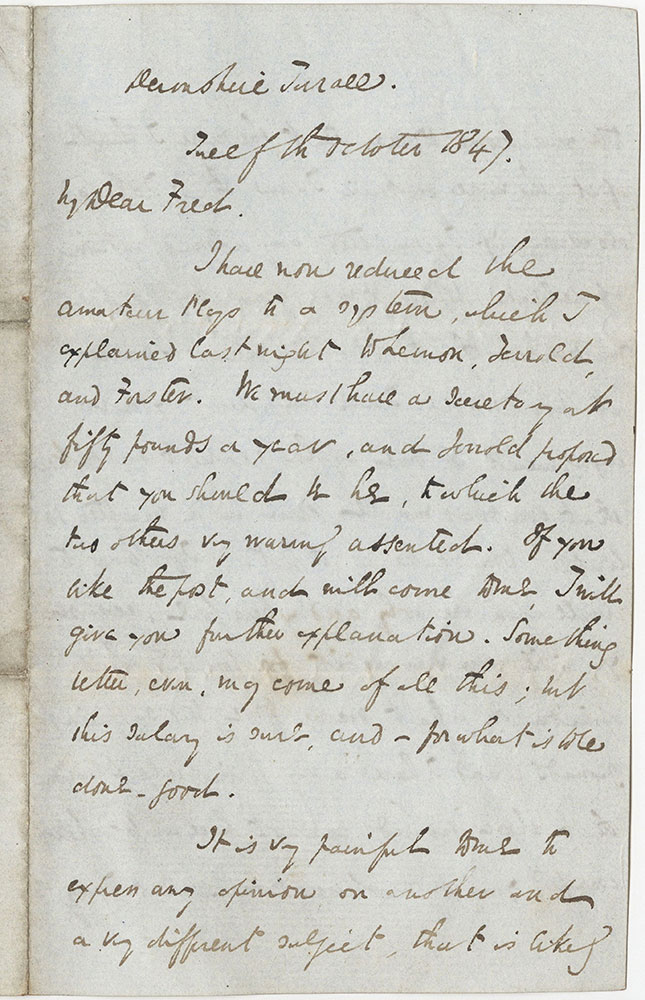 Item Info
Item No: cdc288901
Title: ALs to Frederick Dickens
Accession Number:
87-272
Physical Description:
[3] pages
Material:
paper
Transcription:
Devonshire Terrace.
Twelfth October 1847
My Dear Fred.
I have now reduced the Amateur Plays to a system, which I explained last night to Lemon, Jerrold, and Forster. We must have a Secretary at fifty pounds a year, and Jerrold proposed that you should be he, to which the two others very warmly assented. If you like the post, and will come to me, I will give you further explanation. Something better, even, may come of all this; but this salary is sure, and—for what is to be done—good.
It is very painful for me to express any opinion on another and a very different subject, that is likely to be unwelcome to you. But the more I think of it, the more certain I am that I should wrong, if I permitted any absurd notion of delicacy to prevent me from saying to you most earnestly that after what I saw at Broadstairs I am confident your engagement is one of the greatest mistakes that ever was made, even in a matter so liable to mistake as that. I forbear to dwell upon the why and wherefore, because you will give me credit for forming this opinion on what seem to me to be on sufficient grounds—and I have a very firm belief, besides, that those grounds cannot have altogether escaped your own observation. But I say this much, in the hope that you will remember it and suffer it to turn the scale, if you ever come to hesitate on this question. If you do not, it is better perhaps that we should take no more notice of it, especially as my opinion could only be shaken by and entire alteration in the whole character, mental constitution, and behavior, of Anna Weller.
Ever affectionately
Charles Dickens
MssDate:
Twelfth October 1847
Media Type:
Letters
Source:
Rare Book Department
Notes:
The "system" to which Dickens refers is the Association or "Provident Union", a mutual insurance scheme for writers and artists, for thwich the Amateur Company was to raise funds.
Dickens, Lemon and Jerrold were the founding fathers of this new society.
Dickens's brother Fred accept the post proposed to him in this letter.
Recipient:
Dickens, Frederick William, 1820-1868
Provenance:
Wilson, 1971, Benoliel Fund.
Bibliography:
Volume 5, p.173, The Letters of Charles Dickens, edited by Madeline House & Graham Storey; associate editors, W.J. Carlton…[et al.]
Country:
Creation Place Note:Devonshire Terrace
Country:England
City/Town/Township:London
Call Number:
DL D556f 1847-10-12
Creator Name:
Dickens, Charles, 1812-1870 - Author
View other associated items