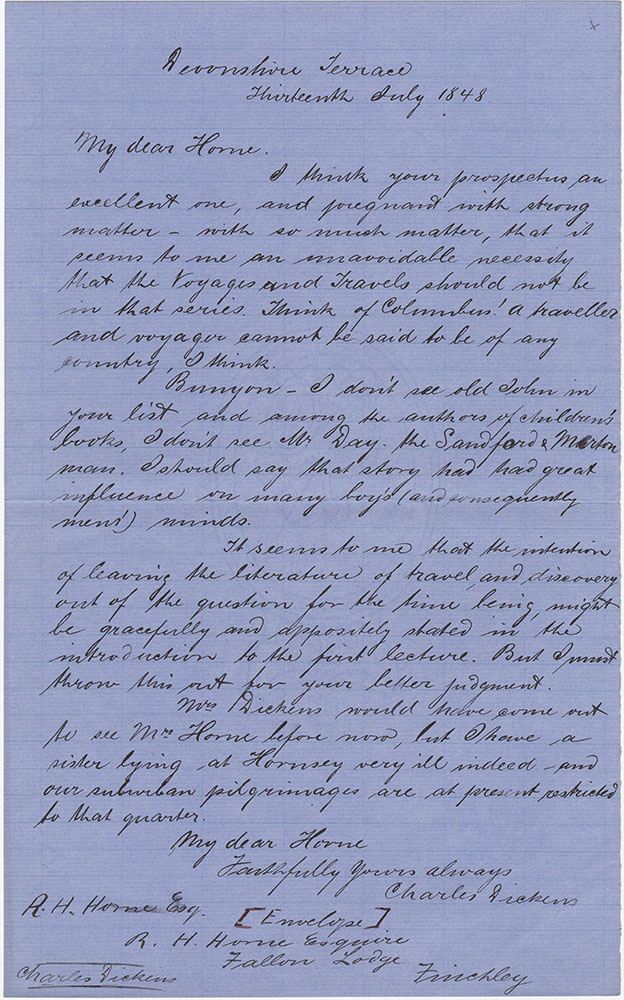 Item Info
Item No: cdc198801
Title: ALs to R. H. Horne
Accession Number:
86-2775
Physical Description:
[1] page
Material:
paper
Transcription:
Devonshire Terrace
Thirteenth July 1848

My dear Horne
I think your prospectus an excellent one, and pregnant with strong matter—with so much matter, that it seems to me an unavoidable necessity that the Voyages and Travels should not be in that series. Think of Columbus! A traveller and voyager cannot be said to be of any country, I think.
Bunyan—I don't see old John in your list and among the authors of children's books, I don't see Mr. Day—the Sandford & Merton man. I should say that story had great influence on many boy's (and consequently mens') minds.
It seems to me that the intention of leaving the literature of travel and discovery out of the question for the time being might be gracefully and appositely stated in the introduction to the first lecture. But I must throw this out for your better judgment.
Mrs. Dickens would have come out to see Mrs. Horne before now, but I have a sister lying at Hornsey very ill indeed—and our suburban pilgrimages are at present restricted to that quarter.
My dear Horne
Faithfully Yours always
Charles Dickens
R.H. Horne Esq.
MssDate:
Thirteenth July 1848
Media Type:
Letters
Source:
Rare Book Department
Notes:
The prospectus was for a proposed series of lectures by R.H. Horne. Horne had lectured to Mechanics Institutes in Liverpool and Manchester in Winter 1846 and in London in Autumn, 1847. Horne was in need of a great deal of money at the time.
It is said that Dickens read Thomas Day's, The History of Sandford And Merton. Tommy Merton had been tutored by Mr. Barlow, who espoused a pedagogical approach very much opposed by Dickens. In "Mr. Barlow" which appeared in All the Year Round, 16 Jan 1869 and reprinted in The Uncommercial Traveller, 1875 edition, Dickens criticized Mr. Barlow as the incorrigible enemy of fancy, humor and enjoyment.
No record have been found that the lectures were every given. Horne had complained to Elizabeth Browning that "even the 'Institutes' expect gratuitous lectures" (Letter of E.B. Browning, ed. F.G. Kenyon, 1897, I, 393). The lectures may have connected with what Horne described as "a general history of human attainment" on which he was working. A study of ancient art, literature and philosophy, from the Chinese to the Greeks, it was to be entitled "Practical Studies Genius and Skill but was never published (Cyril Pearl, Always Morning, Melbourne, 1960, p. 99).
Mrs. Dickens would have come out to Fallow Lodge, Finchley, where the Hornes had been living since their marriage.
Recipient:
Horne, R. H. (Richard H.), 1802-1884
Provenance:
Sotheby Sale, 1972, Matlack Fund.
Bibliography:
Volume 5, pp. 372-373, The Letters of Charles Dickens, edited by Madeline House & Graham Storey; associate editors, W.J. Carlton…[et al.]
Country:
Creation Place Note:Devonshire Terrace
Country:England
City/Town/Township:[London]
Call Number:
DL H783 1848-07-13
Creator Name:
Dickens, Charles, 1812-1870 - Author