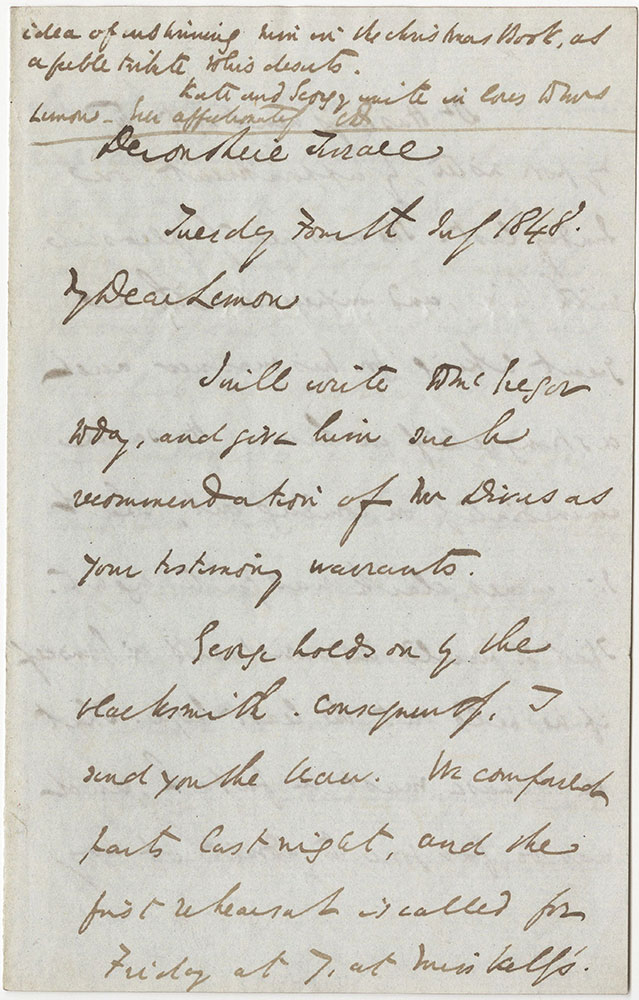 Item Info
Item No: cdc375501
Title: ALs to Mark Lemon
Accession Number:
87-938
Physical Description:
[4] pages
Transcription:
Devonshire Terrace
Tuesday Fourth July 1848.
My Dear Lemon
I will write to McGregor today, and give him such recommendation of Mr. Dives as your testimony warrants.
George holds on by the blacksmith. Consequently, I send you the beau. We compared parts last ight, and the first rehearsal is called for Friday at 7, at Miss Kelly's.
Dr. Hastings went out to my poor sister, by appointment, on Sunday last. She was greatly pleased with him, and impressed wtih a great liking for his manner and a strong belief in him. He said immediately on coming out, that Sir James Clark was quite right. That it would be monstrous in himself if he held out the least hope. That the disease must be fatal, and was too far gone to admit of any chance of recovery. He prescribed for her, some rare combination of things (which could only be got at Bell's in Oxford Street) and said it would probably diminish the cough, promote rest at night, and stiumlate the appetite. It was quite impossible, he said, that she scould live through the summer, unless this medicine worked some very complete and extraordinary effect,--of which he was not at all sanguine. He made no appointment to see her again (evidently considering it altogether useless) but I have thought it so important to her hope and peace that she should not think he too had given her up, that I have since arranged for his seeing her again, next Sunday.
So runs the World away!--
Compton wouldn't play for Macready under Ten Pounds--and he gets it. I can't make out whether Webster is a knave or a fool; but certainly his proceedings about that enefit of his, savor very much of the latter quality. Macready is all aghast at me, because I won't put on a court dress, and recevie the Queen!--I hear that Mister Chorley flashes his little pen in a sentence about Amateurs in Frazer--and I have some idea of enshrining him in the Christmas Book, as a feeble tribute to his deserts.
Kate and Georgy unite in loves to Mrs. Lemon--Ever affectionately CD.
MssDate:
Tuesday Fourth July 1848
Media Type:
Letters
Source:
Rare Book Department
Recipient:
Lemon, Mark, 1809-1870
Provenance:
Benoliel, Mrs. D. Jacques 12/6/54
Bibliography:
The Letters of Charles Dickens, Volume Five: 1847-1849, ed. Graham Storey and K. J. Fielding. Oxford: Clarendon Press, 1981, p. 360.
Creation Year:
1848
Call Number:
DL L544m 1848-07-04
Creator Name:
Dickens, Charles, 1812-1870 - Author
View other associated items