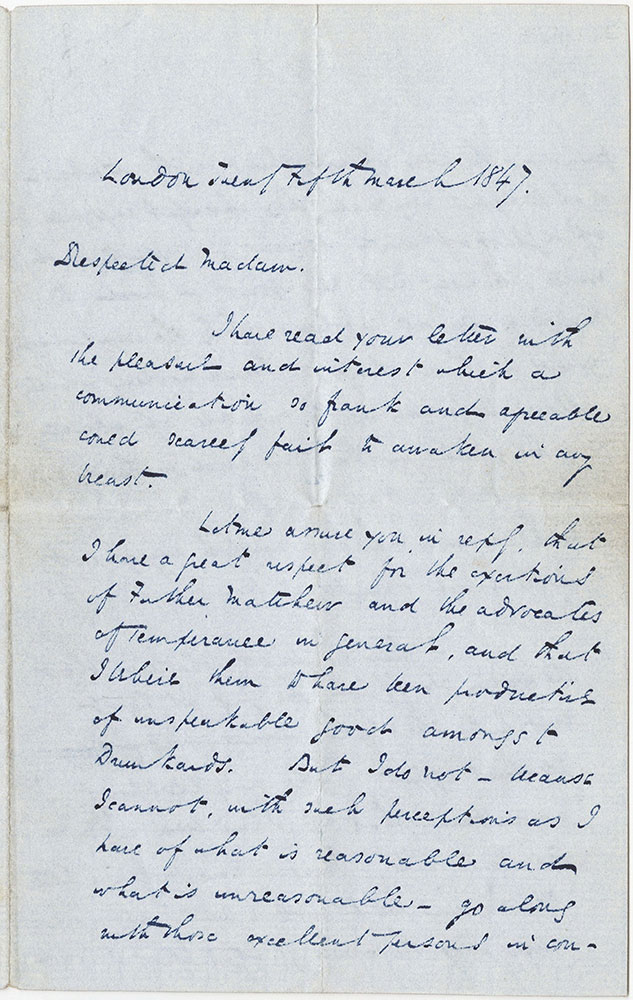 Item Info
Item No: cdc374201
Title: ALs to Mrs. Wilson
Accession Number:
69-1704
Physical Description:
[4] pages + envelope
Transcription:
London Twenty Fifth March 1847
Respected Madam.
I have read your letter with the pleasure and interest which a communication so frank and agreeable could scarcely fail to awaken in any breast.
Let me assure you, in reply, that I have a great respect for the exertions of Father Matthew and the advocates of Temperance in general, and that I believe them to have been productive of unspeakable good amongst Drunkards. But I do not--because I cannot, with such perceptions as I have of what is reasonable and what is unreasonable--go along with those excellent persons in confounding the use of anything with its abuse or in denying any man the cheerful enjoyment of a glass of wine, or beer, or spirits and water, because his neighbour is prone to make a Beast of himself by irrational excess in those things. I know nothing whatever allowed us for use and capable of abuse (as everything without us and within us is) that might not be denied to moderate people, and made a sinful enjoyment, on the same terms.
I have no doubt whatever that the warm stuff in the jug at Bob Cratchit's Christmas dinner, had a very pleasant effect on the simple party. I am certain that if I had been at Mr. Fezziwig's ball, I should have taken a little Negus--and possibly not a little beer--and been none the worse for it, in heart or head. I am very sure that the working people of this country have not too many household enjoyments; and I could not, in my fancy, or in actual deed, deprive them of this one when it is innocently shared. Neither do I see why I should deny it to myself.
Dear Madam, there are two sides to this question. If I were so disposed, I could shew, I believe, where and how the proscription of the use of these refreshments, leads to their abuse in a very striking manner. But I would endeavour, in my poor way, to teach people to use such goods of life, cheerfully and thankfully, and not to abuse them. I am not sure but that this is the higher lesson, and that the principle will last the longer in the better ages of the World.
At any rate there will be the records of a certain Marriage Feast in Galilee, and of a certain supper where a cup was filled with Wine and not with water, to bear it company.
May you eer be as happy as you are now, and may I never have a less sincere and truthful correspondent!
Madam
Faithfully Yours
Charles Dickens
Mrs. Wilson.
MssDate:
Twenty Fifth March 1847
Media Type:
Letters
Source:
Rare Book Department
Recipient:
Wilson, Susannah Firth
Provenance:
Hamill & Barker 1969
Bibliography:
The Letters of Charles Dickens, Volume Five: 1847-1849, ed. Graham Storey and K. J. Fielding. Oxford: Clarendon Press, 1981, p. 45.
Country:
Country:England
City/Town/Township:London
Creation Year:
1847
Call Number:
DL W697 1847-03-25
Creator Name:
Dickens, Charles, 1812-1870 - Author
View other associated items