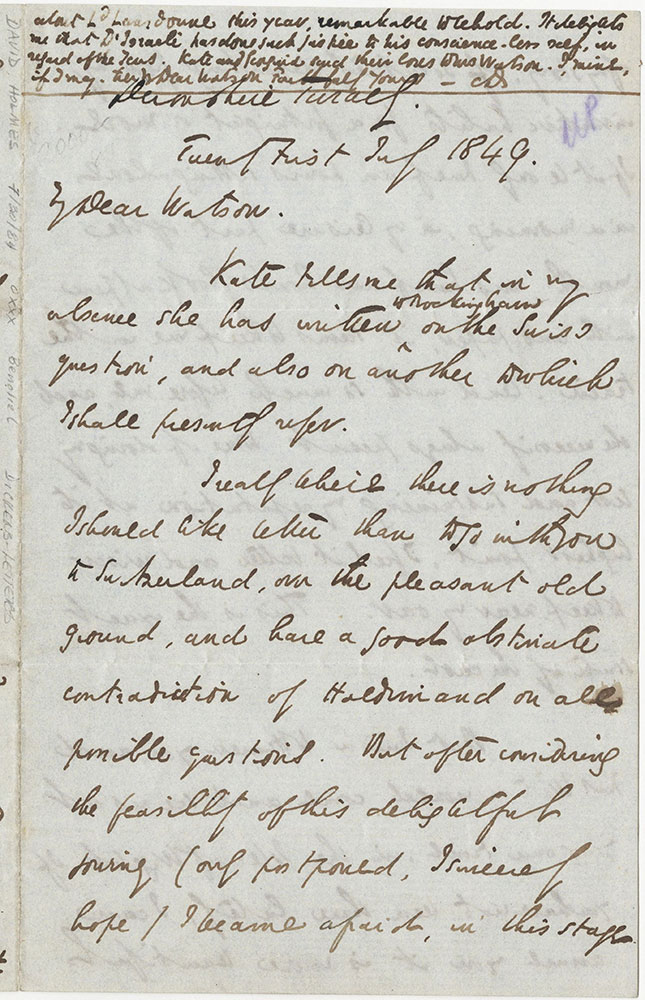 Item Info
Item No: cdc199701
Title: ALs to Richard Watson
Accession Number:
84-1362
Physical Description:
[4] pages
Transcription:
Devonshire Terrace.
Twenty First July 1849.
My Dear Watson.
Kate tells me that in my absence she has written to Rockingham on the Swiss question, and also on another to which I shall presently refer.
I really believe there is nothing I should like better than to go with you to Switzerland, over the pleasant old ground, and have a good obstinate contradiction of Haldimand on all possible questions. But after considering the feasibility of this delightful journey (only postponed, I sincerely hope) I became afraid, in this stage of my story, of so entirely departing from my inventive habits for a fortnight or more. If it be only half an hour's sitting alone in the morning, in my leisure part of the month, and half an hour's look at pen ink and paper, it seems to keep me in the train. And with so much before me, and the necessity always present to me of doing my best and sustaining my reputation at its highest point, I feel it better and wiser to keep near my oar. This is the exact state of the case.
But I wish to heaven you and Mrs. Watson would come and see us at your own time, in the Isle of Wight. If you have not been there lately, I can assure you it is more beautiful than ever; and our Cottage (I believe it is the identical "humble shed" that Young Love lived in, in the song) is in a charming situation that would afford more opportunities to Mrs. Watson for sketching, than could be summed up within the limits of this sheet of paper. We have no friends we should be more heartily pleased to see; and a good laugh or two, and a pleasant jaunt or two (both in the Swiss manner) would freshen us all up, marvelously. Now, do consider of this, and we will have a return-match at Rockingham in the winter. By way of Portsmouth and Ryde, it is a journey of not more than eight hours. And I should bring you, from Shanklin, by a path across the fields (sending those boxes on by the road) that is more like the shore of the Mediterranean than anything under these dull skies.
I shall look for your answer, with a mixture of confidence and defiance, until I find it is the right one.
Disgust with that detestable nation the French, and admiration of Mazzini and his friends, have divided my thoughts for the last three months. I am very anxious Mazzini should come home and not get into danger, for the world cannot well afford to lose such men. Our friends the Whigs have not improved much, since we last talked about them--have they? Talfourd is in a state of deep anxiety about the vacant judgeship, and I fear won't get it. Everyone else wants everything and gets nothing--which seems to me to be an expressive summary of the House of Commons. There has been a kind of grim imbecility and gouty Chesterfieldianity about Ld. Lansdowne this year, remarkable to behold. It delights me that D'Israeli has done such justice to his conscience-less self, in regard of the Jews. Kate and Georgina send their loves to Mrs. Watson. I, mine, if I may. Ever my Dear Watson
Faithfully Yours--
CD.
MssDate:
Twenty First July 1849
Media Type:
Letters
Source:
Rare Book Department
Notes:
Last 4 lines of letter written on top of the first page. Envelope with seal.
Record created by BZ.
Recipient:
Watson, Richard, 1800-1852
Provenance:
Benoliel Fund.
Bibliography:
The Letters of Charles Dickens, Pilgrim Edition, Volume Five, 1847-1849, p. 578-580.
Country:
Creation Place Note:Devonshire Terrace
Country:England
City/Town/Township:London
Call Number:
DL W337 1849-07-21
Creator Name:
Dickens, Charles, 1812-1870 - Author
View other associated items