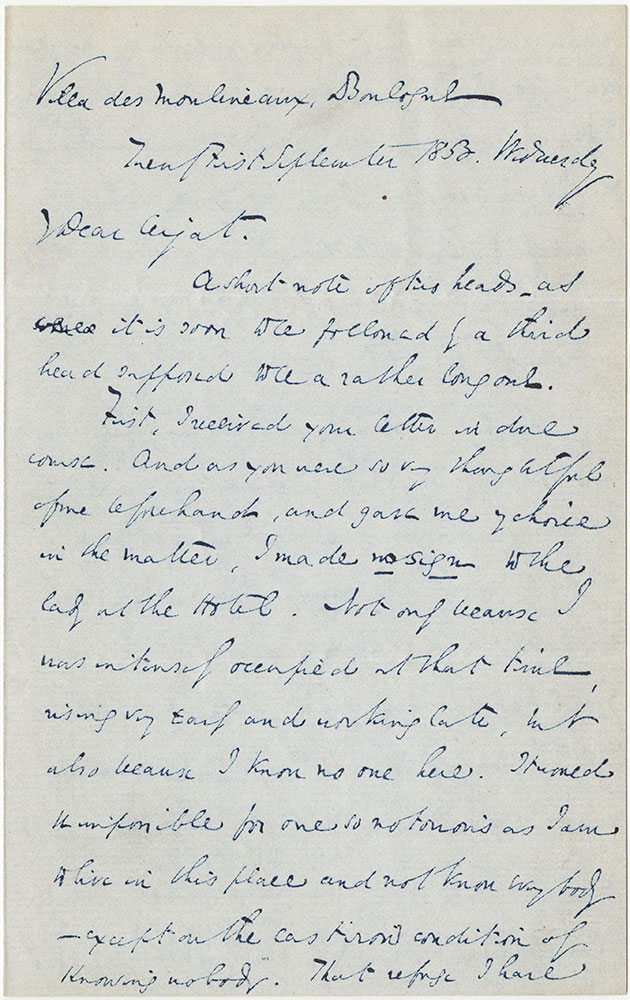 Item Info
Item No: cdc201901
Title: ALs to William F. De Cerjat
Accession Number:
86-2794
Physical Description:
[3] pages + envelope
Transcription:
Villa des Moulineaux, Bologne
Twenty First September 1853. Wednesday
My Dear Cerjat.
A short note of two heads--as it is soon to be followed by a third head supposed to be a rather long one.
First, I received your letter in due course. And as you were so very thoughtful of me beforehand, and gave me my choice in the matter, I made no sign to the lady at the Hotel. Not only because I was intensely occupied at that time, rising very early and working late, but also because I know no one here. It would be impossible for one so notorious as I am to live in this place and not know everybody--except on the cast iron condition of knowing nobody. That refuge I have taken from the first, and consequently have been able to live in peace here. If the lady and spouse had been friends of yours whom you had commended to me, of course I should have sought them out straightway. But I understood your letter (I hope) and acted accordingly.
Secondly. Townshend tells me that you have been libelling me by doubting my intention on coming to Lausanne next month on my way to Italy. To overwhelm you with confusion and repentance, I hereby give you to understand that I start on the 10th.--Monday the 10th. of October, one thousand eight hundred and fifty three--and come straight to the dear old place; where I shall have a delight in shaking hands with you again, not easily to be expressed. I am looking forward to the happiness of a reunion for a few hours, with great impatience and expectation.
Mrs. Dickens and her sister send their kindest affectionate remembrances to you and Mrs. Cerjat, and bind me to say "that they envy me, and that they think it's a shame!" I heard from Mrs. Watson a week ago. Very much improved, thank God, and very cheerful.
It was necessary to kill Lady Dedlock, and to kill her so. I had inteded it from the first, and everything worked to that end.
I shall not take the effect off my appearance in person, by saying anything more.
Ever My Dear Cerjat affectionately Yours
Charles Dickens
MssDate:
Twenty First September 1853 Wednesday
Media Type:
Letters
Source:
Rare Book Department
Notes:
Record created by BZ.
Recipient:
Cerjat, William Woodley Frederick de, d. 1869
Provenance:
May Goodspeed,76, Benoliel Fund.
Bibliography:
The Letters of Charles Dickens, Pilgrim Edition, Volume Seven, p. 152.
Country:
Creation Place Note:Villa des Moulineaux
Country:France
City/Town/Township:Boulogne
Call Number:
DL C335 1853-09-21
Creator Name:
Dickens, Charles, 1812-1870 - Author
View other associated items