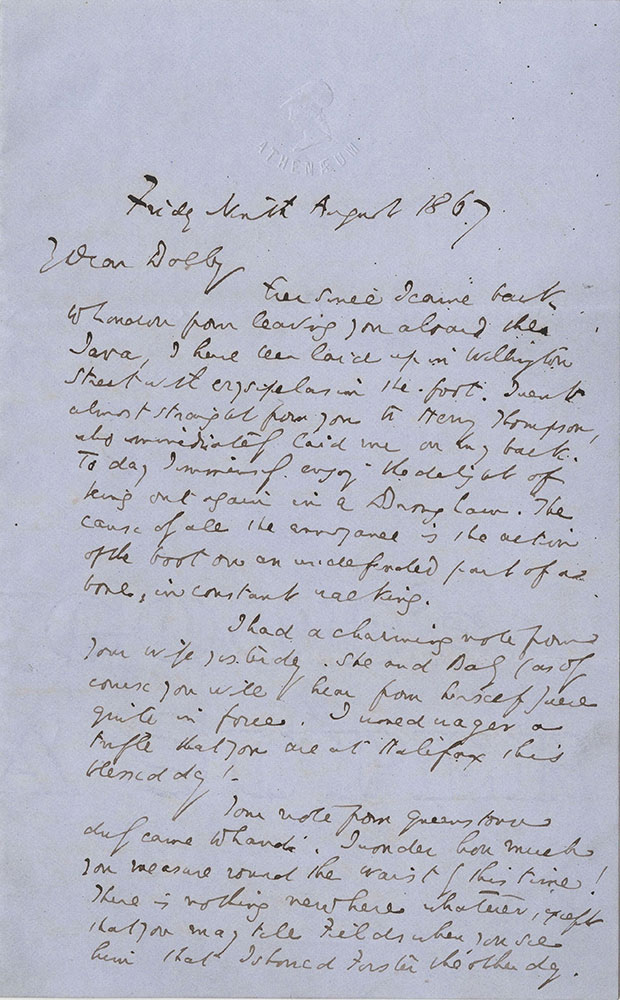 Item Info
Item No: cdc404201
Title: ALs to George Dolby
Accession Number:
87-1696
Physical Description:
[3] pages
Transcription:
Friday Ninth August 1867
My Dear Dolby
Ever since I came back to London from leaving you aboard the Java, I have been laid up in Wellington Street with erysipelas in the foot. I went almost straight from you to Henry Thompson, who immediately laid me on my back. Today I immensely enjoy the delight of being out again in the Brougham. The cause of all the annoyance is the action of the boot on an undefended part of a bone, in constant walking.
I had a charming note from your wife yesterday. She and Baby (as of course you will hear from herself) were quite in force. I would wager a trifle that you are at Halifax this blessed day!
Your note from Queenstown duly came to hand. I wonder how much you measure round the waist by this time! There is nothing new here whatever, except that you may tell Fields when you see him that I showed Forster, the other day, a proof of "Holiday Romance" (the Childrens' papers written for Fields), and that he wrote me after reading them:--"They are the quaintest, wisest, most charming, most comical, in all ways most delightful, things I have ever read. I cannot tell you how they please me. And you may be certain that with all people in America worth pleasing, they will be an enormous success."!
Madame sends you her regard, and hopes to meet you when you come home. She is very anxious for your report, and is ready to commit herself to the Atlantic, under your care. To which I always add:--"If I go, my dear; if I go."
Scott has been in dutiful attendance in Wellington Street, though horribly disappointed by being brought up from Gad's; where he had settled himself among the women-servants, the fowls, boys, horses, cricket paraphernalia, and dogs, with intense enjoyment. Please God he will go down with me on Monday, and will revel in a Cricket Match on Tuesday, and a Launch in Chatham Yard on Saturday, when my daughter Mary christens a ship.
I don't worry you about our American affairs, because all I have to say or write respecting them, I have said and written. Try some madeira and give me your views of it.
My Dear Dolby
Always Faithfully Yours
CHARLES DICKENS
MssDate:
Friday Ninth August 1867
Media Type:
Letters
Source:
Rare Book Department
Recipient:
Dolby, George
Provenance:
Hamill & Barker 5/55
Bibliography:
The Letters of Charles Dickens, Volume Eleven, 1865-1867, ed. Graham Storey. Oxford: Clarendon Press, 1999, p. 409.
Country:
Country:England
City/Town/Township:London
Creation Year:
1867
Call Number:
DL D686 1867-08-09
Creator Name:
Dickens, Charles, 1812-1870 - Author
View other associated items