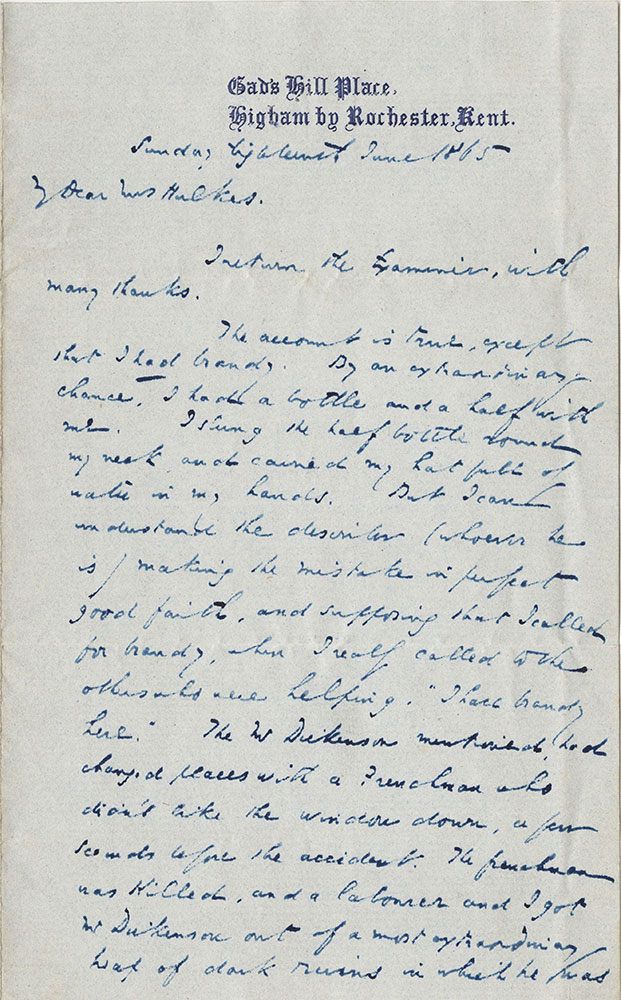 Item Info
Item No: cdc206001
Title: ALs to Mrs. Hulkes
Accession Number:
80-1547
Physical Description:
[2] pages
Transcription:
Gad's Hill Place,
Higham by Rochester, Kent.
Sunday, Eighteenth June 1865
My Dear Mrs. Hulkes,
I return the Examiner with many thanks.
The account is true, except that I had brandy. By an extraordinary chance, I had a bottle and a half with me. I slung the half bottle around my neck and carried my hat full of water in my hands. But I can understand the describer (whoever he is) making the mistake in perfect good faith, and supposing that I called for brandy when I really called to the others who were helping, "I have brandy here." The Mr. Dickenson mentioned, had changed places with a Frenchman who didn't like the window down, a few seconds before the accident. The frenchman was killed, and a laborer and I got Mr. Dickenson out of a most extraordinary heap of dark ruins in which he was jammed upside down. He was bleeding at the eyes, ears, nose, and mouth; but didn't seem to know that afterwards, and of course I didn't tell him. In the moment of going over the viaduct, the whole of his pockets were shaken empty! He had no watch, no chain, no money, no pocketbook, no handkerchief, when we got him out. He had been choking a quarter of an hour, when I heard him groaning. If I hadn't had the brandy to give him at the moment, I think he would have been done for. As it was, I brought him up to London in a carriage with me, and couldn't make him believe he was hurt. He was the first person whom the brandy saved. As I ran back to the carriage for the whole full bottle, I saw the first two people I had helped, lying dead. A bit of shade from the hot sun, into which we got the unhurt ladies, soon had as many dead in it as living.
Faithfully Yours always
CD.
MssDate:
Sunday Eighteenth June 1865
Media Type:
Letters
Source:
Rare Book Department
Notes:
An explanation of events and circumstances related to the Staplehurst Accident of June 9, 1865.
Notes:
Mrs. Hulkes is wife of James Hulkes, JP, of Frindsbury, near Higham.
Recipient:
Hulkes, Mrs. James
Provenance:
Christie's Sale 22 Oct 80 lot 149 through Maggs. Gratz Fund
Bibliography:
The Letters of Charles Dickens, Pilgrim, Volume 11, page 61
Country:
Creation Place Note:Gad's Hill Place
Country:England
City/Town/Township:Higham by Rochester, Kent
Call Number:
DL H877 1865-06-18
Creator Name:
Dickens, Charles, 1812-1870 - Author
Subjects
View other associated items