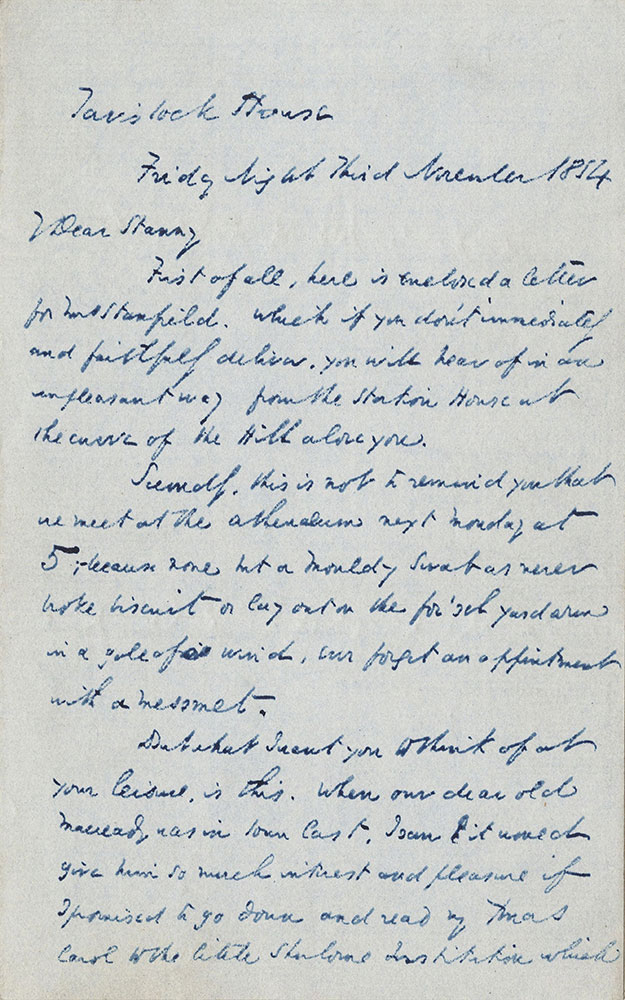 Item Info
Item No: cdc325801
Title: ALs to Clarkson Stanfield
Accession Number:
87-0683
Physical Description:
[2] pages
Material:
paper
Transcription:
Tavistock House
Friday Night Third November 1854
Dear Stanny
First of all, here is enclosed a letter for Mrs Stanfield which if you don't immediately and faithfully deliver, you will hear of in an unpleasant way from the Station House at the curve of the Hill above you.
Secondly, this is not to remind you that we meet at the athenaeum next monday at 5;-because none but a Mouldy swab as never broke biscuit or lay out on the for'sel yard arm in a gale of wind, ever forget an appointment with a messmet.
But what I want you to think of at your leisure, is this. When our dear old Macready was in town last, I saw it would give him so much interest and pleasure if I promised to go down and read my Xmas Carol to the little Sherborne Institution which is one of the few active objects he has in the life about him, that I came out with that promise in a bold—I may say a swaggering—way. Consequently on Wednesday the 20th of December I am going down to see him, with Katie and Georgina: returning to town in good time for Christmas, on Saturday the 23rd: Do you think you could manage to go and return with us? I really believe there is scarcely anything in the World, that would give him such extraordinary pleasure as such a visit. and if you would empower me to send him an intimation that he may expect it, he will have a daily joy in looking forward to the time (I am seriously sure) which we, whose light has not gone out, and who are among our old dear pursuits and associations, can scarcely estimate.
I don't like to broach the idea in careless way, and so I propose it thus and ask you to think of it.
Ever Most affectionately Yours
CD
Clarkson Stanfield Esquire
MssDate:
Friday Night Third November 1854
Media Type:
Letters
Source:
Rare Book Department
Notes:
On 8 Aug 53 Macready wrote to Lytton of the "loneliness of my present life (for there is nothing of congeniality or sympathy near me)" (Bulwer adn Macready, ed. C.H. Shattuck, p. 252).
Recipient:
Stanfield, Clarkson, 1793-1867
Provenance:
Skongaard sale via Branners, Pa. Resources NOO.
Bibliography:
Volume 7, p. 459, The Letters of Charles Dickens, edited by Madeline House & Graham Storey; associate editors, W.J. Carlton…[et al.].
Country:
Creation Place Note:Tavistock House
Country:England
City/Town/Township:London
Call Number:
DL St24 1854-11-03
Creator Name:
Dickens, Charles, 1812-1870 - Author
View other associated items