Trost-Büchlein für einen krancken und betrübten oder sonst angefochtenen Menschen
Fraktur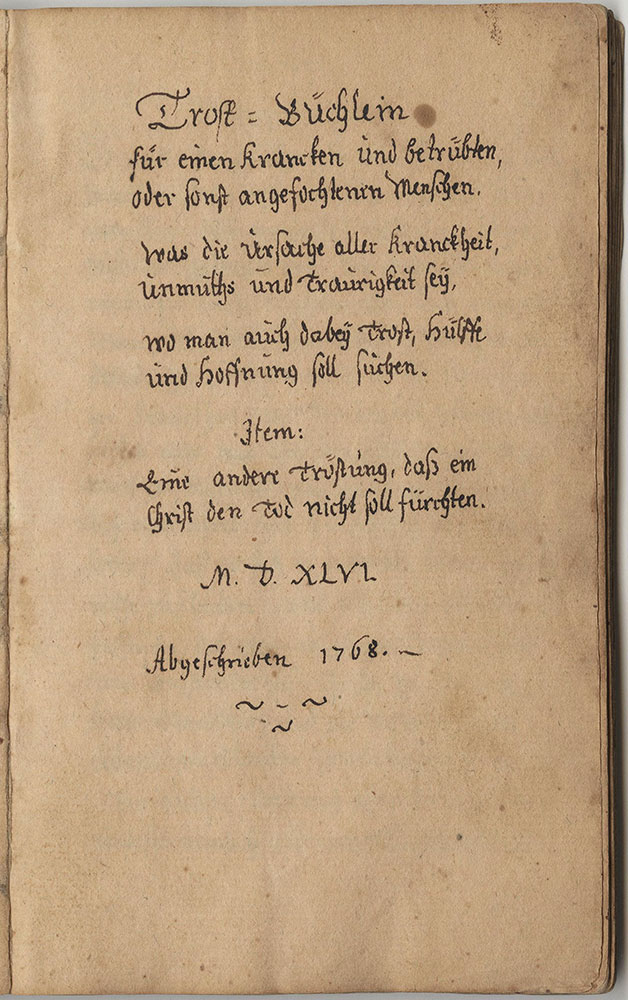 Item Info
Item No: frkm023000
Title: Trost-Büchlein für einen krancken und betrübten oder sonst angefochtenen Menschen
Scripts/Text:
Fraktur; cursive
Language:
German
Physical Description:
40 leaves
Material:
Laid paper; ink
Transcription:
Trost-Büchlein / für einen krancken und betrübten / oder sonst angefochtenen Menschen, / was die Ursache aller Kranckheit, / Unmuths und Traurigkeit seÿ, / wo man auch dabeÿ Trost, Hülffe / und Hoffnung soll suchen. / Item: Eine andere Trőstung, dass ein/ Christ den Tod nicht soll fürchten./ M.D. XLVI/ Abgeschrieben 1768.
Translation:
A Book of Consolation for an Ill and Depressed or Otherwise Beleaguered Person; What the Origin of All Illness, Discontent and Sadness is; Where One Can Seek Consolation, Help and Hope. Item: Another Consolation That a Christian Need Not Fear Death. 1546. Copied 1768.
Category:
Consolation book (Trostbüchlein)
Media Type:
Manuscripts
Source:
Rare Book Department
Notes:
Binding: Paper wrapper
Name on flyleaf: Anthony Krieble
Contents
1. Title [3]
2. Preface [5-7]
3. Chapter 1: Wo und wie wir in Kranckheit, auch in Trübsal, Angst u. Kleinmüthigkeit, sollen Trost, Hülff und Hoffnung suchen [9-11]
4. Chapter II: dass die Sünde ein Ursache alles Trübsals seÿ [9-14]
5. Chapter III: Worzu Trübsal und Kranckheit den Menschen dienen [15-20]
6. Chapter IV: Von der Sünden Drängnis, wie man sich darin soll halten [20-23]
7. Chapter V: Vom evangelischen Creutze, Absterbung und Verleugnung sein selbst [20-24]
8. Chapter VI: Wie Gott sein Auserwählten offt durch Trübsal und Krankheit für Sünden bewahret; auch dadurch wenn sie auschreiten, wiederholet [24-28]
9. Chapter VII: Dass wir des Werckes Gottes an uns allzeit wol sollen wahrnehmen [28-33]
10. Chapter VIII: Von der Bamrhertzigkeit Gottes, und dass wir nicht sollen am zeitlichen Trost hoffen [33-36]
11. Chapter IX: Dass sich der Mensch zum Streite rüste, und imn Nöthen allein beÿ Gott durch Christum, Hülff und Trost zusuchen gewehre [36-40]
12. Chapter X: Trost in der Anfechtung der Verzweifelung u. des Todes [40-43]
13. Chapter XI: Was bald im Anfang der Anfechtung, Trübsal und Kranckheit, zu Thun seÿ [43-45]
14. Chapter XII: Wie der Mensch die innerliche Kranckheit am erst durch Christum vor Gott soll ablegen [45-49]
15. Chapter XIII: Wie der Krancke, aus Erinnerung mancherleÿ Gaben Gottes, eine Hoffnung der Gnaden möge Schőpfen [49-53]
Die andere Trőstung, für einen Christen; zuvor ob der ums Glaubens und um göttlicher Wahrheit willen, unterm Creutze Christi in Verfolgung stehet, dass er den Tod, Teufel und Hőll gar nicht soll fürchten
* Das Chrisliche Leben ist ewig [54-55]
* Ein Christ ist ein wahrer Mensch [55-56]
* Unter der Gnade seÿn [56-57]
* Christliche Hoffnung [57-58]
* Der Geist des Glaubens stärcket des Fleisches Schwacheit [58-59]
* Christliche Begirde nach dem ewigen Leben [59-60]
* Ermahnung [61-63]
* Trost der Christen in allen Nőthen [64-66]
* Christlicher Streit, wider die anklebende Begirde und Sünden [66-70]
* Beschluss [70-76]
Notes:
Biographical Note: Caspar Schwenckfeld von Ossig (1489-1561) was a German theologian, writer, and preacher who believed that the inner spiritual life and experience were of greater importance than creeds, and theologies. He sought one united Christian Church founded on faith and freedom of belief, a fellowship of all who love God and Jesus Christ, the ecumenical church.
Scope and Content: Bound manuscripts copied by Schwenkfelders in Europe and America contain hymns, theological treatises, correspondence, scripture texts and commentaries. Borneman Ms 23 is a manuscript copy of Caspar Schwenkfeld's 1546 book of assurance to people that all trials and tribulations suffered by man can be a blessing, and that the mercy of God is eternal.

Associated Names:
Krieble, Anthony
Provenance:
Borneman, Henry Stauffer, 1870-1955; Krieble, Anthony 1792-1886 [?]
Bibliography:
C. D. Hartranft and E. E. S. Johnson, eds. Corpus Schwenckfeldianorum, Vol. 1-15. Leipzig, 1907-1939.
Samuel Kriebel Brecht, ed. The Genealogical Record of the Schwenkfelder Families. New York: Rand McNally & Co. for the Board of Publication of the Schwenkfelder Church, 1923, 354.
Selina Gerhard Schultz. Caspar Schwenckfeld von Ossig (1489-1561), 4th ed. with introduction by Peter C. Erb. Pennsburg: The Board of Publication of the Schwenkfelder Church, 1977.
[Caspar Schwenkfeld von Ossig]. Trostbüchlein / Für ainen krancken und betrübten oder sunst angefochtenen menschen. Was die ursach aller kranckhait / unmuts / unnd traurigkait sey. Wa man auch darbey trost / hülff unnd hoffnung solle suchen. Item / Ain anndere Tröstung / Daß ain Christ / den Todt nicht soll förchten. [Ulm], M. D. XLVI.
Retrieved 12 October 2012 from Bayerische Staatsbibliothek e-documents: Persistenter Link dieser Seite: http://daten.digitale-sammlungen.de/0003/bsb00035456/images/index.html?fip=193.174.98.30&id=00035456&seite=5

Creation Place State/Province:
Creation Place Note:Based on content, style, name, and scrivener's hand
State/Province:Southeastern Pennsylvania
Creation Year (Single Year or Range Begin):
1768
Image Dimensions Width:
15.5 cm
ShelfMark:
FLP Borneman Ms. 23
Creator Name:
Anonymous - Scrivener