Dieses Noten=Büchlein gehöret Elisabetha Lädtermännin Singschüler in der Tieffronner Schule geschr d. 29ten April A: 1783
Fraktur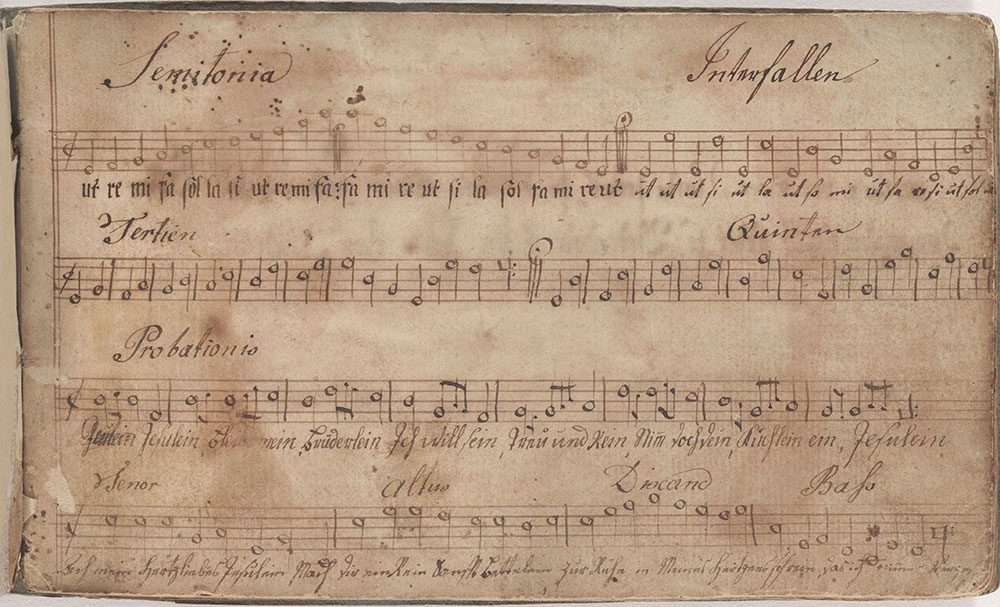 Item Info
Item No: frkm024000
Title: Dieses Noten=Büchlein gehöret Elisabetha Lädtermännin Singschüler in der Tieffronner Schule geschr d. 29ten April A: 1783
Creation Date:
4/29/1783
Scripts/Text:
Fraktur, German script; Roman script
Language:
German
Weiser Number:
826
Physical Description:
24 p; 18mo; oblong format
Material:
paper wrapper; marbled paper;; laid paper; watercolor; ink, thread
Transcription:
[p3 of manuscript; see online image]
Semitonia
Ut re mi fa sol la si ut re mi fa fa mi re ut si la sol fa mi re ut
Interfallen
ut ut ut si ut la ut so mi ut fa re si ut sol
Tertien
Quinten
Probationis
[under notes]
Jesulein Jesulein bleibe mein Brüderlein Ich will sein Treu und Rein Nimm doch Dein Küchlein ein Jesulein
Tenor Alt Disc bass
[under notes]
ach mein herzliebes jesulein, mach dir ein rein sanft betelein, zu ruhn in meines herzens schrein, daß ich nimmer vergesse dein
Translation:
[p3 of manuscript; see online image]
[Explanation of Transcription's contents]
Semitones are given in solfeggio, a technique that assigns the notes of a scale a particular syllable, i.e ut= c, re=d, mi=e, fa=f, sol=g, la=a, si=b. Using these syllables to practice different note sequences enables the musician to hear the pitch, and to sight sing the music.
Intervals are already identified on the title page of Borneman Ms 24 by note name. On page three they are identified by their solfeggio names, again to teach pitch and sight singing for intervals at the octave, minor seventh, minor sixth, perfect fifth, major third, minor third, perfect fourth, major third, minor third , major second, perfect fifth.
Thirds encountered between an octave are given along with the perfect fourth and major second.
Perfect Fifths are given ascending and descending the scale, along with major sixth, minor third, and perfect fourth.
A Test shows how to fill in grace and ornamental notes between unison, seconds, thirds, and fourth notes. Beneath these notes is a children's verse "Little Jesus be my brother. I want to remain faithful and pure. Shelter your little chick, O tiny Jesus."
The Tenor, Alto, Discant (Soprano), and Bass clefs are identified.

A clef is a musical symbol used to indicate the name and pitch of written notes. The use of different clefs for different instruments and voices allows each part to be written comfortably on the stave with a minimum of ledger lines.
Beneath the clefs is the thirteenth verse from Martin Luther's children's Christmas song of the little child Jesus (Vom Himmel hoch da komm ich her taken from the second chapter of Luke. It was written about 1535 most likely for his little son Hans: " My most beloved little Jesus, make a pure and soft tiny bed to rest within the chambers of my heart, so that I may never forget You."

Category:
Tune Booklet (Notenbüchlein)
Media Type:
Manuscripts
Source:
Rare Book Department
Notes:
Binding:
Marbled wrapper

Biographical Note:
Johann Adam Eyer (1755-1837) was active from 1779-1820 as a schoolmaster and Fraktur artist. He was also a musician. Eyer rewarded his students with beautifully decorated certificates of merit, created writing sample copy books, and introduced what is thought to be the first decorated tune booklets, for use by his students. He taught principally in Bucks, Chester, Lancaster, Northampton, and Monroe Counties (Pennsylvania).
Full Title Translated:
This Tune Booklet Belongs to Elisabetha Lädtermänn, Singing Scholar at the Deep Run School, Written 29 April A[nno] 1783
N. B. See also FLP B-1038.
Physical Description:
1 [2] 3-22 [23-24]
Scope and Content:
Elisabeth Lädtermann is listed in Johann Adam Eyer's roll book for the 1783 winter quarter from 15 December 1783 to 15 March 1784. She's not listed as a student before this. However, some of the prior pages are missing. Since Eyer made this tune booklet for her April 29, 1783, it is more than likely that she is listed on those pages no longer extant. The Fraktur title page is on page 1, followed by 79 tunes, taken from the Marburg hymnal.
The idea of creating such a booklet to teach children the rudiments of musical notation so that they could learn to sing the melodies used in the hymns at church service seems to have been Eyer's. The hymnals used by their parents contained no music, but only the hymn verses with the indication "Mel." and the title of the hymn tune to which the congregation would sing the text. The metrics, and topic of the poetry usually determined which melodies were chosen.
Eyer's concept was a practical and useful one, and inspired many other teachers to create tune booklets for their students in which only the melody line of frequently used hymn tunes was written out. Each scholar had a booklet, usually 10.2 x 16.5 cm in size. The teacher created a title page describing the purpose of the booklet, and containing the name of the student, the school attended, and the date of the title's creation. The empty spaces on the title page were filled in with flowers, birds, and other elements common to Pennsylvania German decorated Fraktur. These titles are absolutely beautiful, and probably inspired the singing scholar to greater endeavors as he learned how to read music and sing the tunes that either the instructor or he would copy into the booklet.
The "singing schools" or singing classes flourished in Bucks, Lehigh, Montgomery, Chester and Berks Counties, Pennsylvania from about 1787 to 1845. Singing became a part of the school curriculum, and "singing schools" became popular.
Title:
The title is hand-drawn; hand-colored; hand-lettered. The text in Fraktur and German script within a circle is in the center of the document. On the left side perpendicular to the circle is a musical staff in black, marked soprano clef, and labeled Semitones: semi-tones are shown on the staff in red ink with half note values, and note names are labeled in red beneath the notes for two ascending octaves. Intervals at the third are also shown ascending on the lines, and descending on the spaces of the staff. A ♭ and a ♯ in red are shown on their proper line and space of the staff to show the keys as if in F-Major or G-Major. The metrical sign is 2/4. On the right side perpendicular to the circle is a musical staff in black, marked soprano clef and labeled Thirds: Half notes colored in red ascend in seconds at the interval of the third. A ♭and a ♯ in red are shown on their proper line and space of the staff to show the keys as if in F-Major or G-Major. The metrical sign is 2/4. Following this on the same staff and labeled Intervals are the next set of half notes in red ink: These represent the octave, seventh, minor sixth, perfect fifth, minor third, major third, perfect fourth, minor third, major third, major second, perfect fifth, perfect fourth, major second, major second. A decorative border frames the title page.

Associated Names:
Lädtermann, Elisabetha
Provenance:
Brenner, Scott Francis, 1903- 1991
Lädtermann, Elisabetha
Bibliography:
Ach mein herzliebes Jesulein... The Online Library of Liberty Fund, Inc. retrieved September 10,2013 from http://oll.libertyfund.org/?option=com_staticxt&staticfile=show.php%3Ftitle=754&chapter=87934&layout=html&Itemid=27
Cory M. Amsler, ed. Bucks County Fraktur. Kutztown, Pa.: Pennsylvania German Society, 1999, 256-261.
"Johann Adam Eyer" in Russell D. and Corinne P. Earnest's, Papers for Birth Dayes: Guide to the Fraktur Artists and Scriveners. East Berlin, Pa.: Russell D. Earnest Associates, 1997, 2nd ed., vol. 1, 256-260 (biography).
Mary Jane Lederach Hershey. "The Notenbüchlein Tradition in Eastern Pennsylvania Mennonite Community Schools" in Cory M. Amsler, ed., Bucks County Fraktur. Kutztown, Pa.: Pennsylvania German Society, 1999, 115-149.
Marburger Gesang=Buch zur Uebung der Gottseligkeit in 649 Christlichen und Trostreichen Psalmen und Gesängen Hrn. D. Martin Luthers. und anderer Gottseliger Lehrer, Ordentlich in XII. Theile verfasset, Und mit nöthigen Registern auch einer Verzeichniß versehen, unter welche Titul die im Anhang befindlichen Lieder gehörig: Auch zur Beförderung des so Kirchen= als Privat= Gottesdienstes, Mit erbaulichen Morgen= Abend = Buß= Beicht= und Communion=Gebätlein vermehret. Germanton, Gedruckt und zu finden bey Christoph Saur, 1762.
Frederick S. Weiser. "IAE SD, the Story of Johann Adam Eyer (1755-1837)" in Ebbes fer alle-Ebber, Ebbes fer Dich. Breinigsville, Pa.: Pennsylvania German Socidety, 1980, 437-506.
Creation Place Town/Township:
Creation Place Note:As per inscription on title page, p. 1
Region/County:Bucks
City/Town/Township:Deep Run School, Bedminster Township
State/Province:Pennsylvania
Image Dimensions Width:
10.2 cm
ShelfMark:
FLP Borneman Ms. 24
Creator Name:
Eyer, Johann Adam, 1755-1837, Attributed to - Decorator
Eyer, Johann Adam, 1755-1837, Attributed to - Scrivener