Ein Christlicher Unterricht
Fraktur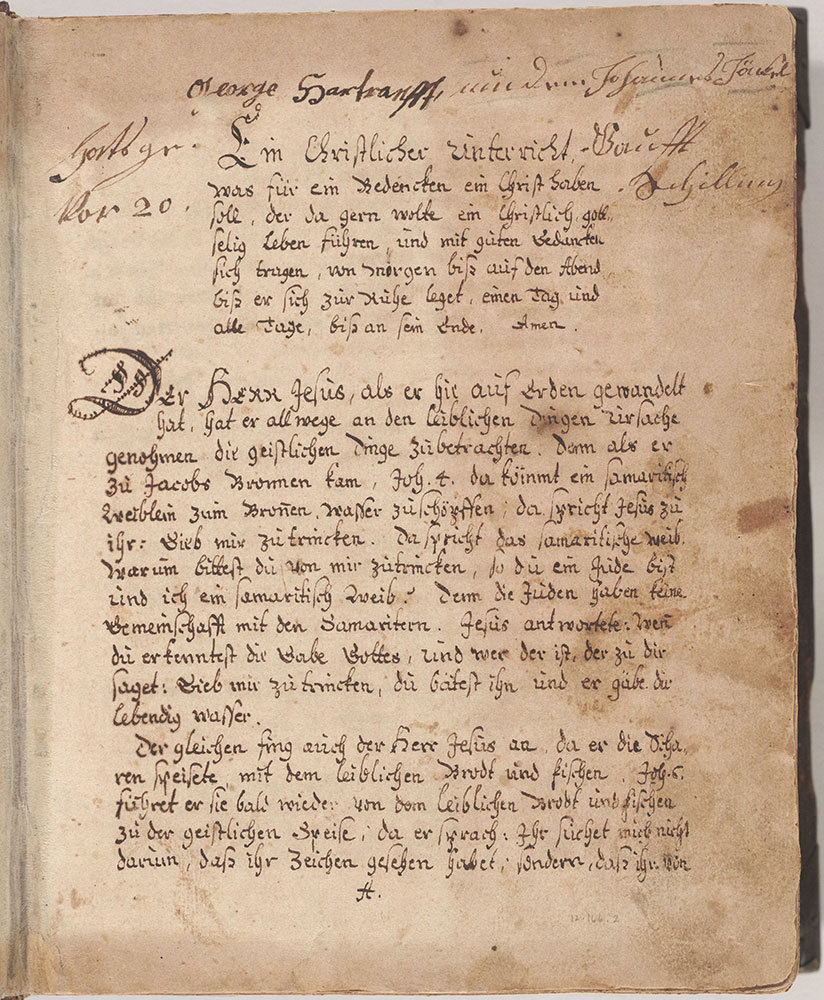 Item Info
Item No: frkm020000
Title: Ein Christlicher Unterricht
Language:
German; English
Physical Description:
480 p; 8vo
Watermark:
WR; William Rittenhouse; gutter of endpapers, 477, 479
Category:
Catechism (Catechismus)
Media Type:
Manuscripts
Source:
Rare Book Department
Notes:
Binding: Full calf; blind-tooled; brass bosses
Inscriptions:

[On Pastedown] "Dieses Buch habe ich / Baltzer Krauss geerbt/ Von meinem Schwieger=/ Vatter Johannes Jäkkel/ den 22ten December/ 1789. "
"I Baltzer Krauss inherited this book from my father-in-law Johannes Jäckel, December 22, 1789."

[Top of Page 1] "George Hartranfft _ _ _ dem Johannes Jäckel / hats ge- Gaufft / vor 20 /Schilling."

"George Hartranfft _ _ _ to Johannes Jäckel, bought it for 20 shillings."

Contents:

1. Ein Christlicher Unterricht [1-33]; [signed:] Balthaser Heÿdrich [33]
2. Vom Frühling u. Sommer [33-50]; [signed:] 1671 Balthaser Heidrich [50]
3. Ein Briff Martin John, geschrieben an Heinrich Schultzen zum Langen=Neundorf [50-62]; [signed:] Laubgrund, den 1. Novemb. 1668. Mart. John [62]; [by John, Martin (1624-1707), Laubgrund, Nov. 1, 1688]
4. Ein ander Briff [62-69]; [signed:] Geschrieben 1670. M. J [69]; [by John, Martin 1624-1707), written 1670]
5. Jesus sey unser Licht, Leben, heil und Seligkeit… [71-113]; Datum den 24. Jenner 1707… [113]; Aufgesetzt und vollendet im Jahr nach der Geburt unsers Barmhertzigen Herren Jesu Christi 1720…Nachgeschrieben 1756 [114]
6. Christliche Catechismus=Fragen Gewisser Haubt=Puncte…Gestellet und auf gesetzt von George Weiss...Abgeschrieben MDCC LVI [117-517]
A. Fragen von der Schöpffung

B. Zwölff nothwendige Puncte vom Gebet…

C. Etliche nützliche Fragen vom Glauben und dessen Bekäntnis

D. Etliche kurtze Frag=Stükke von den Heiligen Zehn Geboten

E. Einige Frag=Stükke von der Christlichen kirchen

F. Etliche Frag=Stükke vom Erkäntnis Christi

G. Etliche nützliche Fragen von der heiligen Tauffe

H. Etliche nützliche Fragen vom heiligen Abendmal

I. Etliche nützliche Fragen vom Ehestande

Watermark:
1. WR; William Rittenhouse, grandson of Wilhelm Rittenhouse
2. The top part of the watermark is bound into the binding.
3. Vid: Thomas Gravel, American Watermarks, Fig. 1015, DeGH 721,
Box 15; Philadelphia, 1751
Associated Names:
Weiss, George
Provenance:
Borneman, Henry Stauffer, 1870-1955
Hartranfft, George, 1721-1759
Heydrick, Balthaser, ca. 1709-1753
Jaeckel, Johannes, 1708-1781
Krauss, Baltzer, 1743-1805
Bibliography:
Brecht, Samuel Kriebel, ed.: The Genealogical Record of the Schwenkfelder Families (New York: Rand McNally & Co. for the Board of Publication of the Schwenkfelder Church, 1923), 148, 468, 684, 856, 860.
Gravell, Thomas L., George Miller and Elizabeth Walsh: American Watermarks 1690-1835 (New Castle, Delaware: Oak Knoll Press, 2002), Fig. 1015 (710) on 222, 301-302.
Green, James: The Rittenhouse Mill and the Beginnings of Papermaking in America (Philadelphia: The Library Company & Friends of Historic Rittenhouse Town [sic], 1990).
Hunter, Dard: Papermaking In Pioneer America (Philadelphia, PA: University of Pennsylvania Press, 1952), pp. 20-28.
Viehmeyer, A. (2009). Martin John the Younger. Unpublished manuscript.
Secondary Place Town/Township:
Geographic Coverage State/Province:Lower Silesia, Poland
Geographic Coverage City/Town/Township:Laubgrund and Langen Neundorf
Creation Place State/Province:
Creation Place Note:Based on names and contents of Ms.
State/Province:Southeastern Pennsylvania
Creation Year (Single Year or Range Begin):
1756
Image Dimensions Width:
25.5 cm
ShelfMark:
FLP Borneman Ms. 20
Creator Name:
John, Martin, (1624-1707) - Author
Weiss, George, (1687-1740) - Author