A Collection of Musick Adapted for the Harpsichord
Fraktur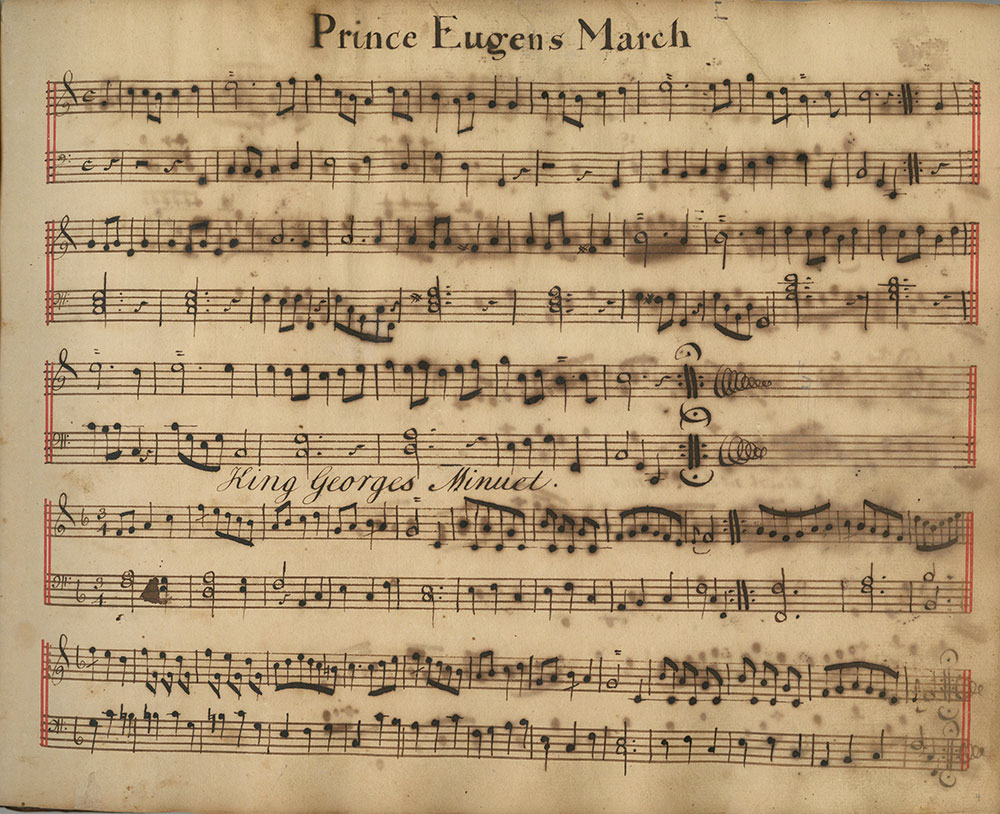 Item Info
Item No: frkm144000
Title: A Collection of Musick Adapted for the Harpsichord
Scripts/Text:
cursive
Language:
English; German
Physical Description:
42 leaves (oblong)
Material:
laid paper; ink
Category:
Music collection (Musikstücke)
Media Type:
Manuscripts
Source:
Rare Book Department
Notes:
Binding:
Quarter leather, decorated paper sides over pasteboards
Secondary Titles and Drawings:
Rules for Attaining to Play a Thorough Bass by Jacomo Corfini
Instructions for Tuning [harpsichord]
Hand-drawn picture of a clarinet with a fingering chart
Inserted finger-chart for a clarinet with four keys
Hand-drawn picture of guitar frets with fingerings
Examples of Musical Pieces in Manuscript:
Bright Author of my Present Flame...set by Mr. Travers
Country Dances: The Man in the Moon; On Ev'ry Hill; I've got a Wife of my ain'
The God Vertumnus lov'd Pamona fair A Cantata by
Mr. Stanley
Mr. Handel's Water Piece
Mr. Handel's Hornpipe in 4 variations
The Miller's Wedding sung by Mr. Beard in Harlequin Ranger
Minuet by Adolpho Charles Kunzen…Sonatas for Harpsichord Opus 1
The Request to the Nightingal
Sonata Solo (alias) del Sig. Wenceslaus Wodizka
When First by Fond Damon Flavella…Sung by Mr. Lowe at Vaux Hall…Set by Mr. Weidman
Biographical Orientation
Michael Hillegas was born April 22, 1729, in Philadelphia to German immigrants George Michael Hillegas (1695-1749) and Margarete Hill (1705-1770). In 1753 Michael married Henriette Boude (1731-1792). The couple had ten children together: Samuel (1754- 1819), Michael (1756-1757), William (1759-1759), Margarete (1760-1808), Deborah (1763-1770), Henrietta (1766-1812), Susanna (1769-1769), Henry (1771-1798), Deborah (1772-1856), and Mary Ann (1774-1817).

Hillegas was well educated and became a merchant and sugar refiner. He also maintained an interest in the manufacture of iron and in 1792 formed the Lehigh Coal Mining Company with two partners. Rumored to be a fine flutist and violinist himself, it is said that Hillegas operated the first music store in the colonies, offering instruments, tutors, ruled paper, strings, and sheet music. This Ms seems to indicate he was acquainted with, and adept at playing keyboard instruments, the harpsichord in particular, as well as the clarinet and guitar.

His business interests generated a considerable fortune, much of which was donated or loaned in support of the Revolutionary War. In 1775 Hillegas was selected by the Continental Congress to be the first treasurer of the United States, an office he held until its official establishment by an act of Congress in 1789.
On September 29, 1804, Hillegas died at the age of seventy-five and was buried alongside many of Philadelphia's prominent citizens in Christ Church.

Associated Names:
Stanley,Charles John, 1712-1786
Provenance:
Borneman, Henry Stauffer, 1870-1855
Hillegas, Michael, 1729-1804
Bibliography:
Henry George Farmer, A Collection of the Best and Most Favourite Tunes for the Violin…collected and transcribed by James Gillespie (Perth, 1768) [Google under Granoes Trumpet Tune/ AN OLD SCOTTISH VIOLIN TUTOR. BY HENRY GEORGE FAR]
Historical Society of Pennsylvania, Michael Hillegas (1729-1804) Papers, 1757-1782 (bulk 1777-1779) 1 box, 0.1 lin. Feet Am .0802, Am .0803.
JoAnn Taricani, Music in Colonial Philadelphia and Michael Hillegas (Philadelphia, Pa: University of Pennsylvania Graudate School of Arts and Sciences Masters Thesis, 1977).
JoAnn Taricani, "Music in Colonial Philadelphia: Some New Documents," Musical Quarterly 65 (1979), 185-92.
JoAnn Taricani, "Musical Commerce in Eighteenth-Century Philadelphia: The Letters of Michael Hillegas," The Pennsylvania Magazine of History and Biography (Philadelphia: Historical Society of Pennsylvania, 1989), vol. 113, No. 4 (Oct., 1989), pp. 575-625.

Creation Place Town/Township:
Creation Place Note:Based on Michael Hillegas biographical notes
Region/County:Philadelphia
City/Town/Township:Philadelphia
State/Province:Pennsylvania
Creation Year (Single Year or Range Begin):
ca. 1754
Image Dimensions Width:
24 cm
ShelfMark:
FLP Borneman Ms. 144
Creator Name:
Michael Hillegas - Author
Jacomo Corfini - Author
Michael Hillegas - Scrivener