Mountpleasant Furnace, 1794-1801
Fraktur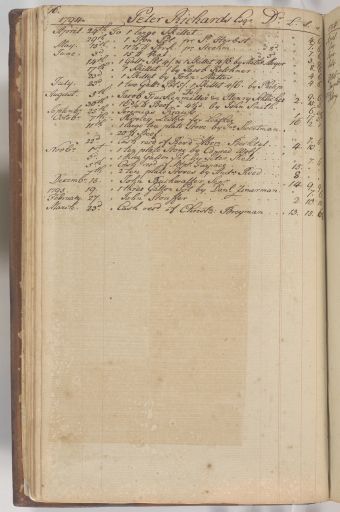 Item Info
Item No: frkm126000
Title: Mountpleasant Furnace, 1794-1801
Scripts/Text:
Cursive
Language:
English; German
Physical Description:
83 leaves
Material:
laid paper; gall ink
Watermark:
WL in outline; William Levi; center of page, upside down; 5 (Letters AB of register); Crowned bell surmounted with a cross (countermark); William Levi; center of page, upside down; 3
Category:
Account book (Kontobuch)
Media Type:
Manuscripts
Source:
Rare Book Department
Notes:
Binding:
Full suede with hand-tooled patterned borders on front & back boards. On spine, Ledger inscribed in gold with golden floral border on burgundy background.
About Mt. Pleasant Furnace:
Per Arthur Cecil Bining, Mt. Pleasant Furnace was built in 1737 by Thomas Potts, Jr. & Company. The furnace was located on Perkiomen Creek in Berks County. Items mentioned in the manuscript include 10-plate stoves; hollow ware; wagon boxes; pig metal; linsey.
About the Accounts
Some debit entries seem to be for food, and other personal goods countered by credit for work at the furnace [vid.John Uhrman, Peter, Mowrer, John Erny, pp. 34-35 ], and/or debit entries for services rendered by the furnace countered by credit for goods such as food, a/o other services [vid. Isaac Bechtel, pp. 10-11]
Where a debt has been paid off, the debit page is often cut out [vid. David Mee, pp. 1-2]. Entries on debit side for goods made such as "1 three galln pot by Markes Dickson…" 2 gallon Kettle by Lodw. Applebach" seem to be work done by individual workers at forge. [?]
Boarding of customers was debited to them [Vid entries for Richard Arnold; Markes Dickson, pp. 53-54].
See entries of John Eshbach [pp. 59-60] Debit: "To Peter Richards for 1 Almanack, June-Octobr 1795, £ 7. S. 7. d. 2 ½." Contra: "By hawling Potatoes out the Field £ S. 2. d. 2; By raising Ore on Abrm Buchwalters £ 7. S. 4. d. 8 ½, October 1795.
Vid. Salford Forge, p. 70, 1794 Debit page.
Vid. Mt. Pleasant Forges Debit entries March 1794-Dec.1794 and entries for January 24 & 31,1795.
There are many, many pages torn out at the end of the book.
As of 1801 [vid. verso of flyleaf 1] Accounts unsettled in this Book 1801, Betz, Adam; Clowser, Jacob; Foulke, Evan; Weeant [Wieand], Andrew; Gauger, Daniel; Badman, Joseph; Jacoby, Lorentz; Page, John; Kolb, Michael; Gehry, Jacob; Gehring, Andrew; Zimmerman, Henry; Kline, John; Swenck, Andrew; Mayberry, Thomas; Salford Forge; Mountpt: Forges; Koons, John; Douglass, Andrew; Gilbert (geo:), Henry; Pugh, Hugh; Kase, John; Bobst, Michael; Kelchner, Jacob; Eschbach, Christian; Kline, Gabriel; Latshaa, Abraham; Gehry, Peter; Heil, Conrad
There are many entries for hollow ware. There were potters at Durham, Pa [Vid. p. 112 under Contra for Lodwick Applebach of Durham, PA].
Watermark:
Vid: Thomas Gravel, American Watermarks, Figs. 1004-1005, DeHi Box 10, Kent County, DE, 1793, and Box 42 Duck Creek, DE, 1794; William Levi Papermill (131), 283-284..
Associated Names:
Zimmerman, Henry
Provenance:
Borneman, Henry Stauffer, 1870-1955
Bibliography:
Arthur Cecil Bining, Pennsylvania Iron Manufacture in the Eighteenth Century, Vol IV (Harrisburg: Publications of Pennsylvania Historical Commission, 1938 & 1978).
Forges and Furnaces in the Province of Pennsylvania (Philadelphia: Publications of the Pennsylvania Society of the Colonial Dames of America, 1914).
Thomas L. Gravell and George Miller, American Watermarks 1690-1835
(New Castle, De: Oak Knoll Press, 2002), Figs. 1004-1005, 220; William Levi Paper Mill, 283-284.

J. Bennett Nolan, ed., Southeastern Pennsylvania: A History of the Counties of Berks, Bucks, Chester, Delaware, Montgomery, Philadelphia and Schuylkill (New York: Lewish Historical Publishing Company, Inc., 1943).

Secondary Place Town/Township:
Geographic Coverage State/Province:Pennsylvania
Geographic Coverage City/Town/Township:Lower Salford
Geographic Coverage Note:Per manuscript entry
Geographic Coverage Region/County:Montgomery
Creation Place County:
Creation Place Note:Based on manuscript entries
Region/County:Berks
State/Province:Pennsylvania
Creation Year (Single Year or Range Begin):
1801
Image Dimensions Width:
34 cm
ShelfMark:
FLP Borneman Ms. 126
Subjects