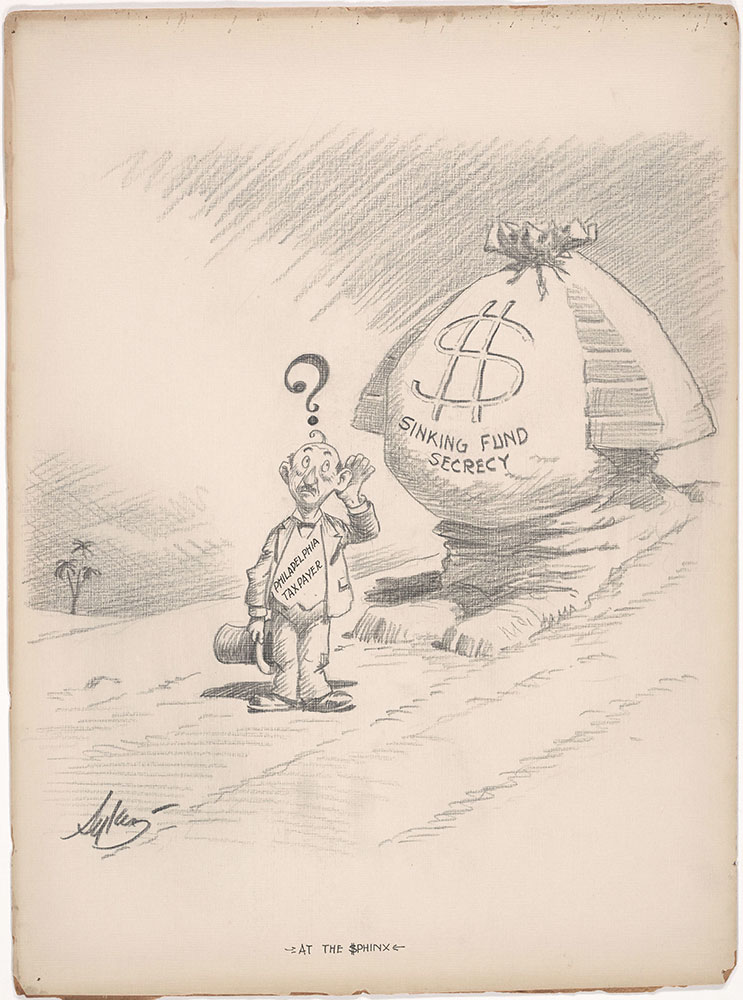 Item Info
Item No: PIXC00005
Title: At The $phinx
Publication Date:
11/4/1921
Media Type:
Cartoons (Commentary)
Source:
Print and Picture Collection
Notes:
"$ Sinking fund secrecy"
"Philadelphia Taxpayer"
Notes:
Created for Evening Public Ledger, date unknown.
Notes:
This cartoon is referencing the various controversies surrounding the administration of Philadelphia's sinking funds. Sinking funds are "a means of repaying funds that were borrowed through a bond issue. The issuer makes periodic payments to a trustee who retires part of the issue by purchasing the bonds in the open market"[1].
In November of 1916 the Finance Committee of Councils sought to review and improve the way the sinking funds were administered. This effort revealed a number of concerns regarding surpluses and the proper appropriation of funds. The Committee's initial request for information on the matter was disregarded by the sinking funds commissioners. This level of secrecy was criticised and questioned by the public and the Finance Committee of Councils[2].
The November 19, 1920 Night Extra issue of the Evening Public Ledger[3] expressed this sentiment:
"There is no defensible reason for concealing the facts. The sinking fund commissioners are public officials. The money they handle is public money. the business they do is the business of the public. Their accounts should be open to the public. No good can be served by secrecy. Secrecy can engender suspicion and lack of confidence, a result against which every effort should be directed."
Sources:
[1] Sinking Fund. (2012). In Investopedia.com. Retrieved from: < http://www.investopedia.com/terms/s/sinkingfund.asp#axzz21ppyV4eP >
[2] Woodruff, C. R. (ed.). (1918). National municipal review 1918: Volume 7. Concord, N.H.: Rumford Press. P. 326-327. Retrieved from: < http://books.google.com/books?id=c9IQAAAAYAAJ&lpg=PA326&ots=GKTMswDTYF&dq=sinking%20funds%20controversy%20philadelphia&pg=PA326#v=onepage&q=sinking%20funds%20controversy%20philadelphia&f=false>
[3] The Mayor with a word rends the veil of secrecy. (1920, November 19). The Evening Public Ledger. Library of Congress - Chronicling America: Historic American Newspapers. Retrieved from: < http://chroniclingamerica.loc.gov/lccn/sn83045211/1920-11-19/ed-1/seq-8/ >
Bibliography:
Sykes, Charles Henry. "At the Sphinx." Evening Public Ledger (Philadelphia, PA). 1921, November 4: p. 10.
Country:
Country:United States
State/Province:Pennsylvania
Creation Year (Single Year or Range Begin):
1921
Creator Name:
Sykes, Charles Henry, 1882-1942 - Artist