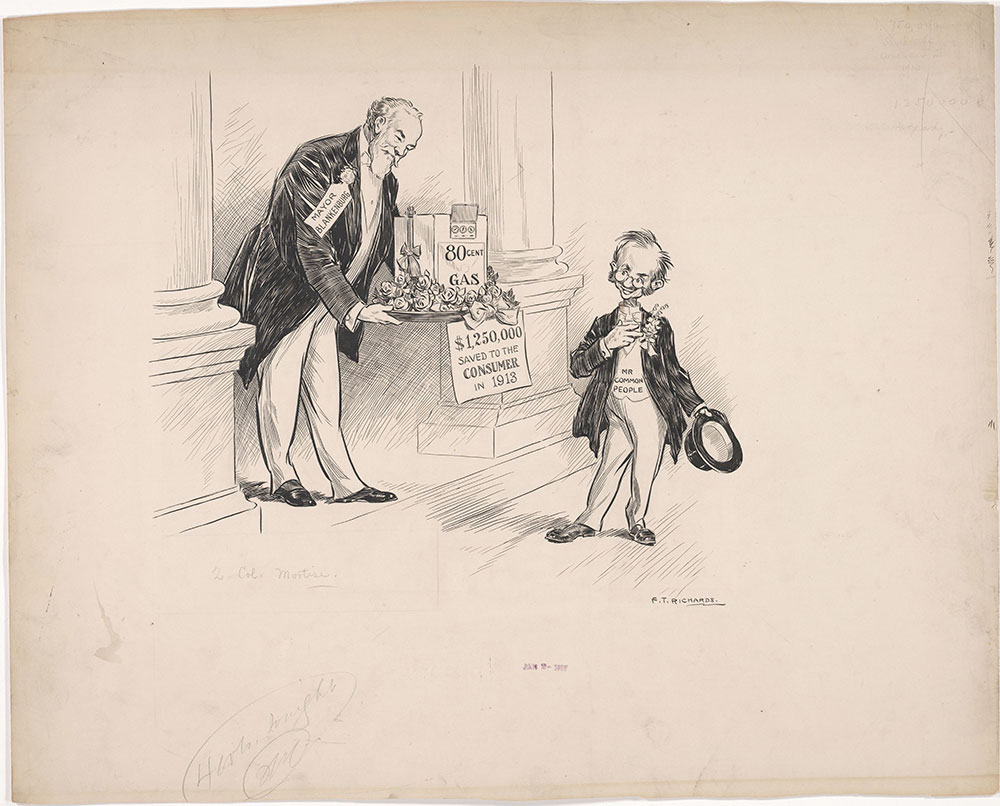 Item Info
Item No: PIXC00007
Title: Saved To The Consumer In 1913
Additional Title: 02/02/1912
Creation Date:
2/2/1912
Publication Date:
2/2/1912
Media Type:
Cartoons (Commentary)
Source:
Print and Picture Collection
Notes:
Elected Mayor of Philadelphia in 1911, Rudolph Blankenburg (1843-1918) sought to reform the city's government, eliminate corruption, and improve its efficiency. The Progressive mayor's Director of Public Works, Morris L. Cooke (1872-1960), was especially committed to increasing governmental efficiency and saving tax dollars. Aside from applying modern managerial methods to public service, Cooke worked to make additional job training available to municipal workers and to put measures in place to efficiently and honestly award governmental contracts. One of Cooke's greatest successes was in compelling the Philadelphia Electric Company to lower its rates for consumers. This cartoon refers to the more than a million dollars this negotiation saved Philadelphia citizens.
Source:
Disbrow, D. W. (1960). Reform in Philadelphia under Mayor Blankenburg, 1912-1916. Pennsylvania History, 27(4), 379-396.
Country:
Country:United States
State/Province:Pennsylvania
Creator Name:
Richards, Frederick T. (1864-1921) - Artist