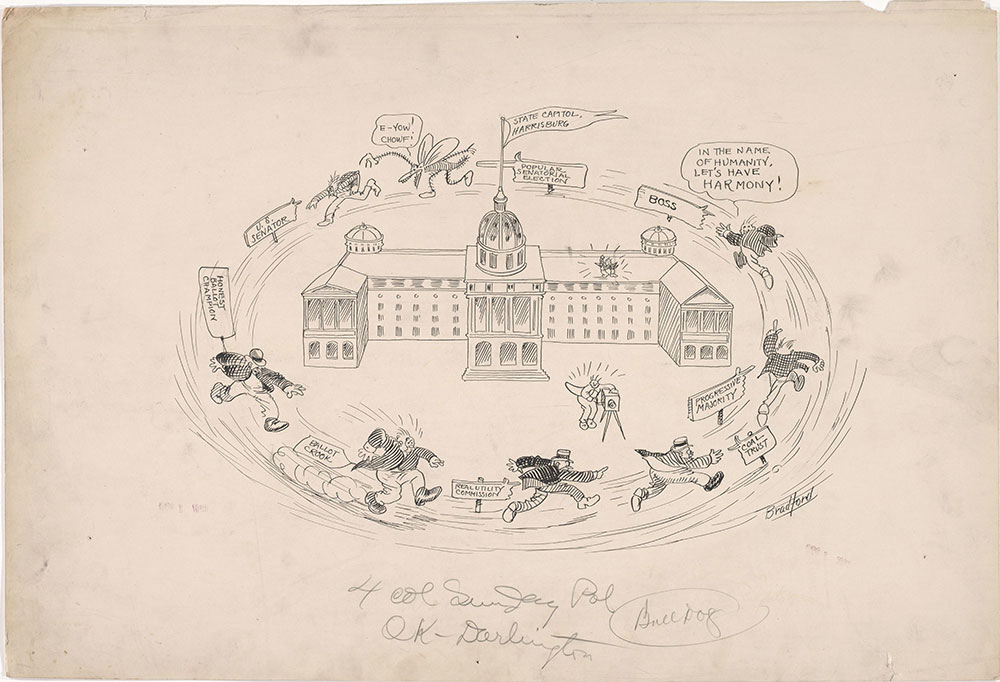 Item Info
Item No: PIXC00018
Title: In The Name Of Humanity, Let's Have Harmony
Additional Title: 01/01/1912
Creation Date:
1/1/1912
Publication Date:
1/1/1912
Media Type:
Cartoons (Commentary)
Source:
Print and Picture Collection
Notes:
This cartoon depicts a chaotic scene revolving around the Pennsylvania State Capitol at Harrisburg. Figures representing various political reforms are chasing their counterparts around the capitol building while one figure exclaims "In the name of humanity, let's have harmony!" These characters represent the struggles against election fraud, trusts, and political patronage, as well as the effort to have U.S. senators directly elected by the people. The illustration shows a "Ballot Crook" being chased by the "Honest Ballot Champion," the "Real Utility Commision" chasing after "Coal Trust," and "Progressive Majority" trying to catch the "Boss" of political bossism. Also shown is a creature representing "Popular Senatorial Election" chasing "U.S. Senator."
Country:
Country:United States
State/Province:Pennsylvania
Creator Name:
Bradford, Walter R. (1872-1925) - Artist